The Anaheim City Council will consider approving Sept. 27 a new, privately financed $4 billion OC Vibe entertainment, food, and housing project proposed by Anaheim Ducks hockey team owners Henry and Susan Samueli to be built around the Honda Center.
The Samuelis' H&S Ventures company hopes to start work at the end of this year and finish the 95-acre project in time to host events during the 2028 Los Angeles Summer Olympics, a company spokesman told The Epoch Times.
"We are an Olympic venue for volleyball at the center, so we want OC Vibe to be a showcase to the world, and Anaheim to be a showcase to the world, through the Olympic Games," project spokesman Matthew Hicks said.
The project would be built inside the Platinum Triangle—an 820-acre area around Angel Stadium and the Honda Center designated by Anaheim in 2004 as a district that would include housing and business development.
The Honda Center, where the Ducks play hockey, is owned by the city. The team has a contract with the city to operate the center until 2043, with an option for additional five-year extensions until 2068, according to Anaheim's spokesman Mike Lyster.
The city, regrouping after the collapse earlier this year of a deal to sell Angel Stadium, has not seen any significant opposition to the project so far, beyond a few questions related to traffic and parking. Those issues have been addressed by OC Vibe personnel—by including plans to add free parking and ease freeway offramp congestion.
Once built and leased, the new hotels, shops, restaurants, and entertainment venues are expected to deliver substantial yearly revenue—about $10 million—which will "go toward police, fire, libraries, community centers, and parks, directly benefiting our residents," Lyster told The Epoch Times.
An additional $255 million in public benefits is also expected, including new parks and affordable apartments that are included in the plans, he said.
The Samuelis also have a similar contract until 2043 to manage and operate the Anaheim Regional Transportation Intermodal Center transit hub located on the site. The hub provides rail, bus, and taxis to the region and ties in with the OC Vibe project's goals to provide more pedestrian and transit-friendly venues, project director Brian Myers told city councilors during a presentation Sept. 13.
Organizers of the 2028 Summer Olympic Games plan the event to be "car-free," which will align with OC Vibe's plans for more walkable spaces with adequate transportation options, according to Myers.
"Part of the goal is to get on our feet as quickly as possible and create a pedestrian-friendly environment," Myers said.
The idea was to be able to create a full array of entertainment, from speakeasies to jazz clubs, public plaza entertainment, a new private club for indoor concerts, and an outdoor amphitheater that will also host six public, city-subsidized events a year, he said. A series of cultural and Latin-based events is also a part of the plan.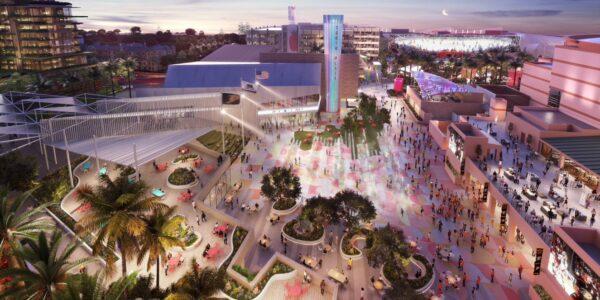 "This is the dream of the Samueli family—to have a vibrant community attached to the hockey team," Myers said.
The project plans include the following:
Nearly 750,000 square feet of new office and institutional space and more than 80,000 square feet of new indoor and outdoor shopping.
Two new entertainment venues, including a 5,700-seat concert hall and a 6,000-seat amphitheater plus smaller venues.
20 acres of open space including a new community park.
More than 35 new restaurants.
1,500 apartments with 195 of them built as affordable housing for very low-, low-, and moderate-income residents.
Two hotels – a 320-room Arena Hotel and a 230-room Meadow Hotel.
7,143 parking spaces in four new parking structures that would be free to visitors and include a large solar array to provide clean energy to the site.
$390 million in updates to the Honda Center and $60 million in updates to the Anaheim Regional Transportation Intermodal Center.
Backers say the project is expected to create 10,000 jobs during construction and 3,000 permanent jobs. Developers could start work by the end of the year if they gain city approval, according to Hicks, the project spokesman.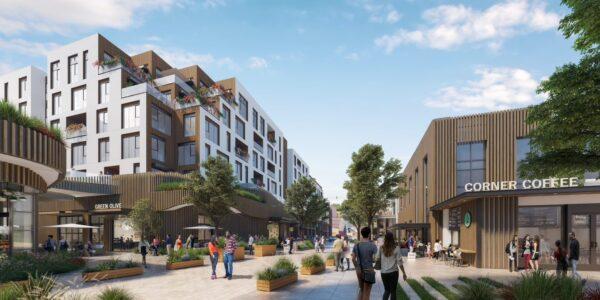 City councilors were thankful for the project.
"This looks amazing. Very exciting," Councilwoman Gloria Ma'ae told the developer Myers after his presentation last week.
Councilman Jose Moreno said the project "creates another jewel next to the river" and a pipeline for youth in Anaheim.