New York City Mayor Eric Adams and New York Police Department Commissioner Keechant Sewell are calling for targeted changes to the state's bail reform policies, citing an increase in crime as well as recidivism.
New York passed a bail law in 2019, implemented in 2020, that blocked judges from requiring cash bail for most misdemeanors and nonviolent felonies, which include most drug trafficking offenses. As such, many alleged offenders have been released without paying any money pending trial, and return to the streets quickly after an arrest.
Judges were only able to set bail for a limited range of crimes, most of which are violent felonies.
New York is the only U.S. state with a law that blocks judges "from considering the danger an offender poses when deciding whether or not to set bail," a 
release
from Adams's office on Aug. 3 noted.
Both Adams and Sewell believe that "judges must be allowed to remand defendants at arraignment when they are deemed a risk to public safety based on the severity of their alleged crimes or their history of recidivism," according to the release.
At a press conference at NYPD headquarters on Aug. 3, Adams called for more to be done to fix the state's criminal justice system.
"They say the definition of insanity is to do the same thing repeatedly but expect different results. Our criminal justice system is insane. It is dangerous, it is harmful, it is destroying the fabric of our city," he said. "Time and time again the police are making arrests and then the person who is arrested for assault, felonious assault, robberies, and gun possession is finding themselves back on the street within days—if not hours—after the arrest. And they go on to commit more crimes within weeks, if not days."
"This is about a small number of people that are taking advantage of the existing laws to endanger our city," the mayor noted, adding that the recidivism rate in New York City has "skyrocketed."
Bail Reforms Adjusted in April
In April, the New York Legislature and New York Gov. Kathy Hochul reached an agreement to adjust the 2019 bail reform as part of the state budget. The changes gave judges the ability to set bail for a slightly wider range of crimes, including gun-related crimes, hate crimes, and repeat offenses in theft of property.

When setting bail, judges may also consider the alleged criminal's history of gun possession, as well as prior violations of an order of protection, and whether the alleged crime had caused serious harm.

At a press conference on Aug. 3, Hochul, a Democrat, said that judges now have tools at their disposal to tackle the matter. Her comments came in response to a question about Adams's call on July 26 for her and the state legislature to convene a special legislative session over the bail reforms.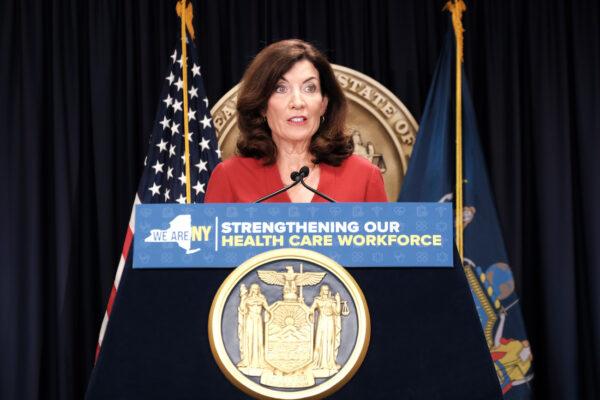 "What we gave judges was the ability to consider the severity of the offense—is this a repeat offense? Is there a history involved here? So we now have spelled out for judges factors to consider in weighing whether or not this person should be out in the street or not," she said. She urged judges to follow the updated bail laws.
The April changes didn't have the provision for judges to consider whether the defendant poses a danger to the public if they were to be released from custody pending trial. Some criminal justice advocates say such a standard could be subject to racial bias.
When asked about Hochul's comments, Adams referred back to the provision he is urging for, saying: "The judges have tools that they are not using, but they do need more tools such as public safety. If public safety is in jeopardy based on the actions of someone, judges need the tools that 49 other states currently have to make sure that person is not dangerous to our community."
Increase in Crime, Recidivism
Sewell and Adams on Aug. 3 cited figures that show significant increases in recidivism in some categories of crime.

In 2022, 25 percent, or 393 of 1,494 people arrested for burglary, committed another felony within 60 days, Adams said. "In 2017, however, just 7.7 percent went on to commit another crime," he added.

Meanwhile, the 60-day recidivism rate for grand larceny in 2022 was 16.8 percent, or 310 people. In 2017, the rate was 6.5 percent, Adams noted. The rate for grand larceny auto in 2022 is 20 percent, or 125 people, compared to the rate in 2017 of 10.3 percent, he said.

"The number of individuals arrested three or more times in a calendar year for crimes including robbery, burglary, and grand larceny, among others, has increased through the first six months of 2022, compared with crime in the years prior to the onset of the global pandemic," the release states.

"For example, 211 individuals logged at least three arrests for burglary through June 2022, a 142.5 percent increase compared with the 87 individuals arrested at least three times for burglary in the first six months of 2017. For shoplifting, 899 people have been arrested three times for that crime through June 2022, an 88.9 percent increase over the 476 individuals arrested three times for shoplifting through June of 2017."

Ten of the "worst-of-the-worst" alleged repeat offenders have been arrested for nearly 500 crimes since the 2019 bail reforms were passed.

The release from Adams's office also noted that overall arrests increased by 24 percent in 2022, compared with the same period in 2021. Arrests for the seven major felony crimes increased by about 29 percent compared with the same period last year. Meanwhile, firearms arrests are at a 27-year high.

Sewell clarified in a statement that she believes nonviolent, first-time offenders "deserve a second chance, as the spirit of the state's 2020 criminal justice reforms envisioned."

"However, judges should be given the ability to hold career and violent criminals in custody pending trial," she said. "We need to maintain the reforms we all agree on, yet at the same time pull together to keep New Yorkers from being harmed. Our collective focus must be on the victims of crime."