At least four people were stabbed and police officers injured on the night of Dec. 12 after clashes between different groups of protesters broke out in Washington, D.C.
The violent confrontations, which followed a "Million MAGA March,"
appeared to be between alleged members
of the far-left Antifa group and the Proud Boys group, which was established by libertarian Gavin McInnes. Both groups have regularly attracted media attention for being involved in violent encounters with one another.
Officials told local media that four people were stabbed near the intersection of 11th Street and F Street in downtown Washington. All four individuals were sent to the hospital with critical injuries,
WUSA9
reported.
The Metropolitan Police Department also told reporters that at least 23 individuals were arrested amid the civil unrest, including six for assaulting a police officer, 10 for simple assault, four for rioting, one for possession of a Taser, and two for crossing a police line, the media outlet said.
MPD officials didn't immediately respond to a request by The Epoch Times for comment.
It's unclear which individuals were arrested by authorities, although videos by reporters on the scene show alleged 
Proud Boys protesters
and "
counter-protesters
" arrested and escorted into police vans.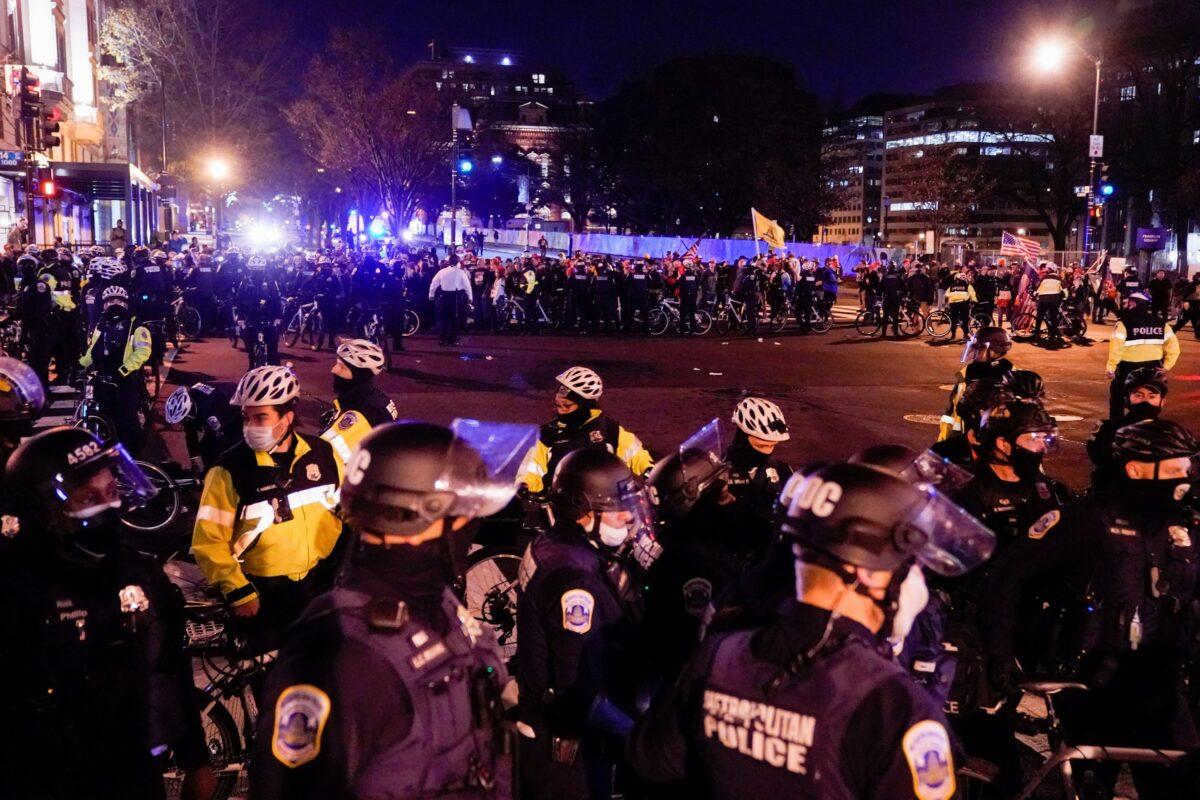 Earlier in the day, tens of thousands of President Donald Trump's supporters marched through the streets of Washington calling for integrity in the 2020 presidential election, in their second "Million MAGA March." In recent weeks, a considerable number of eyewitnesses, whistleblowers, and expert witnesses have come forward to testify about instances of election irregularities and potential for fraud pertaining to the 2020 presidential election.
Trump, his campaign, and numerous third parties have filed multiple separate lawsuits in state and federal courts in an attempt to invalidate the election results until concerns over potential fraud are transparently and independently addressed. According to witness and expert testimony, it's possible that a significant proportion of votes were cast and counted in violation of state election codes and the U.S. Constitution.
Many of these cases have been tossed out by judges for procedural reasons, such as lack of standing to bring a case; mootness, where there is no longer a controversy between the parties; and laches, where a judge ruled there was a lack of diligence in bringing a claim.
One of these cases—State of Texas v. Commonwealth of Pennsylvania, State of Georgia, State of Michigan, and State of Wisconsin—was filed in the U.S. Supreme Court earlier this week. The state of Texas had asked the top court for permission to sue over allegations that the four states violated the Constitution and treated voters unfairly in their handling of the 2020 general election.
The nation's top court late Dec. 11 handed down an order rejecting Texas's request, citing a lack of legal standing to sue. The evidence in the case wasn't considered in the court's decision.
The Proud Boys have been described as a far-right or so-called alt-right group by the left-leaning Southern Poverty Law Center. The group's 
core tenets
 focus on
minimal government, individual rights, closed borders,
entrepreneurship, and the traditional family. They relish in defying political correctness and in touting the Western culture as the best in the world, according to their Facebook group, which has since been taken down.
Members of the group have vowed to fight back against
anarcho-communist group Antifa
. Antifa members have been known to label parties and individuals who don't align with their ideology as "fascists" to justify their use of violence against them.
Zachary Stieber, Petr Svab, and Ivan Pentchoukov contributed to this report.