Just as public concern about COVID-19 appears to be waning, public health authorities around the world are sounding the alarm yet again—this time over an outbreak of monkeypox.
There have been a few dozen confirmed and suspected cases reported across Europe in recent weeks as well as one confirmed case in Massachusetts. While the outbreak currently appears small, it's been unusual in multiple regards.
Monkeypox is a viral disease from the same family as smallpox, but is less severe. People can catch it from wild animals—not just monkeys—and it's endemic in some African countries. Yet it rarely shows up elsewhere, and if it does, it's usually in people who recently traveled to Africa.
This time, most of the detected cases are in people with no reported history of travel to Africa, which suggests human-to-human transmission. Monkeypox is not known to spread easily between people, requiring direct contact with bodily fluids, lesion fluids, or prolonged face-to-face contact,
according to
the Massachusetts Department of Public Health.
"It's not a situation where if you're passing someone in the grocery store, they're going to be at risk for monkeypox," said Dr. Jennifer McQuiston, deputy director of Division of High Consequence Pathogens and Pathology at the Centers for Disease Control and Prevention (CDC).
There was a notable outbreak in the United States in 2003 when nearly 50 people became infected, although health authorities then linked it to transmission from animals rather than from humans.
Several countries have noted that most current cases have been among men that engage in sexual activity with other men, which isn't an infection pathway that previously stood out for monkeypox. During the early stages of the infection, rashes and lesions sometimes occur in the genital and perineum area, Dr. John Brooks, chief medical officer at the CDC's Division of HIV Prevention, noted during the conference call. Direct contact with the lesions is one way the virus can spread.
The unusual nature of the current outbreak has raised the question of whether the virus's behavior has changed. That would be significant because monkeypox is a DNA virus, which means its genetic information is encoded in a double-stranded DNA, rather than single-stranded RNA, and, as such, mutates much more slowly than viruses such as SARS, SARS-CoV-2, or the flu.
The genetic sequence of the Massachusetts case is "very closely linked" to the known variant of the virus that has been spreading in West Africa, McQuiston said.
Monkeypox in Detail
Monkeypox belongs to the orthopoxvirus family, which includes smallpox as well as cowpox, horsepox, and others. Chickenpox, despite the name, doesn't belong to this family. Smallpox, the most dangerous to humans, is considered to have been eradicated through vaccination since 1980s.

Monkeypox symptoms start with headaches, fever, body aches, swollen lymph nodes, and characteristic rashes, sometimes clustered, sometimes spread out, sometimes including on the palms of the hands. It's less lethal than smallpox and usually passes after two to four weeks without specific treatment.

It's known to spread only through the lesions, which can also be in one's mouth or throat and thus not visible, McQuiston said.

The World Health Organization says the first detected human monkeypox case dates to 1970 in the Democratic Republic of the Congo (DRC). Since then, two major variants have been detected—one from the DRC, with a fatality rate of up to 10 percent, and another from West Africa, with a mortality rate of less than 1 percent. The current cases in Europe and the United States are the West African variant, according to McQuiston.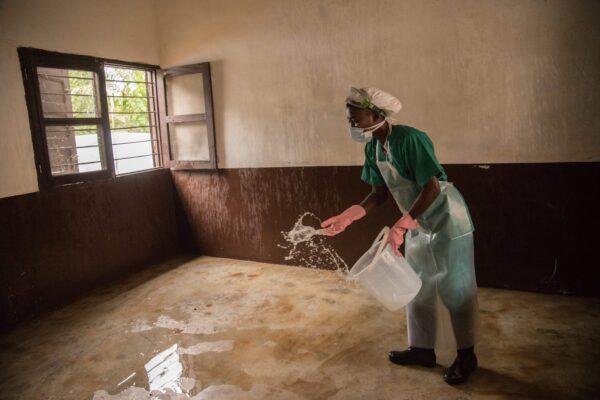 In 2020, the DRC reported close to 4,600 suspected cases of monkeypox, including 171 deaths, a fatality rate of 3.7 percent,
according to the World Health Organization (WHO)
. It's likely, however, that only more severe cases were reported, according to Dr. Robert Malone, a virology researcher and mRNA vaccine technology inventor. Factoring in unreported cases would likely lower the fatality rate, he wrote in a
recent blog post
.
Aside from the lone confirmed case, the United States has recently seen another four cases of further undefined orthopox, according to McQuiston.
"For the purpose of this response, however, health care providers should assume these are monkeypox and manage them as monkeypox cases," she said.
The Massachusetts case genetic sequence "closely matched" a sequence of a patient in Portugal, she said. But the U.S. patient only reported recently traveling to Canada, the state's health department stated.
There will likely be more cases identified in the United States, McQuiston said.
Last year, there were two recorded cases in the United States.
In 2019, Bavarian Nordic licensed a vaccine—named Jynneos—in the United States against smallpox and monkeypox for people 18 years and older determined to be at high risk for infection. The U.S. federal government has about 1,000 doses available, with more to be added, McQuiston said.
During the 2003 outbreak, people deemed at risk were given a smallpox vaccine. The U.S. federal government has a cache of 100 million doses of a smallpox vaccine, she said, noting it has "some potential significant side effects."