YUMA, Ariz.—The mayor of an Arizona border city declared a state of emergency on Dec. 9 due to the soaring numbers of illegal immigrants flooding in from Mexico.
Yuma Mayor Douglas Nicholls said he issued the declaration "due to the unprecedented numbers of migrants entering the city prior to being processed and released by Border Patrol."
The action enables the city—which has nearly 100,000 residents—to receive state and federal funding to try to combat the crisis.
Apprehensions of illegal immigrants in the Border Patrol's Yuma Sector have increased since President Joe Biden took office in January.
Border agents in the sector made about 8,800 arrests in the fiscal year that ended in September 2020. They made more than 114,000 arrests in the same period of 2021—and 21,623 arrests in the month of October alone.
In recent weeks, Yuma has been inundated with illegal immigrants as thousands crossed the border. Some got tired of waiting by the border fence to be picked up by Border Patrol, so they walked into the city.
On Dec. 4, when the latest influx began, the 911 dispatch center was tied up for hours with calls from illegal aliens asking for transport, food, and clothing, Yuma County Sheriff Leon Wilmot told The Epoch Times.
Around 300 were arriving at the hospital every day, he said—not for medical assistance—but to request transport and supplies. Others wandered around looking for the Border Patrol station.
Law enforcement is "overwhelmed," Wilmot said.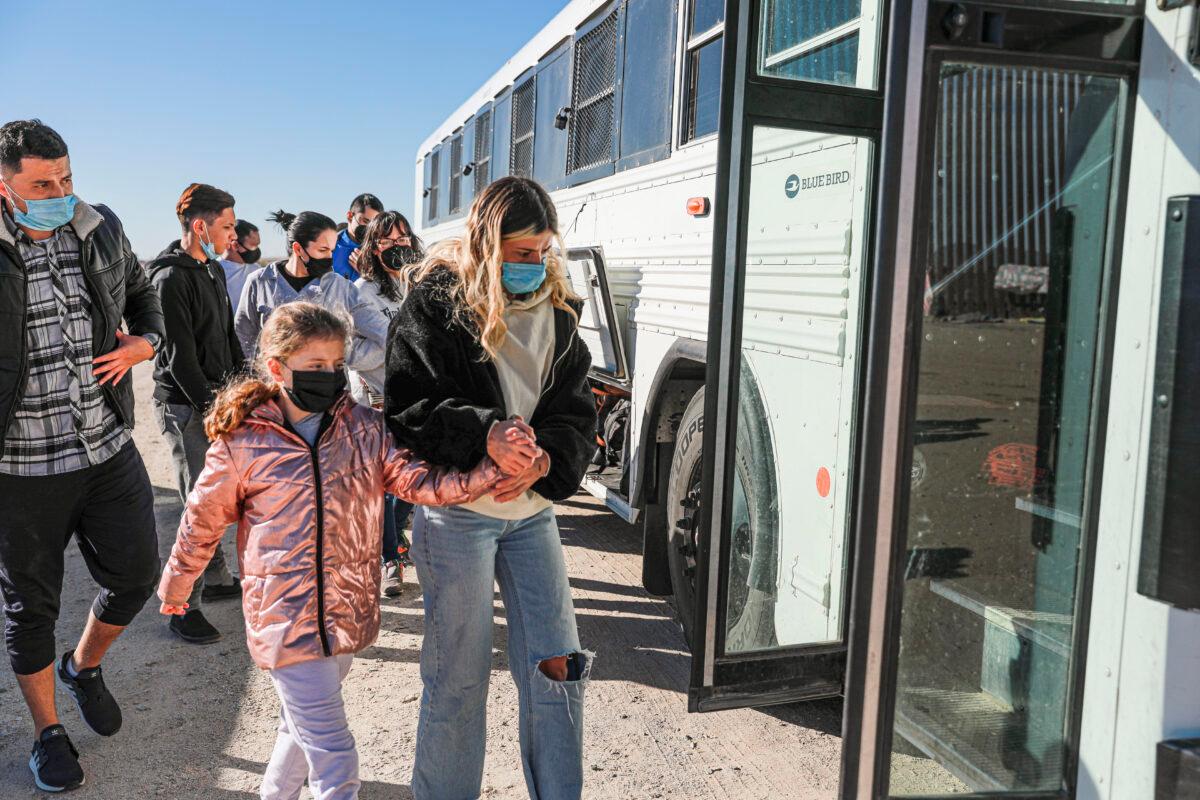 On Dec. 10, The Epoch Times
witnessed
more than 100 illegal immigrants being picked up by border agents after crossing into Yuma.
The group included eight nationalities, including two Russian men, four Bangladeshis, three Romanians, 33 Venezuelans, and 15 Colombians. Six young men from India were at the border fence area the previous evening.
Illegal immigrants are directed from the Mexican side to cross in a certain area because the borderline is a small, fairly shallow (about 3 feet) creek below a dam.
Just beyond the creek on the U.S. side is a 30-foot-tall fence that was built during the Trump era, but it remains unfinished after Biden halted construction, allowing illegal aliens to walk around it.
Prior to the 30-foot fence, there were X-shaped Normandy barriers, which were built to stop vehicles crossing but were easy for people to climb over or under.
Illegal immigrants are ditching identification cards from home countries and nations where they've established residency before crossing the border because they think it'll be more difficult to be deported, Wilmot said.
"So it's all a false narrative. They're playing the game," Wilmot said. He called the Biden administration's handling of the border "a total cluster."
Wilmot said while the groups are pulling Border Patrol agents into transporting and processing, the cartels are pushing drugs through the surrounding, more remote areas.
"The cartels obviously control what happens down there. So you're dealing with a cartel-driven, controlled, international boundary, with little help from the Mexico government," he said.
"Right now, we have all the criminal activity going on out in our desert with the narcotics smuggling that's gone basically unchecked, because Border Patrol's stuck. And that was the cartel's whole [plan]."
Agents currently release most illegal aliens into the United States. 
Under the Biden administration, nearly 95,000 illegal immigrants
have been released without a court date
, and an untold number of others have been released with a court date. Some don't show up to court and the majority of those who do are denied asylum.
Arizona Gov. Doug Ducey, a Republican, visited Yuma last week. He announced he was surging Arizona National Guard personnel and equipment to the area to help deal with the flood of illegal aliens.
"The Biden border crisis is out of control and it's getting worse by the day," Ducey told reporters after a tour with local authorities.
The administration's ending of "sensible policies" such as the "Remain in Mexico" program has led to the crisis, Ducey said.
Biden and his top officials altered or revoked key Trump-era policies shortly after taking office. They've had to reinstate some,
including the Remain in Mexico program
, but have been able to continue with what experts say amounts to a weaker immigration enforcement system.
Ducey directed Arizona Adjutant General Kerry Muehlenbeck and other state officials to create a plan to address the situation in Yuma, calling it a top priority of his administration.
UPDATE: This article was updated on Dec. 12 to add more comments from Yuma County Sheriff Leon Wilmot.