As he becomes the first defendant to stand trial in the most complex slaying case in Ohio history, George Washington Wagner IV has been ordered to wear an unusual hidden restraint: an electronic vest that officers can use to stun him if necessary.
Wagner, 31, could face the death penalty if convicted over a 2016 massacre: eight people were killed at four crime scenes with at least four suspects allegedly involved, including Wagner and three relatives.
An Aug. 25 online court entry shows that Judge Randy Deering of Pike County Common Pleas Court ordered Wagner to wear the E-Vest, or electronic vest, based on the sworn testimony of Deputy Sheriff Tara Tackett, along with a demonstration of the device to be worn and used.
Noting that the device does not restrict movement and can be worn so that it is "completely unobservable by others," Deering ordered that Wagner attend court wearing civilian clothing with no visible restraints and "the restraint that shall be used at all proceedings shall be the E-Vest manufactured by Compliant Technologies."
Deering's ruling on the E-Vest is among a series of decisions he made before two significant events in the internationally publicized case: a jury is expected to be seated this week, followed by attorneys' opening statements on Sept. 6. Authorities estimate Wagner's trial will last two months. If convicted, the 31-year-old man could get the death penalty.
Cincinnati attorney Mike Allen, a former judge, prosecutor, and police officer, said many features of this case make it among the strangest, most multifaceted he has ever followed. One aspect that has drawn attention: George Washington Wagner IV could be sentenced to death even though he might not have killed any victims.
"All the evidence seems to indicate that he didn't shoot anybody," Allen said. Yet Wagner is accused of being "deeply involved in the planning process," Allen said. "Under Ohio law, if you do that, you're an accomplice, and you're just as guilty as the principal offender."
As a legal analyst for several Cincinnati-area news outlets, Allen relies on a chart to help him keep track of the intertwined relationships between the victims and the alleged perpetrators in the bizarre and tragic saga of two feuding families.
Friends Became Foes
George Washington Wagner IV and three of his relatives were accused of aggravated murder charges, death-penalty specifications, and other offenses over the April 2016 slayings.
The victims were: Christopher Rhoden Sr., 40; his ex-wife, Dana Manley Rhoden, 37; their three children, Hanna May Rhoden, 19, Christopher Rhoden Jr., 16, and Clarence "Frankie" Rhoden, 20; Frankie Rhoden's fiancée, Hannah "Hazel" Gilley, 20; the elder Christopher Rhoden's brother, Kenneth Rhoden, 44; and cousin, Gary Rhoden, 38.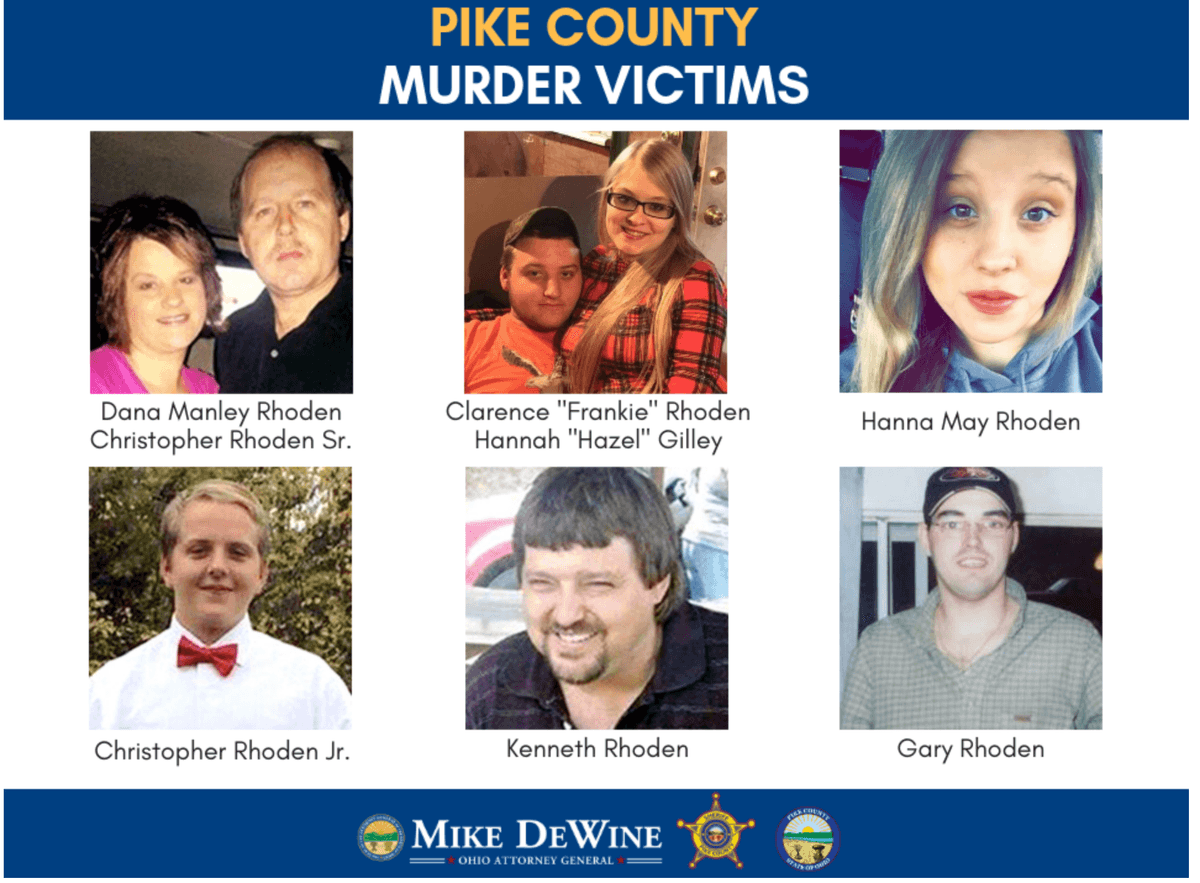 Edward "Jake" Wagner had fathered a child with Hannah May Rhoden. Authorities said their families had been friends until they became embroiled in a custody dispute over that child. The Wagners allegedly used their knowledge of the Rhodens' households to plot an elaborate scheme "to execute the victims in the middle of the night and then carefully cover their tracks," said a 2018 news release announcing that the Wagners had been arrested.
All victims were shot to death; most were slain as they slept. Authorities said the Wagners gathered and shared information about the layouts of the Rhodens' properties and their daily routines, including sleeping locations, and tampered with phones, cameras, a gun silencer, and parts of a home security system to avoid being caught.
Jake Wagner and his mother, Angela, both avoided the death penalty when they pleaded guilty to their involvement last year. They also agreed to testify against the other defendants: Jake's father, George "Billy" Wagner, 51, whose trial hasn't been set, and brother, George Washington Wagner IV, the defendant who is now on trial.
That's another angle adding to the drama in this case. "Brother testifying against brother, I've never seen that," Allen said.
Reasons For Restraint Unclear
The court's online summaries do not make apparent what may have caused the judge to order Wagner to wear the special E-Vest from Compliant Technologies, a Kentucky-based company, during court proceedings. Allen said he has rarely heard about such devices being used. "It's not used very often," he said, "but it is effective."
The vest is designed to help officers control "violent or aggressive inmates and other high-profile individuals," the company's website says.
Compliant Technologies is only four years old but its devices, known as "conducted electrical weapons," have been issued to more than 150 agencies in 28 states, the company's founder, Jeff Niklaus, told The Epoch Times. He said no one has been hurt in more than 2,000 "real-world uses" thus far. He said the device's current doesn't course through the body and is much less potent than similar stun devices that officers use.
The company says it is dedicated to helping law enforcement "to rapidly, effectively, and, at times, unassumingly bring individuals into compliance or restrain them from further violence." The vest is lockable, can be operated with remote controls, and can remain in "standby" mode for 24 hours, Niklaus said.
Order in the Court
The judge in Wagner's case has issued several orders designed to ensure decorum, protect jurors and prospective jurors from being identified, and safeguard Wagner's right to a fair trial.
Spectators and news reporters must enter the court building through a specific door, pass through a metal detector and leave all electronic devices behind. In addition, news reporters are barred from publicizing any information that could lead to the identification of a juror or prospective juror. Lawyers involved in the case are forbidden from commenting publicly until the trial concludes, but they may discuss scheduling matters. In addition, media camera access is limited to one "pool" camera, which will share images with other media by agreement.
Allen said such strict rules are likely needed because news media and interested citizens are expected to pour into the courthouse as the trial ramps up.
"Judge Deering is doing an incredible job managing this case so far," Allen said.
The trial will also include another unusual feature: "a jury view." Court records show jurors will be transported to about a dozen locations, mainly in Pike County. The sites include "roads connecting the four crime scenes with the defendants' residences," "a number of manufactured homes and a pickup truck" at the Pike County Sheriff's impound lot, and two addresses in adjacent Adams County.
Small County, Big Case
At the time of Jake Wagner's plea, Ohio Attorney General David Yost said, "The scope of this crime and subsequent investigation surpasses any other in Ohio's history."
Yost's predecessor, Mike DeWine, now Ohio's governor, was attorney general when the slayings were carried out. He recruited a state agency under his purview, the Ohio Bureau of Criminal Investigation, to assist the small, rural county of about 30,000 residents near the southern tip of the state.
Nearly two dozen law enforcement agencies from 10 states and Canada also helped.
At the time of the Wagners' arrests, DeWine's office estimated that investigators spent "tens of thousands of hours" following more than 1,100 tips from the public. Authorities also conducted 550 interviews, tested more than 700 items of evidence, and served more than 200 subpoenas, search warrants, and court orders.
Online court records show that prosecutors turned over more than two terabytes of data to defense lawyers before George Washington Wagner IV's trial.