Thousands of people across the United States took the day off from work on Nov. 3 to participate in walkouts and demonstrations in protest of
CCP virus
vaccine mandates.
In Phoenix, Arizona, more than 200 people gathered in protest outside the Wesley Bolin Memorial Plaza. Many carried homemade signs and wore patriotic clothing in support of their message of medical freedom.
A government contractor in his 20s, who asked that his name not be used, told The Epoch Times he took the day off from his job as an engineer, knowing "they're going to fire me" when a vaccine mandate begins on Dec. 8.
"I'm looking for other jobs," he said. "They have no regard for an employee's choice."
Carrie Cullen, a registered nurse at Banner Health Medical Center in Phoenix, said she came to the rally to support a cause that she believes in—medical freedom.
Banner's vaccine mandate became effective on Nov. 1, she said.
"I was granted a religious exemption. Still, I'm just fighting for freedom," Cullen said.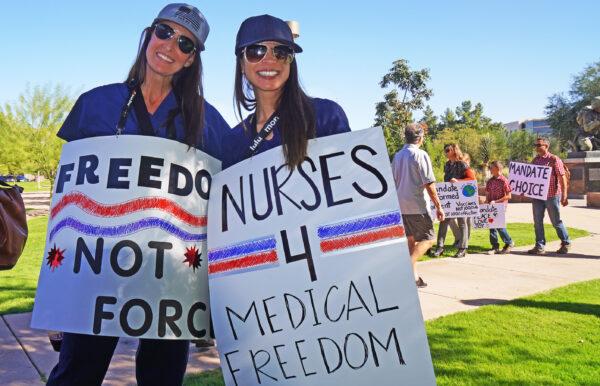 Rachel Wallace, a registered nurse for the Mayo Clinic in Arizona, said the rally serves as a focal point for those who refuse COVID-19 vaccines and mandates. The clinic plans to terminate any staff member who isn't fully vaccinated by Jan. 3, unless they receive an approved medical or religious exemption.
"It's great to have people come together fighting for the same rights," Wallace said.
Both nurses said they haven't been vaccinated.
"That is what we are opposed to," Wallace said.
In Michigan, more than 250 protesters from a dozen southeast communities gathered in the Detroit suburb of Royal Oak in Oakland County to demonstrate against vaccine mandates.
Several of them told The Epoch Times they had already lost their jobs for refusing the shot.
Health care industry worker Ken Gulock said he was let go by his company two weeks before the firm pays out its annual bonuses.
"You have to be employed on the payout day. My decision not to take the vaccine cost me and my family $30,000. I have no regrets. I wouldn't change a thing."
School paraprofessional Alexandra Zilch lost her job and a needed benefit package when her district let her go for refusing to be vaccinated.
"I'm here to speak up for the liberty our Founding Fathers won for us," Zilch said.
Matt Rees, a team leader at a large Detroit-area financial company, says he was forced to resign last month for refusing the shot.
"They kept pressuring me to tell them if I was vaccinated. I thought it was an invasion of my privacy," Rees told The Epoch Times. "I feel they were creating a discriminatory system where one employee did not have the same privileges as another based on his vaccine status.
"Some, like me, had to wear masks and undergo testing, or resign."
Rees receives no unemployment benefits.
"I don't want any money from the government. I am interviewing for another job, living off savings, and doing jobs on the side to scrape by."
Rees says his church has really rallied around him.
"I'm sticking with my convictions and following the Lord. I'd say to anybody out there, 'Don't fear their reprisals!'"
Melissa Williams told The Epoch Times: "We parents are standing up for freedom and for our children.
"The parents here today oppose communism, totalitarianism, and government overreach. So they came out on this cold day in November to stand up for all parents and their kids.
"It's tragic. So many people here, so many professionals, have lost their jobs.
"My own son was denied admission to the university of his choice because he was unvaccinated. They denied his request for religious exemption."
Lynn Mills, a mother of four, told The Epoch Times: "One of my grown sons gave up an all-expenses-paid trip to Hawaii rather than be vaccinated. I am very proud of him for standing by his principles."
COVID-19 survivor Anna Spoto said she came out to stand up for her God-given rights as an American.
"I am here to take a stand against tyranny and medical discrimination," she told The Epoch Times.
At a rally in Florida, Chase Linde of Sarasota said he felt like Americans' freedoms were being eroded. He said people are "fed up" and are fighting back, and that elections that took place in Virginia are "proof of that."
"I absolutely feel like our liberties have been stolen from us," he said while draped in an American flag while waving at honking cars driving by on Bayfront Avenue. "I have two small children and one on the way, and I do not want face-diapers on them."
Linde said the statistics and data don't support "jabbing children."
Whitney Sheffield brought her 10-month-old daughter Cameran to the rally because she wants everyone to know that she isn't comfortable with giving children a shot that hasn't been properly researched and developed.
"There will be no jab for this one," she said, holding her daughter close. "Vaccines take years to perfect, and this one was rolled out too quick, and too many people are getting sick from the shot."
On a cold morning in Marietta, Georgia, about 30 people stood with signs on a street corner to protest the vaccine mandate. Many passing cars and trucks honked in approval, but a few shouted insults.
Occasionally, the crowd broke into chants of "No Mandate!" but, for the most part, people talked quietly together while holding up homemade signs.
Most of the protesters worked at a nearby Lockheed Martin plant, according to Tracy Nelson, one of the event's organizers. The remainder included teachers, public workers, Starbucks employees, and others.
A few people came to the protest from as far away as Florida, Nelson said. Many see the mandated vaccine as one more government imposition in a long line of unwanted orders, including the mask mandate.
"The vaccine mandate is going to go whatever way it goes," said Nelson. "And then the push is going to be for critical race theory."
Most people interviewed by The Epoch Times don't oppose the vaccine, although many hadn't taken it for personal reasons. However, they strongly oppose the mandate.
"Our kids are all vaccinated for school, we were all vaccinated as kids for school," Nelson said. "But if you have to force something that works—it just doesn't seem like you need to force something."
To many who were present, the mandate is a violation of the right to one's bodily autonomy. Some protesters held signs reading "My Body, My Choice."
One protester, Roya, was an immigrant from Iran. She said that the increasing number of government mandates for the sake of public safety reminds her of her home country's descent into tyranny.
"It's like women covering up in Iran," she said. "The government said, 'It's for your protection, you need to have all this limitation for your protection, for your life to be better.'
"It wasn't better. It got worse and worse, and all of our rights slowly got taken away."
She said she was protesting because she didn't want America to become like Iran.
"I don't want to see it happening again, because America is a beautiful country," she said.
Some protesters said they attended out of a sense of obligation toward others.
"I'm just helping people feel like they're not alone, helping people stand for what they believe is right at the end of the day," said protester Katie Carroll.
"We're fighting for everybody," protester Phillip Eakin said. "Whether you agree with us or not, we're fighting for you."
Jeff Langston said he felt deceived by both media and government. By failing to make the truth clear, the media and government have left room for conspiracy theories to arise, he said.
Often, the same people the government relied on to keep society running during the pandemic before the vaccine are the ones who will lose their jobs over vaccine mandates, he said.
"They couldn't be without us in the beginning," he said. "Now they're going to get rid of us. It's tyranny by proxy."
About 500 people gathered in front of the James R. Thompson Center in Chicago to protest against the vaccine mandates.
Illinois Gov. J.B. Pritzker issued the first vaccine mandate in late August, which required state employees, contractors, and vendors who work in congregate facilities to get their first dose of vaccine by Oct. 4. Others included in the mandate were certain health care workers, school personnel, and higher education employees.
Those with approved religious or medical exemptions could opt for regular testing instead.
However, that deadline has been extended several times in face of pushbacks from employees and their unions; the latest deadline is Nov. 30.
Currently, the state's largest public employee union—American Federation of State, County and Municipal Employees Council 31—which represents more than 10,000 employees who work in state prisons and juvenile justice facilities, are still negotiating with the state on the mandate.
Cook County health employee Lynette Taylor, 62, said she didn't get vaccinated by an Oct. 1 deadline and was told by her employer to leave the Cook County jail on that date. As a Pentecostal Christian, her religious exemption was denied with little explanation, she said.
Last week, Taylor was told she was put on no-pay status. She will lose about $4,000 per month.
She lives with and financially supports her mother, and she has some savings, but can't go on like this for long, she said. Some of her co-workers, who don't want to get the vaccinations, have begun looking for work elsewhere.
"It is just not right that they are taking away your livelihood over this. There should be freedom of choice, and accommodations for people who don't want to get vaccinations," Taylor said.
Jackson Elliott, Jann Falkenstern, Steven Kovac, and Cara Ding contributed to this report.