Even from middle school, Lucy found that society didn't accept her gender.
Lucy is a heterosexual girl. Her peers and teachers at Maine's Regional School Unit (RSU) 22 pressured her to be transgender or lesbian, she said.
"Straight people like me, I think they get a lot of anxiety, and they can't find a voice inside of them to speak up," she said. "And they just are stuck not doing anything."
In Lucy's Maine school district, hallways exploded with posters celebrating new gender identities, she said. Some exalt new gender identities over heterosexuality.
"Why use the symbols givin to you … when you can make you'r own!" one poorly-spelled poster read.
This school atmosphere encourages middle school children into strange sexualities, Lucy and her parents say. All chose to use pseudonyms to protect Lucy's identity.
Pick Your Own Gender
Kevin and Hannah, Lucy's parents, first learned her teachers educated her in radical gender ideology when she was between 10 and 11.

"What does non-binary mean?" she asked her mother one day when she got home.

Before the incident happened, Lucy's parents asked the principal to not educate her on radical gender ideology. But the school didn't listen, they said.

"Without parental knowledge or consent, they were presenting information about transgenderism," Hannah said.

One

book

, "This is Our Rainbow," described a 5-year-old girl falling in love with an adult woman.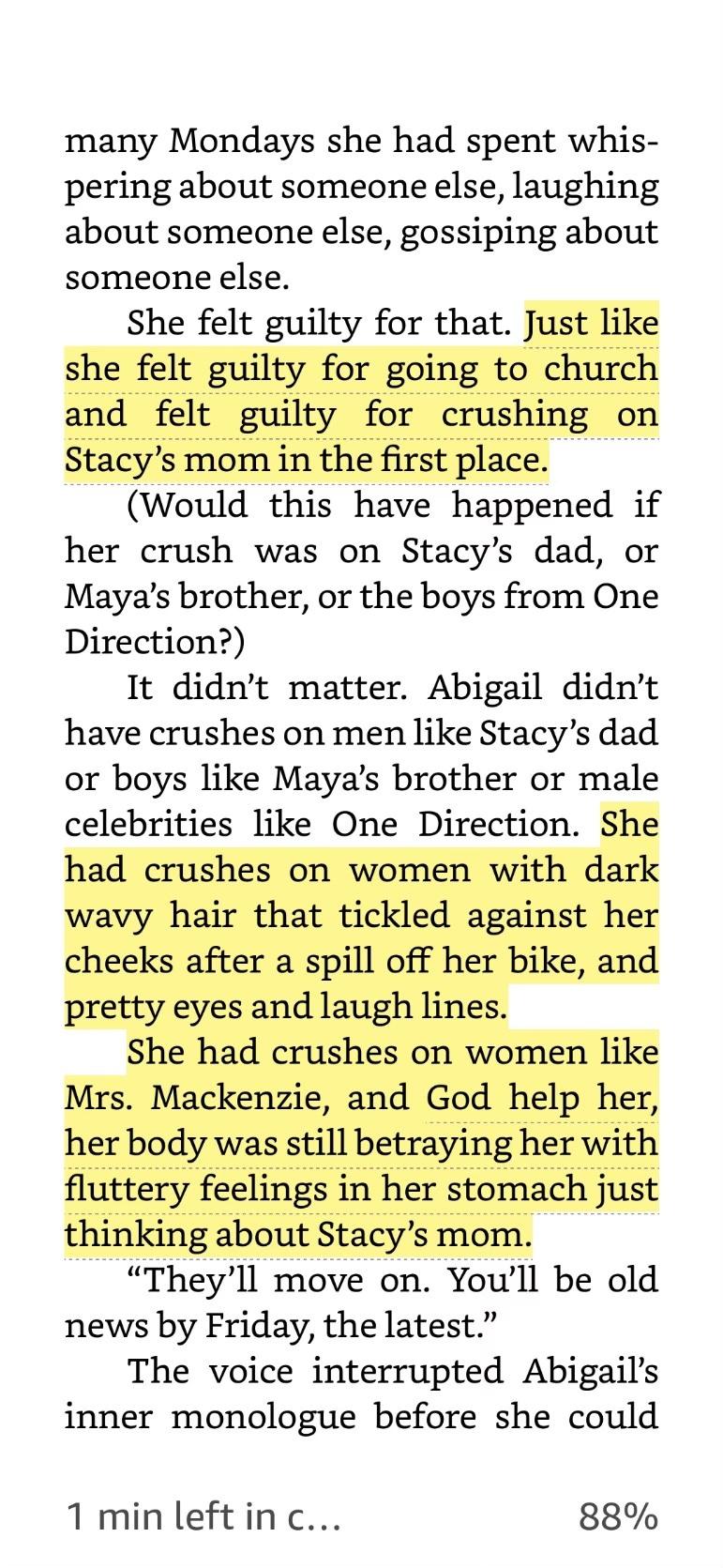 "I just think your mom's really pretty," the girl in the book says.
The school's promotion of transgenderism was its most concerning trespass against parental rights, Hannah said. But it wasn't the only one.
One teacher announced after Christmas to her class of elementary schoolers that there was no Santa Claus, Hannah said.
"It seems like they're constantly overstepping the family line between family and school," she said.
Once, a guest speaker at the school handed out pieces of paper, Lucy said. She told the class to draw men and women on them. Then she cut the pictures in half and scrambled the tops and bottoms.
"They'd have a different top and a different bottom to what everybody would have when they first drew their picture," she said.
The exercise was meant to show how gender is mixed, Lucy said.
At school, Lucy's teachers gave her books laced with profanity, her mom said.
Pushed Into Gender Identities
The school's promotion of pro-LGBT material led to children embracing LGBT identities, Kevin said.

In Lucy's class, a very high number of children announced LGBT identities. In her immediate friend group, two students identified as transgender.

"They're trying to motivate everyone to become something like that," he said. "All of a sudden, everyone's transgender, everyone's nonbinary," he said.

Much of the school's radicalism started when former President Donald Trump won the 2016 election, said Hannah. Teachers festooned the hallways and classrooms with signs stating that the school was a "safe, affirming space" for LGBT people and their allies.

"The straight kids were saying, 'Where am I represented in that? I just become an ally to someone? I don't count anymore?" Hannah said.

Gender ideology was "everywhere," said Lucy.

In one extracurricular club with nothing to do with gender ideology, a teacher kept on bringing up the subject to Lucy unprompted, her mother said.

"Do you think we have enough LGBT books?" the teacher asked Lucy.

"I'm really happy to see that we're getting more girls in our club—or at least students who identify as girls," the teacher said to Lucy on another occasion.

"It has to be these pointed comments about identifying as a girl or identifying as a boy or not being something that you are," Hannah said.
Female Erasure
Lucy said she faced a strange school environment where she was singled out and pressured to celebrate gender ideology.

The stress led to her having panic attacks in school.

"I was just feeling pressured to be supportive every single day, and it was making me sick," said Lucy. "And I had a lot of anxiety. And I felt really sad."

The web of preferred gender pronouns that students had to navigate made it difficult for Lucy to talk about even fictional characters without controversy, Hannah said.

"She was constantly trying, having to feel like she had to defend herself," she said.

Friends told her she was a lesbian, Lucy said. She argued with them about it.

"She sent me like videos [saying] 'Yeah, this is gonna be you one day,' and they were LGBT related," she said of one friend.

When Lucy made an offhand comment that her hair wasn't entirely straight, the same friend told her that "you aren't either," she said.

"Stop putting a label on me," Lucy responded.

Children also suddenly brought up sexual matters, Lucy said.

"I'm bisexual, but I'm most ... I mostly like men," another child told Lucy unprompted, she recalls.

In response to these developments, Lucy's parents encouraged her to use her cellphone so she could call them if she felt uncomfortable.

RSU 22 rules forbid phone use during the day, Hannah said. But she added that Lucy needed to call her if things went wrong.

"That's horrible to feel like you have to do that when you drop your kid off at school," Hannah said.

Today, Lucy no longer attends RSU 22. She feels like her experience with radical gender ideology wasn't right, she said.

"This shouldn't have been talked about in front of a 10-year-olds and 11-year-olds," Lucy said.