LOUDOUN COUNTY, Va.—In December 2020, Shawntel Cooper, a mother of two in northern Virginia, noticed something new in her fourth-grade daughter's morning class routine. Cooper had just switched roles in her company and was able to work from home, and her daughter, like most of America's schoolchildren, was learning remotely due to the pandemic.
That morning, Cooper saw that the teacher had introduced a new learning segment: playing clips of topical news items of the day. What was shown was a mainstream media news broadcast covering riots connected with the Black Lives Matter movement.
"Why are they showing that?" Cooper recalled thinking. "They were going against the way that I want my child to be. She was brought up without thinking, 'I'm white and I'm black.'"
Cooper is African American, while her husband is white.
"She hasn't been raised based on colors. She has been raised based on loving human beings just for being human beings, of their characters, not putting them in categories on color, or what color their parents are," Cooper said. So she asked the teacher to exclude her daughter from the morning news segment, a request that was granted.
A few months later, her daughter, while working on a school project for Black History Month, asked Cooper why people would say that there would be "no justice, no peace" until every white person was slaughtered. The girl recalled the news clips she had watched and was confused, especially because her father is white. She also started asking questions about whether she should be making friends based on skin color.
This crossed the line for Cooper.
"Our world went upside down when we had to explain to our daughter what was going on," she told The Epoch Times.
"There's nothing wrong with seeing through someone else's lens. But to deceive someone into thinking that you are bad because of the color of your skin, [or] because of your color, we are going to cut you some slack—I will not teach my children that.
"I believe you overcome challenges through your own journey. It's not because someone felt sorry for me. I had to learn on my own; it was just part of life. It didn't matter what color I was."
So the mother started to look into the Black Lives Matter movement and critical race theory (CRT). She was shocked by what she found: that CRT, traditionally something taught in colleges, is an analytical framework underpinned by quasi-Marxist doctrines. It breaks down society into two camps: oppressors and the oppressed. Simply for being born white, one is an oppressor. Meanwhile, Black Lives Matter, a left-wing activist group that promotes racial justice in law enforcement and other domains, was the embodiment of CRT principles being put into practice.
She thought it was "crazy" to "try to bring these [CRT] college courses into our children's school." In schools, the theory appears under different banners, such as "diversity," "equity," and "inclusivity."
Fast forward to May, when Cooper had some quiet time while recovering from major surgery. It was then that she decided she needed to do something about what was being taught in her child's school.
"I see people fighting racism with more racism," she said. "Critical race theory now is trying to take the children away from the parents to make them social justice warriors. CRT is Marxist ideology. And the last thing I want is my family to be breaking apart."
She used the time to write a speech protesting CRT at the next school board meeting.
"CRT is racist. It is abusive. It discriminates against one's color," she told the Loudoun County school board on May 11. "Today, we don't need your agreement. We want action and a backbone for what we asked for today: to ban CRT."
"You cannot tell me what is or is not racist. Look at me. I had to come down here today to tell you to your face that we are coming together. We are strong. This will not be the last greet and meet, respectfully," Cooper said as she left the podium.
The video of her speech went viral.
Cooper is from Loudoun County, a wealthy area in northern Virginia known for its good schools.
By the time she spoke up, Loudoun County Public Schools (LCPS) had been on the equity journey for at least two years. In the spring of 2019, the county hired an equity-focused educational consultancy to conduct a "systemic equity assessment" of the school's policies.
The result was the
LCPS comprehensive equity plan
, which states, "A diverse, inclusive, equitable, and socially-just teaching and learning community is a priority in LCPS." Its equity impact statement highlights the school system's commitment to "a racially-conscious, identity-affirming, and culturally responsive learning space."
A primary recommendation in the equity plan was to publish on schools' web pages a superintendent's message "defining and condemning White supremacy, hate speech, hate crimes, and other racially motivated acts of violence," and for this message to be communicated to parents twice a year. This same message was included in the Loudoun County school board's
equity resolution
adopted on Sept. 24, 2019.
Cooper said that the principal and teachers at her daughter's school were transparent and helpful when she raised her concerns about CRT. However, "no one could promise me that critical race theory would not be taught," she said. That's because, Cooper said, CRT isn't packaged as such when it's transmitted in school classrooms. Rather, it's disseminated under different guises that have evolved over time, from "culturally responsive learning" to "equity" to now "social-emotional learning."
As a result, Cooper pulled her daughter out of school after she finished fourth grade in June and began homeschooling her in July.
Loudoun County Public Schools has repeatedly said that CRT isn't taught in its classrooms and that it presents a standard curriculum designated by the Virginia Department of Education. This refrain is repeated by other school administrators across the country, who contend that parents opposing CRT have been misinformed about what's being taught.
Many parents in Loudoun, however, disagree, arguing that the school, through its policies, training for teachers, and instruction of students, transmits the tenets of CRT without using its actual name.
Domino Effect
Cooper was among the first parents to take a stand on CRT to the school board, and she was ready to go solo in her endeavor.

"I thought I was going to be fighting alone after I spoke on CRT," she said.

Not after Ian Prior heard her speech.

He heard it in the hallway outside the school board room; he didn't know who Cooper was, but remembers saying to himself, "This is an amazing speech."

Prior, who runs his own public relations firm and was a Justice Department spokesperson during the Trump administration, had just founded Fight for Schools, a local advocacy group, a month earlier. The next day, Prior called Cooper and told her that Fox News host and commentator Sean Hannity wanted to speak to her.

Subsequently, more parents started speaking out at school board meetings. On May 25, a Loudoun physical education teacher named Tanner Cross denounced a pro-transgender policy, saying he wouldn't use a child's preferred pronoun because that would involve "lying to a child" and "sinning against our God."

On June 8, Xi Van Fleet, a Chinese American mother whose son had graduated from a Loudoun County public school and who grew up through the upheaval during communist China's Cultural Revolution five decades ago, spoke up.
"I've been very alarmed by what's going on in our schools. You are now teaching, training our children to be social justice warriors and to loathe our country and our history," she told the school board.
"The communist regime used the same critical theory to divide people. The only difference is, they used class instead of race."
People heard others and began saying their own piece, Prior told The Epoch Times. "That just brings more and more people and further creates that collective zeitgeist of courage that now exists among parents, grandparents, citizens of Loudoun County," he said.
Two days after speaking at the board meeting, Cross, the physical education teacher, was suspended. He sued the school board and Superintendent Scott Ziegler in June, alleging that they had violated his rights to the free exercise of religion and free speech. By mid-November, Cross was permanently
reinstated
to his job after settling with the school board on this issue.
He's still asking the court to strike down Loudoun's transgender policy, a decision expected to be handed down before Christmas.
'Hit List' on Anti-CRT Parents
Ian Prior moved to Loudoun four years ago, looking for a house in a neighborhood with good schools.

Unexpectedly, he was "activated" in March 2021 when he found out that he was on a "hit list" compiled by members of a private Facebook group, Anti-Racist Parents of Loudoun County (ARPLC). In response, he formed Fight for Schools in April.

In the ARPLC Facebook group, a post on March 12 called for volunteers to gather information about anti-CRT parents and "expose these people publicly." Loudoun County Sheriff's Office opened an investigation and obtained the names on the "hit list," through social media search warrants and conducted interviews.

The sheriff's office closed the case four months later without pressing any criminal charges. The case's

executive summary

indicated that the investigation didn't find any personal identifying information posted in the ARPLC Facebook discussion. The FBI's public corruption investigative unit conducted a parallel probe and also decided not to pursue the case criminally. However, the sheriff's office informed all those on the hit list that they had an option to "pursue misdemeanor criminal charges or other civil remedies if they chose to do so," according to the executive summary.

Jessica Mendez, who has two daughters who attend Loudoun's public schools, is a good friend of Prior.

"You come for my friend, you come for me. People shouldn't just be making lists," she said, adding that she also felt a duty to call everyone on the list to inform them that they had been targeted.
The attempted doxxing campaign on her friend galvanized Mendez to take further action. She became a founding member of Fight for Schools, and in May, she started efforts to collect signatures to recall school board members who were a part of the private ARPLC Facebook group.
Fight for Schools filed recall petitions against school board member Beth Barts, a member of the private Facebook group ARPLC, on Aug. 25. On Oct. 5, the court denied Barts's motion to dismiss the removal action. Ten days later, Barts resigned with an effective date of Nov. 2.
At a rally outside the Loudoun County Public Schools administration building on Nov. 9, Prior announced that Fight for Schools had collected enough signatures to start the recall process on all four targeted board members. The group filed recall petitions against Brenda Sheridan, chairwoman of the school board, on the same day. On Nov. 18, it filed a petition to remove school board vice chair Atoosa Reaser from office.
Over six months, Fight for Schools volunteers, working at community events across the county, collected more than 25,000 signatures.
"The first day that we got signatures was on May 8, and it hailed. It was windy; it was rainy, and then it was sunny and warm, and then the cycle would repeat itself," Prior said at the Nov. 9 rally, recalling the dedication of local volunteers.
"The last day we got signatures was on Election Day [Nov. 2], and it was nasty out—it was raining, freezing, but people stayed out there from 6 a.m. to 7 p.m."
'Courage Is Contagious'
The Loudoun parents' fight has taken them to places far from the school board meeting room. Cooper and Van Fleet have both spoken on national television broadcasts to millions.

Cooper recalled being "scared" before her appearance on Fox's "Hannity" program.

"I don't have that confidence in speaking in front of a million people. I am just a mother. I can only teach my kids how to be successful, to learn to think for themselves, learn from their mistakes, and learn right from wrong," she said.

But she overcame her fear through meditation.

"I would just sit back and look at my husband and children. I would let everything pause for the moment, just take it all in how much I love them," she said.

"It really all came down to ... that our children trust in our decision to send them to school. Teachers become role models, as our kids learn to trust them in our absence. Teachers play a major role in building our kids' self-esteem, especially during their most impressionable years."

Cooper said that some teachers who think they are doing good are actually "causing harm [by] interfering with the parents' morals and beliefs pertaining to family, political opinions, nationality, health, religion, ethnicity, sex, and personal characteristics."

As for Van Fleet, who also got an invitation to speak on "Hannity" the day after the June 8 school board meeting, she also had to work to overcome her apprehension. Immediately, anecdotes of conservatives being doxxed and persecution episodes during the Cultural Revolution flashed in her mind.

At the beginning of the Cultural Revolution in 1967, children in Van Fleet's neighborhood in China wanted to organize their own "Little Red Guards" troop. Red Guards were radicalized high school and university students who roved around the country persecuting those deemed by Chairman Mao Zedong as "counter-revolutionaries" or "class enemies."

Van Fleet, who was 8 at the time, told the leader, who was also her friend, that she wanted to join, too. However, upon finding out that Van Fleet's grandmother was a landowner—a class enemy—the friend immediately announced it to all the children in the neighborhood. They treated her like she was evil.

"And I felt evil," Van Fleet recalled.

This demonization was felt by school children across the country, Van Fleet told The Epoch Times, pointing to an anecdote shared by a mother at Oct. 26 Loudoun school board meeting: "It was in the early spring of 2020 when my 6-year-old somberly came to me and asked me if she was born evil because she was a white person, something she learned in a history lesson at school."

Still, the naturalized American worried that if she spoke out, she'd become a target all over again, even after having long escaped the suppressive environment in communist China. But, in the end, Van Fleet thought: "It's a calling. I have to take on this. It's not even my decision to make."

The fear didn't subside, though, even after her appearance on "Hannity." A local club invited her to an anti-CRT meeting and told her they would send a car for her. As she was waiting for the ride, her thoughts were racing—in her imagination, a black car came and took her to nowhere, and she would never see her family again.

But reading online feedback about her "Hannity" interview helped Van Fleet conquer her demons. "I cried," she said.

Two early comments stood out for her. One person said it was a blessing to have Van Fleet as a fellow American.

Another said, "China sent us a gift to save America, and that is Xi Van Fleet."

"I just felt so empowered and encouraged," she said. Over the months, she identified precisely that as her mission: to help save American values by giving back.

"As an immigrant, I have been enjoying the freedom fought for by America's forefathers and generations of the patriots. Now it's my turn to fight the fight," she said during her speech at Heritage Action's 2021 Sentinel Summit in Orlando on Nov. 13.

But this fight hasn't been without cost. Van Fleet has lost friends, people she thought were good friends but who distanced themselves due to her advocacy. Meanwhile, she has also gained new friends, like Cooper, to whom she has become close.

"Courage is contagious because we encourage each other," Van Fleet said.

The mother considers herself a soldier in the Loudoun "army." While she had seen so many "heroes'' speaking up at school board meetings in other counties, they weren't able to find traction. Yet, for some reason, the momentum carried forward in Loudoun.

What made Loudoun different was teamwork, Van Fleet said. And it's turned Loudoun into ground zero in the fight for children's education and America's future.
Escalated Tensions and Arrests
It was at a heated school board meeting on June 22 that tensions between Loudoun parents and the school board escalated to a new level. It also was the first meeting that pro-CRT and anti-CRT sides both organized attendance.

By June 22, the CRT and pro-transgender policies in Loudoun had attracted national attention, following a series of interviews with parents on television. The agenda for that meeting included discussion of the transgender policy that would require teachers and staff to call students by their preferred pronouns and allow students to use the bathroom of their self-identified gender.

Before the meeting, a campaign on ActBlue.com, a fundraising platform for Democratic candidates and progressive organizations, called for donations to bus supporters of the policy to a "Loudoun for All" rally to "stand up against hate and intolerance in our school system."

Some parents were concerned that the board might adopt the transgender-friendly policy, even though it wasn't on the agenda for a vote. Many were concerned that the policy might jeopardize the safety of students as it would allow biological males to self-identify as girls and use girls' bathrooms and locker rooms.

Eventually, 289 people signed up to speak in person at the meeting. The board room was packed with parents against CRT and the transgender policy. About a dozen supporters of the transgender policy sat on one side of the front row.

The audience burst into louder and louder cheers as former Virginia state Sen. Richard Black, the 50th speaker, began his comments.

"This board has a dark history of suppressing free speech. They caught you red-handed with an 'enemies list' to punish opponents of critical race theory. You're teaching children to hate others because of their skin color. And you're forcing them to lie about other kids' gender," Black said. "I am disgusted by your bigotry."

The crowd cheered more, and many stood up to express their agreement.

The school board members quickly voted to end the public comment period and retreated from the dais, making Black the last speaker allowed out of the total 289 registered.

After chanting "shame on you" to the empty stage and singing the national anthem, the crowd decided to press on with their speeches. Jon Tigges, a local agritourism business owner, took the lead in organizing the speakers. After about a half-hour, Superintendent Ziegler declared the meeting an "unlawful assembly" and called for everyone to leave the premises.
Tigges refused to leave the room and was arrested for trespassing. Another Loudoun father, Scott Smith, was arrested for disorderly conduct and obstruction of justice after getting into an argument with a woman who supported the transgender policy. The school board later resumed the meeting with other items on the agenda.
Smith was at the meeting because his ninth-grade daughter was sexually assaulted by a male student in the girls' school bathroom a month earlier. He told local media that he had never been to a school board meeting before and wanted to see "what all the nonsense was about."
"I wanted to see it in real life because my family has unfortunately been pulled into this nightmare," Smith
told
7news on Oct. 28.
Smith said he was talking to a woman, an acquaintance of his wife, who insisted that his daughter wasn't assaulted.
"[The woman's] husband put his hands on me first and the next thing I knew, I was wrestled to the ground by the sheriffs' department," Scott told The Epoch Times, pointing to
video
footage of the incident.
Scott added that the woman had also threatened to ruin his plumbing business via social media.
During the meeting, board member Beth Barts had asked if there were assaults happening regularly in bathrooms or locker rooms—a key concern for opponents of the policy.
"To my knowledge, we don't have any record of assaults occurring in our restrooms," Ziegler responded, adding later that "the predator transgender student or person simply does not exist."
But emails made public in October showed that Ziegler knew about the sexual assault of Smith's daughter on May 28 and informed the school board on the same day. Ziegler also knew about the 15-year-old's arrest on July 9, but decided to
send him to another high school
, where another girl became his victim on Oct. 6.
After the disclosure of the emails, Ziegler acknowledged on Oct. 15 that his June statement before the school board meeting was false, but explained that he had misunderstood the question. On Nov. 5, Ziegler announced that an external law firm would be investigating Loudoun County Public Schools' handling of the two sexual assault cases.
Ziegler's handling of the assaults has sparked calls for his resignation.
The teenage boy in October was
found
guilty on one count of forcible sodomy and one count of forcible fellatio, both felonies, in relation to the May incident. And in November, he
pleaded
no contest—that is, he wouldn't challenge the charges—related to the October assault. The Loudoun County Juvenile Court will announce sentencing in both cases in mid-December.
Ziegler, at an Oct. 15 press conference,
said
the school system handled the sexual assaults in compliance with Title IX federal laws. He also admitted that the schools had "inadvertently" failed to properly report incidents in the past due to a "lack of oversight." The superintendent's office didn't respond to a request for comment from The Epoch Times.
Smith's family is currently in the process of filing a Title IX civil case in federal court against the Loudoun County school board over its handling of his daughter's sexual assault case.
Declining Trust
After the events of June 22, "trust," or rather the lack of, became a major theme to emerge from parents' remarks.

"The parents of Loudoun trusted that the members of the board would have our children's best interests in mind when making decisions. That trust is lost," one parent said at the next school board meeting on Aug. 10. Another, at a rally before the meeting, suggested that he wanted his children to start wearing a body cam to school.

The June 22 board meeting was the last of the 2020–2021 school year. As of the next meeting on Aug. 10, the first of the 2021–2022 school year, Loudoun County, citing the events of June 22, changed the public comment rules: Public viewing during the public comment period was no longer allowed.

Speakers were allowed into the Loudoun County Public Schools administration building in groups of 10 and allowed into the board room one by one. Speakers also were told to take shelter in their cars when a severe thunderstorm hit during the August meeting. Still, more than 170 people signed up to speak in person.

"Thank you for letting us in after three and a half hours of damp and heat, and humidity and storms. It's nice to be finally let into the building that my tax dollars paid for," one parent said at the Aug. 10 meeting.

The meeting also saw tightened security, including the use of handheld metal detectors. Before the meeting, Ziegler requested the sheriff's office to provide a K-9 explosive sweep, undercover officers, and a five-person onsite quick reaction force.

Sheriff Michael Chapman responded: "Your request is extraordinary and would likely constitute LCSO's [Loudoun County Sheriff's Office] commitment of a minimum of approximately 65 sworn deputies. Despite this, you fail to provide any justification for such a manpower-intensive request."

An Aug. 6

memo

by Loudoun County Public Schools' chief operations officer noted a complaint from the sheriff, that the "school board is firing people up and calling LCSO to clean it up."

Even though most of the in-person speakers and written comments voiced objections to the transgender policy, the school board adopted it on Aug. 11. Parents' concerns that the pro-transgender approach would lead to sexual assaults in the school restrooms were brushed off by some board members as groundless.

"The fears of nefarious activity happening in bathrooms on any sort of scale due to policies that protect transgender students is simply not what occurs in reality," school board member Ian Serotkin said during a discussion before the adoption of the policy on Aug. 11.

Parents were angry. Calls for the resignations of the superintendent and school board members grew louder and louder at subsequent school board meetings.

Into the new school year, the number of registered in-person speakers consistently hovered at above 50. Other than the June 22 meeting, at which about a dozen pro-transgender speakers spoke, very few supported the school board during public comment in school board meetings from August. Parents also held rallies before almost every school board meeting; no crowd supporting CRT or transgender-friendly policies was seen.

By late November, Loudoun had reinstated public viewing during the public comment section of school board meetings. Restrictions on using the restrooms and access to the building have also been lifted, Loudoun County Public Schools public information officer Wayde Byard told The Epoch Times. Security measures, including the use of hand-held metal detectors, remain in place.

On Sept. 28, the school board started requiring speakers to show proof of residency in the county, a move meant to prevent "out-of-town agitators," school board chair Brenda Sheridan said at the time.
'We Are Not Domestic Terrorists'
The heated interactions in Loudoun County were unexpectedly thrust into the national spotlight again in late September after the National School Boards Association (NSBA) sent a controversial letter to President Joe Biden requesting "federal assistance to stop threats and acts of violence" against public school board members, administrators, teachers, and staff.

The Sept. 29 letter, for which the NSBA has since apologized, said that "acts of malice, violence, and threats" against school board members over issues such as masking policies and CRT could be equivalent to "a form of domestic terrorism." It further said that the FBI and federal agencies should use the PATRIOT Act and other tools to go after parents.

NSBA cited 30 news stories in support of its claims, most of which related to disruptive and disorderly conduct at school board meetings. Three arrests over conduct at school board meetings, including the arrests of Smith and Tigges at the Loudoun meeting in June, were included. The organization didn't reach out to Smith or Tigges before sending the letter.

The letter also cited instances of threatening letters, an alleged attack on a teacher, and a parent using a Nazi salute at a board meeting. According to local media, many members of the Loudoun school board have also received death threats via social media, emails, and phone messages.

Five days after NSBA's letter, Attorney General Merrick Garland issued a memo directing the FBI to address an alleged "spike in harassment, intimidation, and threats of violence" against school board officials and create "dedicated lines of communication for threat reporting" on the matter. 

In a separate statement, the Justice Department also announced the creation of a task force, which includes the agency's National Security Division, to deal with such threats.
Garland, later testifying at a House Judiciary Committee hearing, said that the DOJ hadn't been told by the White House to issue the memo. He also denied assertions that his agency would label concerned parents as domestic terrorists.
"Justice Department supports and defends the First Amendment right of parents to complain as vociferously as they wish about the education of their children, about the curriculum taught in the schools," he told lawmakers on Oct. 21.
Some parents have hit back at Garland's memo.
Four Loudoun parents, including Van Fleet and Cooper, together with a group of parents from Saline, Michigan, on Oct. 19
filed
a lawsuit against Garland alleging that his memo violated parents' rights to free speech.
For Cooper, joining the suit was about trying to set the record straight.
"The main discussion is that we're not domestic terrorists; we're just parents," she said. "How do we not back down to bullying, to being pushed in a corner when we've done nothing but protect our children and what is in our rights as parents?"
Amid the blowback over its letter to the White House, the NSBA
issued
an apology to its members on Oct. 22, saying: "There was no justification for some of the language included in the letter. We should have had a better process in place to allow for consultation on a communication of this significance."
Since the NSBA's initial letter, some 26 of its state chapters have distanced themselves from the national federation, with 15 of them terminating their membership or halting payments of dues. The
Virginia School Boards Association
decided on Nov. 18 to end its membership with NSBA, citing a "persistent pattern of dysfunction" within the organization.
On Nov. 16, Republican lawmakers on the House Judiciary Committee revealed that an unnamed whistleblower had
disclosed
documents suggesting the FBI was using counterterrorism resources to investigate parents or individuals who threaten school board members or other individuals.
The leaked document was an email containing an Oct. 20 "joint message" from the FBI's Criminal and Counterterrorism divisions. Referring to Garland's memo, the message said that the Counterterrorism and Criminal Divisions had "created a threat tag, EDUOFFICIALS, to track instances of related threats" and asked offices to start using that tag to investigations into threats against school administrators and staff.
Judiciary Committee Republicans, in a Nov. 16 letter to Garland, argued that this email appeared to contradict the attorney general's previous testimony before the committee, during which he said the FBI and DOJ weren't using counterterrorism resources to target threats against school board members.
In response to the whistleblower's disclosure, an FBI spokesperson told The Epoch Times that the bureau "has never been in the business of investigating parents who speak out or policing speech at school board meetings, and we are not going to start now."
Make-or-Break Election Issue
The issue of parents' rights in education propelled Republican gubernatorial candidate Glenn Youngkin to a historic win in Virginia on Nov. 2.
Virginia hadn't had a Republican governor for 12 years. Once a swing state, it hasn't voted for a Republican presidential candidate since 2004. While the majority of the counties are still red, the more heavily populated areas of northern Virginia, including Arlington, Fairfax, Loudoun, and Prince William counties, as well as the cities of Richmond and Virginia Beach have consistently trended blue.
Youngkin thanked Loudoun County at his post-election rally on Nov. 13, held outside the Loudoun County Public Schools administration building—the same location where he announced five months earlier that he would ban CRT on day one if elected.
"We're going to make sure that we're focused on our entire history—the good and the bad. This is not about hiding our past. This is about knowing where we have come from, so we will know where we are going. But I will tell you that we will not be teaching critical race theory in our schools!" Youngkin said at the rally, reiterating his campaign promise.
In a race won by 64,000 votes, three larger northern Virginia counties—Fairfax, Prince William, and Loudoun—gave Youngkin a total of 78,000 more votes compared to in the previous gubernatorial election, even though all three counties still voted Democratic.
Youngkin's campaign also capitalized on Democratic candidate Terry McAuliffe's misstep on the issue.
"I don't think parents should be telling schools what they should teach," McAuliffe, who served as governor from 2014 to 2018, said in a debate with Youngkin on Sept. 28. That comment put McAuliffe on the defensive.
Invigorated by the election results, Loudoun parents pressed their demands at the school board meeting held a week later, where all of the nearly 100 in-person speakers, with the exception of one, criticized the school board or urged the board and superintendent to resign.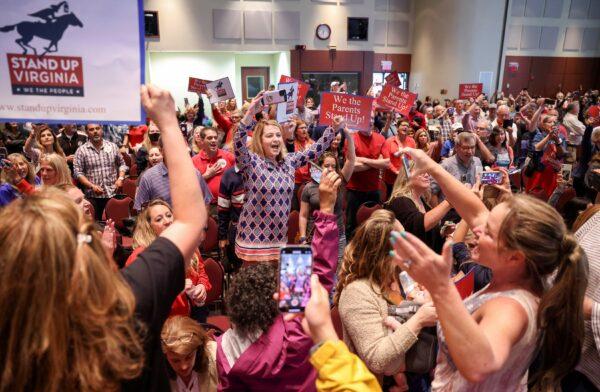 "This has always been about our children, not an election," said one mother. "Never underestimate the determination of a mama bear when her cubs are under attack."
Over nearly a year and a half of challenging the school board's initiatives, Fight for Schools' Mendez had doubted the utility of making public comments at meetings because the board wasn't listening.
"I had it all wrong. It wasn't the school board members who needed to hear us, it was everyone at home. It was the parents, grandparents, and neighbors," she told The Epoch Times at Youngkin's rally on Nov. 13.
Indeed, people far and wide have been listening.
Scott Mineo, founder of local advocacy group Parents Against Critical Theory (PACT), previously told The Epoch Times that other counties in Virginia and across the United States have contacted him for help addressing this issue in their own communities.
The grassroots efforts in Loudoun County have emerged as a template movement to be exported across the country. And there's already a new term for it.
"We are going to 'Loudounize' this country because it doesn't stop here," Tiffany Polifko, PACT's vice president of education and outreach, told the Loudoun school board members during the Nov. 9 meeting.
Tigges, who also founded the Patriot Pub Alliance, a digital platform for secure collaboration and communication for parents and teachers, has drafted a business plan to replicate what Loudoun residents have done in other counties.
"We're encouraging local communities to start meeting together face-to-face, grow in trust, and form a coalition united in purpose," he previously told The Epoch Times.
Gov.-elect Youngkin was "impressed" that "Loudoun County parents didn't sit on the sidelines and complain."
"They actually recognized that they needed to make change, and they got fully engaged," he said.
He was also excited about the "Loudounize" project. When asked about the term at the rally on Nov. 13, he told The Epoch Times: "It's a good word. I love it! I love it!"
'The Fight of Our Lives'
Now, more than one year into their quest for a greater say in their children's education, the Loudoun parents say there's no turning back.

Van Fleet acknowledged the "selfish" reasons for her fight.

"I understand that if America falls, there is no place for me to go. My whole life is for this moment," she said.

Fight for Schools' Mendez echoed that sentiment.

"I always say we are in the fight of our lives. A lot of people don't understand. But we feel strongly about what we're doing," she said.

It's about "maintaining our democracy and maintaining our way of life," and communism will be fended off as a natural result, she said.
While Mendez wasn't on the original hit list on the Facebook group, she has since been targeted after becoming involved in Fight for Schools. Her employer got two anonymous letters, one in June and another in September, accusing her of being a "racist" and shaming them for employing her. She said her manager understood what she was doing and that she was being harassed because she was taking a stand.
After her employer received the first letter in June, Fight for Schools' founder Prior asked Mendez if she needed to scale back.
"No, this is exactly what they want," Mendez said. "It's exactly what they're trying to accomplish. I'm not going to be intimidated.
"These other parents are out here fighting and getting signatures, working day in and day out, and going to school board meetings. I'm not going to back down."
She said Fight for Schools is seeking accountability. She has a problem with "the lying and the cover-up in order to pass a policy because of an agenda," referring to the process leading to the adoption of the transgender-friendly policy in August.
Mendez recently read a media report about a school board recall effort in Wisconsin, where parents were asked why they decided to do this. Their answer was "Loudoun."
"One of the most rewarding parts of this whole thing is that they're learning that it's not just one voice anymore, that they can make a difference, too," she said.
The movement is a "parents' revolution," Prior said.
"It's a revolution that uses the civil tools in the arsenal of democracy to push back against massive government overreach that involves our children," he said.
Cooper's wish is for all sides, the left and the right, to come together.
"In the old days, they always came to the middle, and they worked it out," she said.
She also shares the commitment of her band of "warriors."
"My fight is to save America from going communist. This will be the hill I die on," she said.
"I love everything that God gave me: my family, my country, the land, our freedom. So I'm blessed to be able to have the team, the warriors. I'm happy to stand beside them."