The impeachment of Texas Attorney General Ken Paxton has highlighted the divisions among members of the Republican Party of Texas.
The Republican-controlled House on May 27
voted to impeach
Paxton, sending 20 articles of impeachment to the state Senate. The House needed a simple majority of its 149 members to move forward with the impeachment, and 60 of the 85 House Republicans voted with Democrats in a final vote of 121–23.
The House impeachment process was "absolutely political targeting," and the House General Investigating Committee process was "flawed" and "despicable," Republican state Rep. Tony Tinderholt said during a May 30 interview on 
Newsmax
.
The accusations against Paxton include misuse of official powers, bribery, and abuse of public trust. The 60-year-old, who has been under federal investigation, was elected to a third term in November.
A Divided House
Paxton's supporters have denounced the impeachment, some calling it "a sham railroading of a political enemy."

"I oppose the impeachment of AG #Paxton; not because I am convinced of his innocence, but because #texlege House leadership made no attempt to adequately document his guilt not to demonstrate that this is anything other than a sham railroading of a political enemy," Republican state Rep. Brian Harrison wrote on Twitter.

Tinderholt, who also voted against the impeachment, shares Harrison's sentiment, describing it as "definitely a Democrat-led attack on the attorney general."

"There was no due process. The attorney general was never afforded the opportunity to defend himself like historically has happened," he continued. "I trust the Senate. I think they're going to look into it. They're going to take it very seriously, but sadly, I don't think that the House took it seriously. They didn't give due process."

Tinderholt said it can be difficult for members to vote against the speaker, but some in the House were strong enough to do it, adding that his vote was not about whether Paxton is guilty or innocent but rather the flaws in the process.

"It's truly shocking that not a single person from Ken Paxton's office was ever questioned about this proceeding. Can you imagine any investigation in which the suspect isn't once questioned, and when his attorney asks to bring testimony to investigators, he's turned away? I can't. I voted against this resolution. Process matters, especially in such an important undertaking," Tinderholt wrote on Facebook following the House impeachment vote.

The committee spent more than two months secretly investigating the allegations against Paxton. The investigation came to light just hours after Paxton called for Republican House Speaker Dade Phelan's resignation for allegedly being drunk while presiding on the floor.

"This will go down in history as an embarrassing thing that the Texas House did," Tinderholt added.

Phelan's office has not addressed Paxton's claims of the speaker's misconduct.
Concerns About Impeachment Process
State Rep. Matt Schaefer, who also voted against impeachment, expressed "grave concerns" regarding the impeachment process in a lengthy statement on Twitter ahead of the vote.

House members were not provided with transcripts of witness interviews or substantiating documents, according to Schaefer.

"To be clear, the full Texas House has not heard any testimony from witnesses, nor have we been provided transcripts of such testimony. As I write this, I cannot determine whether those witnesses were under oath when they were interviewed by staff. I asked two members of the committee, and they did not know the answer," he wrote.

"Furthermore, it is the stated intent of Speaker Phelan and Chairman Murr that no direct evidence will be provided to the full House when the articles of impeachment are called up for consideration. Texas Government Code Sec. 665.005 states that the full house may compel testimony. The only transcript that has been provided to the full House was the transcript of staff members of the General Investigating Committee presenting an account of their findings to the committee on May 24th, 2023. Political considerations seem to be involved."

Schaefer said that although he opposed Paxton's reelection during the primary and even called out the attorney general's "very serious and moral and legal failings," he could not vote in favor of impeachment because the House failed in its process on the matter.

"But if it is right to impeach Ken Paxton, it is being done in the wrong way," Schaefer wrote.

"I cannot vote to impeach when the members of the full House have had no direct access to witnesses or supporting documents and have had no time to properly prepare and understand the matters in question. The simple truth is that the evidentiary basis to impeach Attorney General Paxton has not been properly established. Process matters."
Party Leader Weighs In
Republican Party of Texas Chair Matt Rinaldi said Phelan has worked to stop the "conservative direction" of the state by appointing Democrats to high-ranking leadership positions and battling conservative leaders to kill Gov. Greg Abbott's top priorities this legislative session.

"The impeachment proceedings against the Attorney General are but the latest front in the Texas House's war against Republicans to stop the conservative direction of our state," Rinaldi wrote in a statement.

"This sham impeachment is the result of the Phelan leadership team empowering Democrats, allowing them to hold leadership positions and control the agenda. It is based on allegations already litigated by voters, led by a liberal Speaker trying to undermine his adversaries, and investigated by lawyers connected to a Democrat on the House General Investigations Committee," he continued.

While the party was able to pass some conservative priorities, it could not come to agreements on property taxes, border security, and school choice, among other priorities Gov. Greg Abbott set for the session, which ended May 29.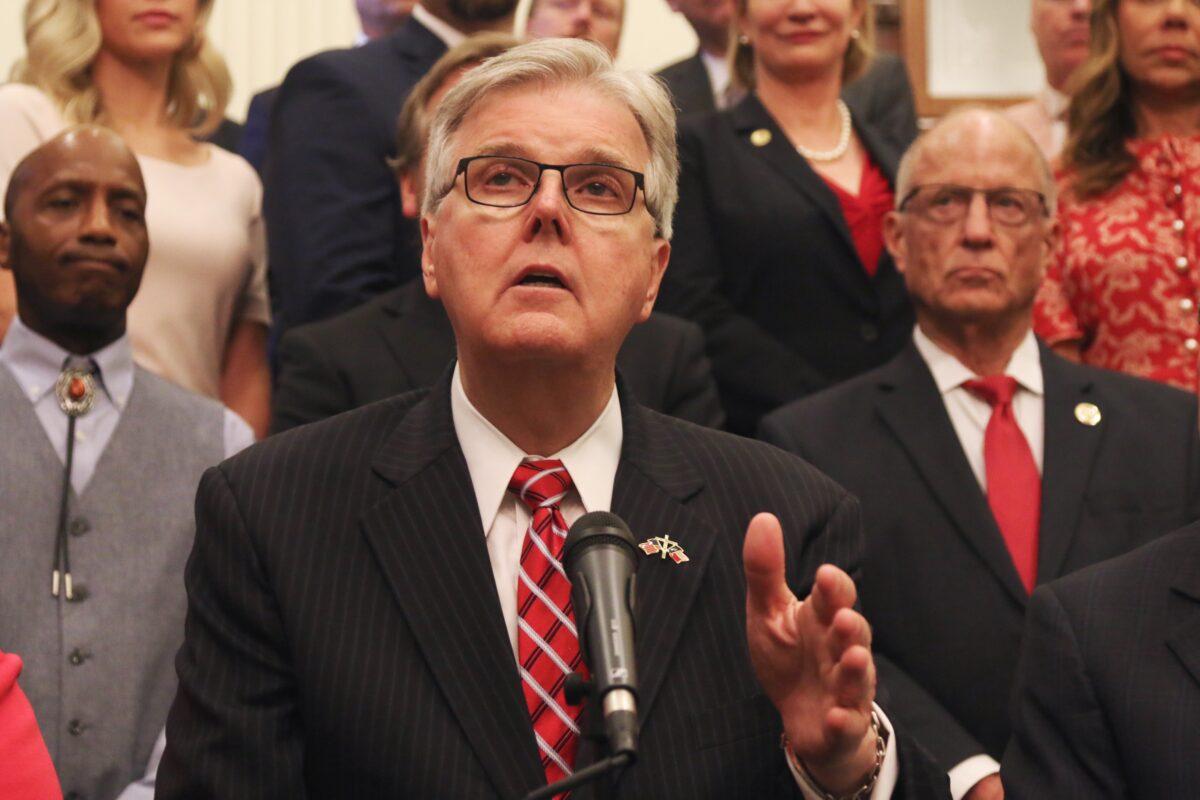 Lt. Gov. Dan Patrick wrote on Twitter on May 29 that Phelan "left a meeting in a huff" the night before with himself and Abbott, "killing the largest property tax cut in history by demanding an appraisal cap for business commercial properties that most business associations don't even want."
"When asked how this new cap would be paid for, he said schools should spend less money. And then he said, in a special session, he was taking the $100k Homestead Exemption off the table, reversing his members' vote of 147–0," Patrick continued.
"Today, even before a special session has been called, the House pulled the $100k Homestead Exemption they bragged about just a week ago off the table for only compression. I will not back down from giving homeowners a $100k Homestead Exemption & getting Texas the biggest tax cut in history."
Less than two hours later, Abbott announced that the Texas Legislature would convene for an immediate special session with an agenda to cut property taxes and crack down on human smuggling. More sessions are expected.
Impeachment Supporters
Among the 60 Republicans who voted in favor of Paxton's impeachment were five who represent Collin County, home to Paxton and his wife, state Sen. Angela Paxton.

Reps. Jeff Leach, Matt Shaheen, Justin Holland, Candy Noble, and Frederick Frazier said in a joint statement that it was "an incredibly difficult vote as, for most of us, Ken has been a longtime friend."

"And without question, Ken has been an aggressive and effective warrior defending Texans against federal overreach," the lawmakers wrote. "Because of that, this was a vote we wish we didn't have to make and a vote we did not take lightly."

The group said the committee provided enough evidence to commend articles of impeachment.

"[A]after hours of review and deliberation—and upon a thorough analysis of the relevant law—it became clear to us that sufficient evidence indeed exists to vote to commend articles of impeachment to the Texas Senate for a full trial."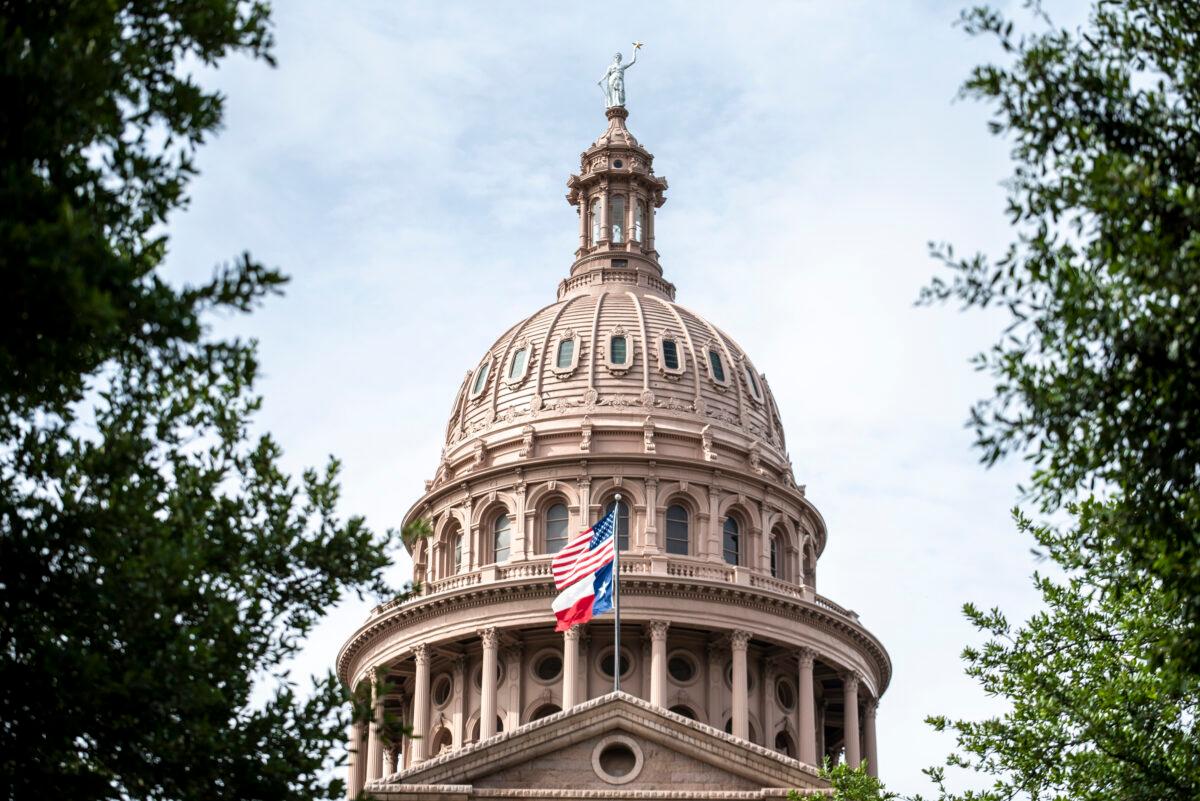 Senate Trial
The Texas Senate agreed to start the impeachment trial no later than Aug. 28.

On May 29, the House selected a Republican-majority board of managers to prosecute the impeachment case.

"We will manage this process with the weight and reference that it deserves and requires," state Rep. Andrew Murr, chair of the board of impeachment managers, said during a news conference. "This is about facts and the evidence. It is not about politics."

State Rep. Ann Johnson will work with Murr in leading the board of managers. Murr is chair of the House General Investigating Committee that recommended impeachment, and Johnson is vice chair.

The other managers are Republican Reps. Charlie Geren, Jeff Leach, Morgan Meyer, Briscoe Cain, Cody Vasut, David Spiller, and Democrat Reps. Joe Moody, Terry Canales, Oscar Longoria, and Erin Gámez.

Patrick appointed a seven-member committee to prepare recommendations on the rules of the procedure for the trial. The recommendations will be presented to the full Senate on June 20.

Republican Sen. Brian Birdwell will serve as committee chair, while Democrat Sen. Juan "Chuy" Hinojosa will serve as vice chair. Other members include Sens. Brandon Creighton, Pete Flores, Joan Huffman, Phil King, and Royce West.

The lieutenant governor will choose the trial date "not later than Aug. 28" for the chamber to convene as a court of impeachment.

"Today, the Texas Senate received Articles of Impeachment for Attorney General Ken Paxton. The Senate will follow its constitutional duty, and I appointed a committee to develop proposed rules and procedures for the matter," Patrick said in a news release on May 29.

"When the rules are drafted, a date will be set for when the Senate will resolve into a court of impeachment to consider the articles."

Removal from office would require a two-thirds majority of the Senate, which has 31 members: 19 Republicans, including Angela Paxton, and 12 Democrats.

It is unclear whether Angela Paxton has plans to recuse herself from the trial.