A judge on Thursday granted New York Attorney General Letitia James' request to have an independent court monitor to oversee the Trump Organization's submission of financial information in a civil lawsuit.
The latest decision by New York Supreme Court Justice Arthur Engoron comes in a civil lawsuit James filed (
pdf
) on Sept. 21 against former President Donald Trump, the Trump Organization, three of his children, and others, alleging "years of financial fraud to obtain a host of economic benefits." Trump has criticized the lawsuit, calling it a politically motivated attack.
James then asked a judge in mid-October (
pdf
) to block Trump from moving his assets to a new holding company he formed amid the pending civil lawsuit. Her request came after she noted that the Trump Organization registered a new company called "Trump Organization II LLC" on the same day she filed the civil lawsuit.
She also sought for an independent court monitor, which she
said
would oversee any new financial disclosure that the Trump Organization makes to banks and insurers, "to ensure they are not fraudulent."
The court monitor will be a third-party expert to be named by the court at a later date. James' office and Trump and other defendants in the case will have until Nov. 10 to each suggest three potential monitors for the court to consider and have until Nov. 15 to comment on each other's nominations.
"This court will appoint an independent monitor, to be paid by defendants, for the purpose of ensuring compliance with this order," Engoron wrote in the order (
pdf
) Thursday.
"If the monitor reasonably determines that defendants have violated this order, the monitor shall immediately report that matter to [Office of the Attorney General of the State of New York], defendants, and this Court."
Engoron also barred the Trump Organization from selling, transferring, or disposing of any non-cash assets without having 14 days of written notice to James' office and to the court.
'Communism Come to Our Shores': Trump
In a
press release
Thursday, James said the court's decision "will ensure that Donald Trump and his companies cannot continue the extensive fraud that we uncovered and will require the appointment of an independent monitor to oversee compliance at the Trump Organization."
Trump
in a response
 to the court decision called the situation a manifestation of communism.
"A puppet judge of the New York Attorney General and other sworn enemies of President Trump and the Republican Party has just issued a ruling never before seen anywhere in America," Trump said on his Truth Social platform. "It is Communism come to our shores."
He added: "Businesses will be fleeing New York, which they already are, for other states and other countries. Today's ridiculous ruling by a politically-motivated, hand-picked judge makes it even more vital for courts in both New York and Florida to do the right thing and stop this inquisition. We have to fight back against radical tyranny and save our Country!"
Trump Sues New York AG
Trump had on Wednesday
filed a lawsuit
 in Florida State Circuit Court against James, alleging that she has contravened both New York and Florida law in engaging in a "war of intimidation and harassment" against him, his family, his business interests, and associates. The suit is seeking to bar James from obtaining records from a trust that holds ownership of the Trump Organization.
The complaint (
pdf
) states that James has "repeatedly abused her position as Attorney General for the State of New York to pursue a relentless, pernicious, public, and unapologetic crusade against President Trump … with the stated goal of destroying him personally, financially, and politically."
The complaint noted that James started to make threats against Trump even before she was elected as New York's attorney general—"at a time when she possessed no actual information or insight into President Trump's business."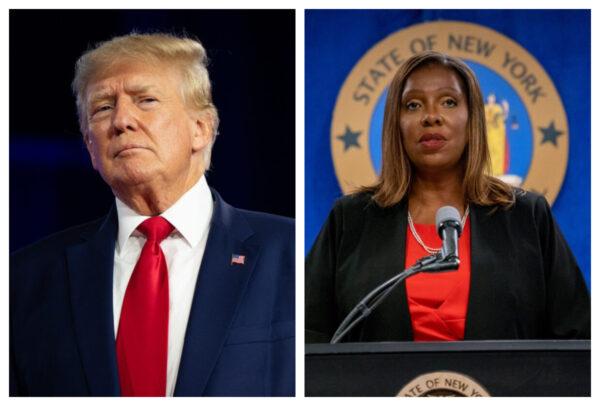 Civil Lawsuit Seeking $250 Million
James in her September civil lawsuit alleged that Trump and others at the Trump Organization "falsely inflated his net worth by billions of dollars" to induce banks to lend money "on more favorable terms than would otherwise have been available to the company."

The lawsuit alleged "more than 200 false and misleading valuations of assets included in the 11 Statements covering 2011 through 2021."

James' office, among multiple demands, is asking the Trump Organization to pay a fine of at least $250 million in "restitution" for the people of New York.

It also asked the court to bar the Trump Organization from entering into any New York state commercial real estate acquisitions for five years and block Trump and his children from serving as an officer or director of any corporation or business entity in New York.