The man accused of attacking New Yorkers in a Brooklyn subway station, shooting 10, was ordered held without bail by a judge during a court appearance on April 14.
Prosecutors' push to keep Frank James, 62, detained indefinitely went unopposed by the public defenders representing the alleged shooter, although the lawyers kept open the possibility of applying for bail at a future date.
In a letter to U.S. Magistrate Judge Roanne Mann before the hearing, prosecutors said the dozen or more arrests of James over the years were mostly for low-level crimes but "taken together, they paint a picture of a person with a penchant for defying authority and who is unwilling to conform his conduct to the law."
Additionally, for certain charges, such as those James is facing, the presumption is that no set of conditions can be imposed to reasonably assure a defendant's appearances in court in the future or the safety of the community, they said.
Mia Eisner-Grynberg, a public defender representing James, said his counsel reviewed the letter and would be consenting to a permanent order of detainment. Mann entered the order, but made it without prejudice, which allows the defense to later ask for bail.
James didn't speak during the hearing, which took place in federal court in Brooklyn.
The New York native, who has recently lived in Milwaukee and Philadelphia, has been charged with violating a federal law that prohibits terrorist attacks and other violence against mass transportation systems. He faces up to life in prison if convicted. Under the law, he could be sentenced to death if any of the victims of the attack dies.
Authorities say James rented a U-Haul truck on April 11 in Philadelphia and drove it early the following day into New York, carrying with him a Glock 17 9mm pistol, a container of gasoline, a torch, and fireworks.
James is accused of shooting as a train pulled into the 36th Street Station in Sunset Park, a neighborhood in Brooklyn, and opening smoke canisters.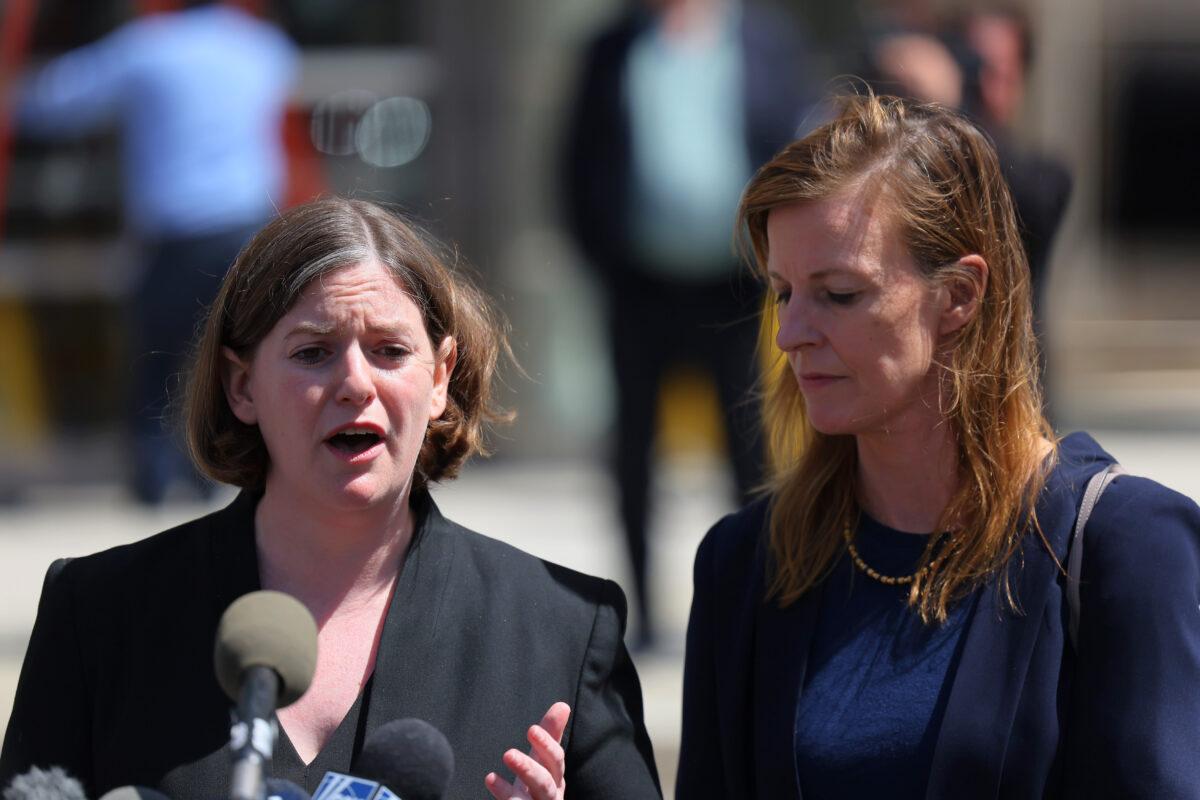 "The defendant terrifyingly opened fire on passengers on a crowded subway train, interrupting their morning commute in a way the city hadn't seen in more than 20 years. The defendant's attack was premeditated, it was carefully planned, and it caused terror among the victims and our entire city," Sara Winik, a prosecutor, told the court.
James wore clothing, which he discarded after the attack, that would lead one to assume he was a construction worker, according to court filings. He is believed to have traveled one station away before exiting the underground system. He was on the loose for nearly 29 hours before he was caught on a street in Manhattan.
The gun allegedly used by James was bought legally in Ohio in 2011, authorities say. An individual named Frank James bought the fireworks from Phantom Fireworks in Youngstown on June 21, 2021, according to a receipt obtained by The Epoch Times.
James, a black male, created dozens of lengthy videos in which he ranted against white and Hispanic people, police officers who shot black people, and officials including New York Mayor Eric Adams, according to an Epoch Times review of his YouTube page before it was taken down. James has said he suffers from post-traumatic stress disorder and had a mental health crisis for years in the 1970s, 1980s, and 1990s.
James was arrested nine times in New York and three times in New Jersey, according to police officials.
The suspect's public defender asked for psychiatric attention for the man once he gets to jail, as well as magnesium tablets because James was said to have been suffering from leg cramps. The judge said she would direct authorities to give both to the suspect.
After the hearing, Grynberg said the attack "was a tragedy," but cautioned "against a rush to judgment."
She said reports of James calling police to tell them where he was were accurate and that James is "entitled to a fair trial."