UNIONVILLE, Tenn.—A handwritten, personal letter sits just inside the entrance to the McAbee home in this rural Tennessee town, awaiting the return of the man of the house.
Heartfelt and full of sage advice, the birthday letter is extra special because its author—Ronald Colton McAbee—wrote it from jail in the District of Columbia.
He has been held in pretrial detention for 468 days on Jan. 6 charges. Dec. 3 will mark his second birthday behind bars.
As McAbee awaits the outcome of his appeal for release on bond—now before the U.S. Court of Appeals—he offered his "future free self" a strong dose of encouragement.
"Since you've been in the Swamp Pit, you've been threatened, almost in a fight, almost stabbed, locked down, pepper sprayed [collateral damage]," McAbee wrote on his 28th birthday in December 2021, "and have been called a terrorist and racist.
"But know this young man, you are a hero," McAbee wrote. "You stand for freedom. You do what's right. You have nothing to feel ashamed about."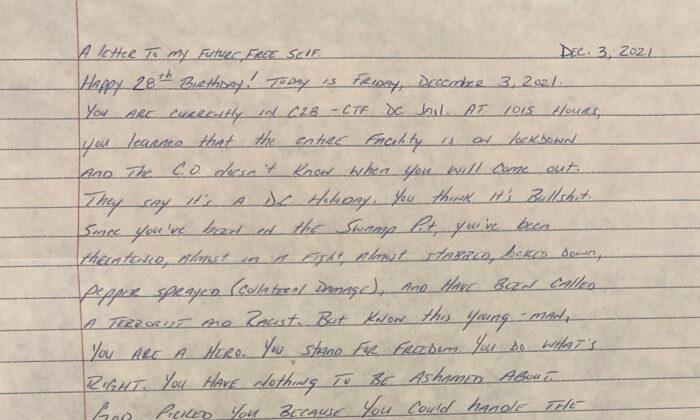 The letter was shared with The Epoch Times by McAbee's wife, Sarah, during filming for a Jan. 6 documentary due out in early 2023.
"I was in such awe," Sarah McAbee said of her reaction to the letter. "To see the turmoil he has been put through not only from the government but from what we considered at the time friends, family, and even colleagues, and to still remain so optimistic about what lies ahead is inspiring."
McAbee's case has drawn national attention because, at the time of his arrest, he was a Tennessee sheriff's deputy. He is front and center in many videos shot outside the Lower West Terrace tunnel on Jan. 6. He was one of the men who tried to revive Rosanne Boyland after the Georgia woman collapsed at the tunnel entrance.
Prosecutors allege that McAbee dragged a police officer from the tunnel entrance down the steps into a hostile crowd. The officer's own bodycam shows McAbee was trying to help him get back on his feet, not assault him.
The audio from the bodycam was not played in court until McAbee's defense team presented it as part of a motion to reconsider bail.
The U.S. district judge overseeing the case, Emmet Sullivan, refused McAbee's petition for reconsideration, brushing aside the new evidence as an inconsistency he could not resolve.
Sullivan earlier overruled a U.S. magistrate judge from the Middle District of Tennessee, who ordered McAbee released and chided prosecutors for pushing for detention without sufficient cause.
In an October 2021 hearing, Sullivan referred to McAbee and other protesters as "terrorists," bringing defense complaints that the judge was not impartial.
After McAbee's attorneys filed a writ of mandamus with the U.S. Court of Appeals in the summer of 2021, Sullivan was removed from the case, replaced by Judge Rudolph Contreras, a 2012 appointee of President Barack Obama.
In the letter, McAbee wrote that he can handle whatever comes his way as he awaits trial on Jan. 6 charges.
"God picked you because you can handle the storm," he wrote. "You have trained for this your entire life. You can handle whatever they throw at you!"
In early September 2022, McAbee was doused with pepper spray and knocked to the ground by jail guards because he approached the medicine cart without wearing a COVID mask. The guard who sprayed McAbee wasn't even supposed to be on duty in that part of the facility, Sarah McAbee said.
The U.S. Marshals Service, which is responsible for federal pretrial detainees, opened a probe into the attack using an outside investigator. McAbee has since been moved to the Central Virginia Regional Jail.
Strength to Overcome
Sarah McAbee said she also draws strength and inspiration from the letter.

"I believe wholeheartedly that Colt was prepared for such a time as this," she said.

"From the moment he was born to today, he has been given the strength to overcome. Whatever the outcome might be of this terrible situation at this time, I believe ultimately that good will win over evil, the truth will prevail, and justice truly will be served."

The McAbees' rural home was not decorated for Thanksgiving and most likely won't be decorated for Christmas, either, Sarah McAbee said. Those traditions will have to wait.
A bottle of Trump-brand champagne sits on a side table, awaiting the day the couple can toast McAbee's freedom.
"We understand that most everything at this point is out of our control, so he is very adamant on reminding himself not to allow the circumstances to change him and focus on the things that are in his control: his thoughts, emotions, and actions," Sarah McAbee said.
A plaque that hangs over a kitchen entryway speaks of the McAbees' shared love for each other—and for Winnie the Pooh.
On the table just inside the front door sits a stuffed Winnie the Pooh bear, adorned with McAbee's D.C. inmate number. Sarah shows off another Pooh bear for a visitor, this one sporting a white cape. Her mother fashioned the cape from one of the T-shirts that McAbee mailed home from the jail.
The cape seems a fitting symbol for McAbee's letter home.
"Young man, you are a warrior," he wrote. "You will not break. You will not give in. You shall overcome!"