Police have identified the man who shot and killed three people at a Dollar General store in Jacksonville, Florida, on Aug. 26 before taking his own life.
Ryan Christopher Palmeter, 21, who was white, killed three black individuals at the discount store near Edward Waters University.
Jacksonville Sheriff T.K. Waters had more details about Mr. Palmeter's "racially-motivated" attack and the three victims in updates on Sunday, Aug. 27. The victims were Angela Michelle Carr, 52, who was attacked in her car outside the store; store employee A.J. Laguerre, 19; and customer Jerrald Gallion, 29.
Despite Mr. Palmeter's history of mental illness, Mr. Waters said that Mr. Palmeter did not have a criminal record. He was able to legally purchase the two firearms in his possession earlier this year from licensed dealers. Both weapons were obtained meeting all the current requirements through Federal Firearms License transfer, which require the dealers to do background checks, he said.
In the investigation, the sheriff said the shooter's record included a domestic disturbance call to police from his family home in 2016 involving his older brother, for which there were no arrests, and in 2017, Mr. Palmeter's involuntary commitment to an emergency mental hospital for examination under Florida's Baker Act.
That same year, Mr. Palmeter's brother committed armed robbery, for which he is currently serving a prison sentence,
NBC News
reported.
Mr. Palmeter's 2017 psychiatric evaluation under the Baker Act may not have appeared for the gun dealers in their background checks as the shooter had been a minor and just 15 years old at the time, the sheriff said in response to questions from reporters on how someone with a history of mental illness could legally purchase firearms.
"We have to do a better job of background checks," the sheriff said. "But really, what needs to be done is people need to tell us when they see or they hear these things rising up in an individual."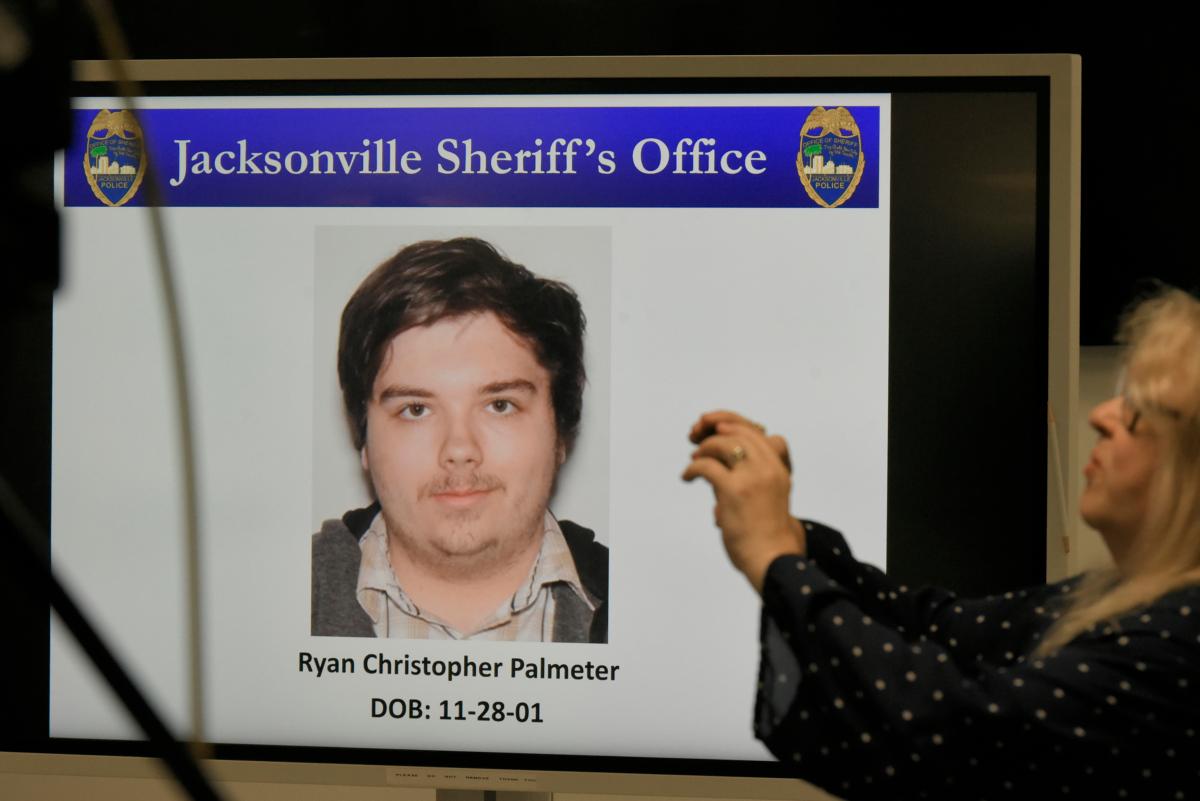 Mr. Palmeter attended Flagler College in St. Augustine, Florida, from fall 2020 through the following spring before withdrawing, school spokeswoman Beth Sweeny told
ABC News
.
The sheriff noted Mr. Palmeter suffered from mental illness, but he added that "not everyone that's mentally ill grabs a firearm and kills people for no reason."
"I don't know if anybody knew how he really felt," he added. "We have to remind people to call us. It doesn't matter what it is. If it looks weird, if it looks strange, call us, tell us so that we can respond."
Timeline of Events
However, Mr. Palmeter was on the radar of the Jacksonville Sheriff's Office the morning of the shooting.
Less than 10 minutes before the first shots were fired, Mr. Palmeter had evaded security officers at Edward Waters University (EWU)—a historically black Christian college—where he filmed himself for TikTok at 12:48 p.m. putting on a bulletproof vest and mask. A security officer also reported seeing him with a handgun. The security guard then approached Mr. Palmeter, who refused to identify himself and then drove off in his gray Honda Element.
Mr. Waters said he appreciated that the EWU security guard flagged down a police officer to tell him what he saw.
The police officer was in the process of sending out a notice about a "suspicious person" in the area when the first gunshots were reported in front of the store.
Mr. Palmeter—described as a heavy-set male wearing a gray tank top, black shorts, bulletproof vest, and blue latex gloves—had opened fire on Ms. Carr, who was in her vehicle outside the Dollar General store at 1:08 p.m.
He fired 11 rounds, killing Ms. Carr, 52, who was sitting inside her black Kia at the time, the sheriff said.
Mr. Palmeter then entered the store where he fatally shot Mr. Laguerre, an employee, as he tried to flee.
Mr. Waters said that patrons in the store all ran out the rear door as Mr. Palmeter opened fire. He then went to leave the store, but reentered when he spotted a police officer looking for him following the report from the university security guard.
Third Victim
Back in the store, Mr. Palmeter found Mr. Gallion, 29, who had entered with his girlfriend. Mr. Palmeter then shot Mr. Gallion. The victim's girlfriend, Elvisia Chapel, managed to escape out the rear door unharmed. Mr. Gallion leaves behind a 4-year-old daughter, a relative told
CNN
.
Mr. Palmeter also took shots to disable the security camera but missed, which provided law enforcement with a record of the attack from inside the store.
Mr. Palmeter was then seen entering the store's office where he barricaded himself in. He texted his father at 1:18 p.m., instructing the father to break into his room with a screwdriver to check his computer. There, the father would find his son's manifesto, which included his thoughts and plans about the attack, a will, and a suicide note.
Within 11 minutes of the first shots being fired, responding officers proceeded to enter the store. That's when they reported hearing a single gunshot, which they believe was Mr. Palmeter taking his own life. The SWAT team confirmed at 3:44 p.m. that the suspect was dead.
Mr. Palmeter left behind three manifestos: one to his parents, one to federal law enforcement, and one to the media.
'Diary of a Madman'
In comments made after the shooting on Saturday, Mr. Waters said Mr. Palmeter's attack was racially motivated. He cited the contents of the manifestos left by the shooter.

"Portions of these manifestos detail the shooter's disgusting ideology of hate," the Jacksonville sheriff said. "He hated black people … He wanted to kill [expletive]."

"I want to be very clear that there is absolutely no evidence that the shooter is part of any large group," the sheriff emphasized. "We know that he acted completely alone."

He added on Sunday that the contents of the writings left behind by Mr. Palmeter read like "the diary of a madman" and showed that the shooter "was just completely irrational."

"But … he knew what he was doing" at the time of the shooting, the sheriff said. "He was 100 percent lucid. It's disappointing that anyone would go to these lengths to hurt someone else."

The Epoch Times has not viewed the contents of the writings.
Mr. Waters said on Saturday that Mr. Palmeter's AR-15 style weapon was found with swastikas painted on it.
"I urge us all not to look for sense in a senseless act of violence," he said on Sunday. "There's no reason or explanation that will ever account for the shooter's decisions and actions."
"His sickening ideology is not representative of the values of this Jacksonville community that we all love so much," he added. "We are not a community of hate. We stand united with the good and decent people of this city. We reject this inexcusable violence, and this agency will not rest until this investigation is complete and every available avenue of accountability has been exhausted."
Mr. Waters also confirmed that the shooter had allowed several people out of the store for unknown reasons.
He also said not to assume that EWU had been a target of the shooter.
"It looks to me that he went there to change into whatever he needed to change into," he said. "He had an opportunity to do violence in EWU, he did not. There were people in very close proximity. He did not do anything there. He backed out and he left."
The shooter's writings also indicated that he had been thinking about a 2018 attack in which a shooter killed two people and wounded 12 others at a video game tournament in Jacksonville, officials said. That attack happened on the same date as Mr. Palmeter's attack, with Jacksonville Mayor Donna Deegan saying on Saturday that the shooter may have chosen the date to coincide with that previous shooting.
Community and Leaders Respond
Dollar General released a statement following the tragedy, offering the company's sympathies to the families and friends of the victims, which included one of its own employees.

"There is no place for hate at Dollar General or in the communities we serve. Right now, we are focused on providing support, counseling and resources to our teams and their loved ones, and we are evaluating how we can best support and stand with the greater Jacksonville community during this sad and difficult time."
Rep. Frederica Wilson (D-Fla.) said she was "filled with grief and outrage" over the shooting.
"Let me be clear: white supremacy is a poison that continues to permeate our society," the chair of the federal Commission on the Social Status of Black Men and Boys said in a statement. "This is the painful truth: racism plagues our state, and it's time to confront it head-on. We can't shy away from this harsh reality. The authorities have rightly called this heinous act 'racially-motivated,' a term that should jolt us into action. We cannot turn a blind eye to the hate that powers such acts of violence. The dehumanization of Black people has hit a breaking point," she said.
"We must declare an emergency and demand accountability. When those in power peddle hate, we must respond. Divisive rhetoric ignites hatred and empowers those with violent intent."
She also called for "comprehensive gun control" as the appropriate response to violent shootings. "It's time to act decisively for lasting change," she said.
In a statement on Sunday, President Joe Biden noted that the shooting had occurred on the 60th anniversary of Martin Luther King Jr.'s famous "I Have a Dream" speech in Washington.
"While we still need to learn more about the motivation for Saturday's shooting, law enforcement has opened a federal civil rights investigation and is treating the incident as a possible hate crime and act of domestic violent extremism," the president said.
"Even as we continue searching for answers, we must say clearly and forcefully that white supremacy has no place in America."
The Anti-Defamation League also commented on the shooting, saying in a
statement
on Saturday that the attack was "a painful reminder of how much work needs to be done."
"ADL Center on Extremism will continue tracking this horrific, hateful attack. The victims, their families, and their community are in our prayers."
'The Problem Is the Individual'
Mr. Waters, a Republican, was
asked by a reporter
if he was concerned about the "implications of a racial divide in the community either locally or nationwide."
"I don't think so," he replied to the question. "I don't think there's a racial divide in our city. And actually, I work along with some of the best people in the entire world and it doesn't matter what color they are, what they look like, we are banded together as a community to fight these issues. And I don't think there's a racial issue. I know there are racial issues with some people, but as a whole, we are standing here together because we are concerned about the same thing.
The sheriff said that the two guns in Mr. Palmeter's possession were a Glock 20 Generation 4 10-mm semiautomatic handgun that he bought legally at Orange Park Gun and Pawn in Orange Park, Florida, on May 6, and a Palmetto State Armory AR-15 style rifle from Wild West Guns and Gold in Jacksonville that be bought legally on June 22.
The sheriff said the gun stores did what they were supposed to do to make sure there were no issues with the gun purchases.
"Therein lies the difficulty. When a person grabs hold of a gun with hateful intentions, it's very difficult to stop that from happening," he said.
When asked by reporters what should have happened to prevent the tragedy, the sheriff said, "We have to stop people that have bad intentions."
"The story's always about guns," he said. "People are bad. This guy's a bad guy. If I could take my gun off right now and I lay it on this counter, nothing will happen. It will sit there. But as soon as a wicked person grabs a hold of that handgun and starts shooting people with it, there's the problem.
"The problem is the individual. Now, guns are a tool that people use to do horrible things, but it's the individuals that wield these things. So we are working hard to try to stop that, but in this situation, in this case ... there was nothing illegal about him owning firearms."
"There was no criminal record, nothing. He had a domestic violence call at his house with his brother," the sheriff said of information already obtained from the shooter's family and friends.
He said the investigation continues.
"We're going to continue to study it, we're going to continue to work until we find out exactly the entire history of the thing, and then we'll put some things into practice and continue to work and make sure we can respond as we did just then, yesterday."