Maximo Alvarez fled Cuba at the age of 13 as part of
Operation Pedro Pan.
His parents saw what was happening under the rule of Fidel Castro, and they wanted to spare their son what was to come. He was
sent to join his brother
in Spain. But when he arrived in Miami on his way to Spain, Mr. Alvarez learned that his brother had died. So, he stayed in Miami.
In an interview with The Epoch Times, Mr. Alvarez offered his observations and a warning of what he sees happening in America.
"I am reliving a nightmare that I thought I would never dream again," he said. "What is happening in this country is literally what happened in my country when I was barely 11 years old. I lived under the communist system for the first two years and saw on a daily basis how something so beautiful can be destroyed, literally one day at a time."
"What is happening in America today is pretty much what happened in Cuba," he reflected, saying it's all "part of the plan to destroy the last hope of the world: The United States of America."
'It's a Plan'
"What do you see right now?" He asked. "You see the Department of Justice persecuting anybody who is against the government."
He noted how Jan. 6 protesters are still being hunted and imprisoned. Former President Donald Trump is being persecuted in court with hundreds of charges, and anyone who was associated with him has become a target of the government.
"What is happening to them will happen to all of us," Mr. Alvarez insisted. "Communist dictators do not forgive. If you rise against them, you are done. Done! Just look at the history of Fidel Castro. Look at North Korea. Look at Russia. Look at China. If any of the people who helped their leaders get into power or say anything negative about them, they disappear. They 'commit suicide.'"
Asked how dictators begin their takeover, Mr. Alvarez said, "They start by appealing to your feelings."
"Social Justice," he said. "They prey on poor people and make all sorts of promises so those people will become loyal to them. Then the rich get richer, and the middle class joins the poor class, and then they become the useful idiots who blame the rich for their demise. It's a plan."
"Black Lives Matter is part of the plan," he added. "Burning and destroying businesses, destroying the economy. Then you become afraid to go out."
"Schools are part of the plan," he said further. "They want to destroy the family because they know that family is the foundation of everything. They start promoting abortion, divorce, homosexuality, and transgender, everything that starts tension, and anger, and envy. Their greatest weapon is fear. Fear is more destructive than an atomic bomb, and they use it better than anyone else."
"They talk about inclusion and equity," Mr. Alvarez reflected. "I know all about inclusion because when I came here, I was included into the greatest country in the world. They received me like a son. I was provided with all of the opportunities in the world. I started my business out of the trunk of my car.
Today, Mr. Alvarez lives in Miami as an American citizen. He is also a director on the 
Board of Trustees
 at Florida State University and president of Sunshine Gasoline Distributors.
'When It Happens Again You Recognize'
Xi Van Fleet was born in China during the Cultural Revolution imposed by the Chinese Communist Party (CCP) in the last 10 years of Mao Zedong's brutal reign of power. While the actual numbers are a highly guarded state secret of the CCP, and scholars are forbidden to study the topic, it is estimated that anywhere between 750,000 and 3 million were killed between 1966 and 1976.
During an interview with The Epoch Times, Ms. Van Fleet shared what she witnessed while growing up in China's Sichuan province and offered a warning that that same history is playing out right now in America.
"When you experience something, when you know history, when you have lived through history, when it happens again, you recognize," she said. "The BLM riots, the cancel culture, the toppling down of statues, that's what I saw in China during the Cultural Revolution. The Red Guards took down the statues, and they changed street names."
Street names are being changed in America, she noted, recalling how a section of 16th Street in front of the White House was renamed: "Black Lives Matter Plaza."
"They are removing the names of our Founding Fathers from schools," she added. "They are rewriting history. They want us to forget the past. That's exactly what I experienced in the Cultural Revolution. It's history repeating, and Americans have no idea because Americans were not taught history. They were not taught real history. They were definitely not taught the history of communism, and the history of Chinese communism, and the history of the Chinese Cultural Revolution, which is exactly what is going on. That's why people don't know. They thought they are woke. They are actually asleep. They are zombies. They don't think because they have no information. They just follow the train thinking they are doing the right thing."
The Cultural Revolution
The Cultural Revolution was an uprising of China's youth.

"Mao wanted to take down his own government, the government he helped to build, because he felt he was losing the absolute control he thought he should have over the Party," she said. "He could have used the army. But that would look like he was having a coup."

A better army, she explained, was the tens of millions of young people from the government schools who had already been indoctrinated.

"They didn't know any history. They don't know the past," she recalled. "The only thing they know is Mao was their great leader, and Mao was their real parent, and Mao was the one they would follow to the death. It's that simple. Overnight, they turned on their teachers, against their principals because Mao labeled them enemies of the state."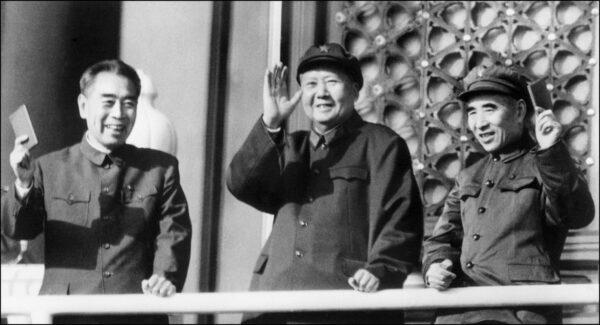 Fearing his role would be diminished, Ms. Van Fleet imparted how Mao established four goals for his Cultural Revolution: Reforming the Chinese Communist Party, replacing those standing in line to be his successor with people who supported his vision of communism, revising the country's education, health care, and cultural system to make them more equitable, and inspiring a massive mobilization of the country's urban youths.
By harnessing the power of their emotions, she said Mao molded them into a mighty, well-organized, and fiercely loyal army known as the
Red Guards
, composed of militant high school and university students. Members of the Red Guards wore green jackets similar to those worn by members of the Chinese army, and they wore red armbands affixed around one of the sleeves.
Because she was so young, around seven years old at the time, Ms. Van Fleet witnessed but did not participate in the Cultural Revolution. Had she been four or five years older, however, she said she would have been forced to become part of the Red Guard.
"And God knows I may just have been killed," she said.
'The Red Terror'
Suggesting that she might have been killed as a youth in China, even if she had joined the cultural movement, is not far-fetched.

She recalled the violence of "

The Red Terror

," which lasted from August to December of 1966. Throughout this time, hundreds of Chinese citizens, accused of being enemies of the state, were beaten and killed during a brutal wave of "Struggle Sessions."

As explained by the American Policy Roundtable, "

Struggle Sessions

" happened if members of Mao's Red Guard believed you weren't radical enough. Those deemed to be "counterrevolutionary" found their homes surrounded and they would be dragged from their home and out into the town square where they would be screamed at, beaten, and accused of imaginary crimes. In fear of becoming the next target of the mob, family members and neighbors would join in.

The first attack was against Ms. Bian Zhongyun, the deputy principal of the Beijing Normal University Female Middle School, and four teachers. After hours of humiliation and a barbaric beating, Ms. Bian died.

"A bunch of middle school girls, 12 to 16 years old, beat their principal," Ms. Van Fleet recalled. "They tortured her and killed her and there was no consequence. After that, violence became commonplace all over the nation. There was no school during that time, no exception, where principals didn't endure Struggle Sessions. Many of them killed."

In August 1966 alone, it is estimated that 20 educators and 333 people were killed at various middle schools by members of The Red Guard.
The objective of The Red Guard, Ms. Van Fleet explicated, was "to destroy '
The Four Olds
': Old Culture, Old Ideas, Old Habits, and Old Customs."
As they were the stewards of the old ways, many of China's intellectual and elderly population were physically abused and killed.
"In China, those things had to be destroyed, just like here," Ms. Van Fleet observed. "They tear down the statues. They change the names of streets and institutions. That's what the Red Guard did, and I saw all of that."
By the time Ms. Van Fleet graduated high school, she said there was nothing left of the China she had known before. The economy had been destroyed.
"So they sent us to the countryside to be reeducated. They just got rid of us. Having too many unemployed young people was a problem. So I worked in the countryside under primitive conditions."
During the Cultural Revolution, Ms. Van Fleet was unable to go to college because "admission policy only accommodated party members."
"You had to be a good activist and be approved by your Party boss," she recalled. "There was nothing required for academic qualifications. Your qualification was based on your political qualifications."
When the higher education institutions reopened, Ms. Van Fleet was allowed to go to college. After that, she became a teacher "training other teachers."
In 1986, she came to America to pursue her graduate studies.
She never returned.
'The Tide Turned'
The irony of what she sees as America's educational indoctrination system is that teachers in China also thought they were part of the "Cultural Revolution."

"They have no clue. That's the power of no history," she warned. "Those Chinese teachers, those Chinese principals, they were the tools of the CCP doing the indoctrination in the schools. But when the Cultural Revolution started, they became the first target. That's the lesson those Marxist teachers, principals, and professors don't even know. They are going to be the first targets."

Right now, Ms. Van Fleet says, "It's in the early stage so they are part of the revolution."

"We aren't there yet," she said. "But when you train students to be activists rather than responsible citizens, you are training them to target anyone who ends up being labeled as an oppressor and to take them down by any means necessary."

"Woke is a monster that will eventually eat its own, and we have seen that," she insisted, pointing out how "a lot of Jewish students who were part of the woke" are now the targets of the mob.

"The tide turned," she said. "Now all Jewish people, progressive or not, are identified as an oppressor and have become the target of the revolution. Anyone can be identified as an oppressor and overnight you find yourself on the wrong side of the revolution."
'Total Destruction of America'
According to Ms. Van Fleet, recreating the Red Guard in America is as simple as it was in China.

"For young people, they are low-information people," she said. "They don't know history. They don't have complete information. That's how they can be manipulated. Because they're indoctrinated, they think they are doing the right thing. The Red Guards, most of them, think they were doing the right thing."

This is exactly what she sees happening in America's educational system.

"They are creating a generation of young activists who don't think," she posited. "They can't think. So they go by trigger words. 'BLM. Go out in the streets and fight. LGBT rights, go out and demonstrate. Free Palestine. Go out and protest.' It sounds great. But they don't think. That's the problem. All they need is a trigger word."

Asked what the goal of America's Cultural Revolution might be, Ms. Van Fleet did not hesitate.

"Total destruction of America," she said. "That is the goal."

"Just like in China, Mao wanted to destroy everything and burn it to the ground so he could build it back in his image," she explained. "That's what the globalists want to do. They want to take down what they see as the number one oppressor in the world, the United States of America. They want to burn it down to the ground and 'Build Back Better.' They tell you. They actually tell you. They want to fundamentally transform America. That was Obama. Biden wants to Build Back Better. That's the goal. They tell you. They want to destroy the country and build back in their own image, which is totalitarianism."

Ms. Van Fleet also offered a warning to America's youth.

The Red Guard, she explained, also saw themselves as part of the revolution and they believed they would share in the power when the revolution achieved its goals because all of the people who had once been in power were taken down by them.

"They started to fight each other for power," she reflected. "It became like a civil war and Mao could not control them. So Mao used the military to suppress the warring factions and eventually, he sent all of them to the countryside to be reeducated by peasants."

Ms. Van Fleet is now an American citizen, a mother, and a successful author living in Loudoun County, Virginia.