The United States government is going after money donated to Jan. 6 defendants and prisoners through crowdfunding platforms.
For over two years, the United States government has pursued and punished anyone involved in the protests at the U.S. Capitol on Jan. 6, 2021. The FBI is still "
seeking the public's assistance
in identifying individuals" whom they suspect were involved in the protests, saying they "have deployed our full investigative resources and are working closely with our federal, state, and local partners to aggressively pursue those involved in these criminal activities."
In what several "Jan-6ers" see as a new effort to further persecute those who have already been arrested, the government is trying to confiscate money collected by Jan. 6 defendants and prisoners through crowdfunding platforms.
Most of the fundraising efforts appear to go through GiveSendGo (GSG), described as "The #1 Free Christian Fundraising Site."
'We've Been Keeping a Spreadsheet'
Tim Rivers, co-founder of J6patriotnews and founder of American Gulag Chronicles channel, is helping Jan. 6 prisoners by collecting donations for them and their families. Rivers says prosecutors are going to the individual GSG accounts and are "literally copying and pasting the entire total of their donations and asking judges to award that as a fine."

An Associated Press review

of court records shows that prosecutors in over 1,000 Jan. 6 cases are asking judges to impose fines—in addition to other fines and prison sentences—strictly to consume the donations they receive from supporters.

So far this year, the AP's calculations show that prosecutors have sought more than $390,000 in additional fines against at least 21 Jan. 6 defendants, in amounts ranging from $450 to over $71,000.

While prosecutors acknowledge there's nothing wrong with seeking help for attorney expenses, the Justice Department is questioning how the money is being spent because many of the Jan. prisoners and defendants have had taxpayer-funded public defenders.

"We've been keeping a spreadsheet of who is doing what," Rivers told The Epoch Times, saying

Joseph Randall Biggs

"was the latest example, although the judge did deny what the prosecution asked for."

Rivers also said the government has targeted

Daniel Goodwyn

, a 34-year-old, self-employed journalist with Autism Spectrum Disorder.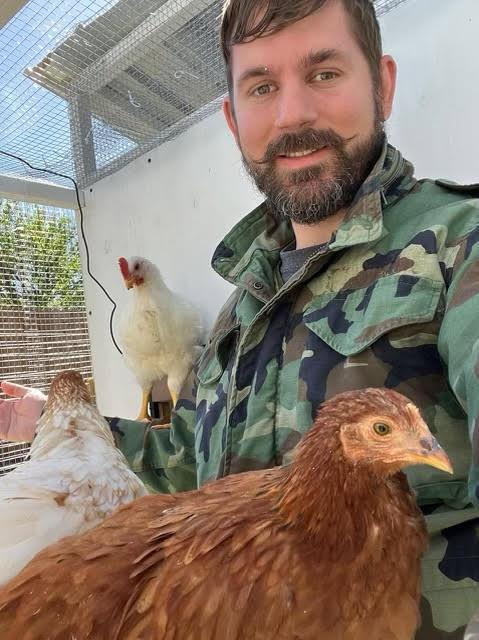 "They're just copying the GSG amounts and then asking the judge to levy that as a fine," Rivers said. "They're taking the money that has been given to these individuals to pay for their legal fees. The government thinks it's entitled to steal with authority."
According to the government's May 18 sentencing memorandum (
pdf
), obtained by The Epoch Times, "the government requests that this Court sentence Defendant Daniel Goodwyn to 90 days of incarceration, 36 months of supervised release, $500 in restitution, and a fine of $25,676.25, or the equivalent of the amount raised by Daniel Goodwyn relating to his criminal conduct at the time of sentencing."
'That Money Is Gone Now'
Goodwyn's mother confirmed to The Epoch Times that this was precisely the amount that had been in her son's online crowdfunding account.
Goodwyn uses Donorbox, a United States-based technology company that offers online fundraising software, which enables individuals and nonprofit organizations to receive donations through the Internet. As of May 31,
the account
had an additional $330, bringing the total to $26,006.25.
According to the defendant's memorandum in aid of sentencing (
pdf
), issued May 23 and also obtained by The Epoch Times, the government's demand to seize Daniel's crowdfunding donations conflicts with 
United States Sentencing Guidelines
 and is nothing more than an effort by the government to further "punish Mr. Goodwyn."
The document further attests that Goodwyn "did not collect the funds for legal services and then use a public defender," and the funds are used expressly to make payments "that are for [the] debt of approximately $75,000 for 'legal services,'" which is "approximately three times the amount he received in charity."
Goodwyn's mother says Daniel had money in savings before Jan 6. That money is gone now. So too, is the money she and her husband had saved for decades for their retirement.
"In order for us to help Daniel, we had to sell our retirement stocks to make up the difference that Daniel couldn't pay," she said.
She also noted how many Jan. 6 prisoners were the "sole breadwinner in their household," leaving their wives and children with no income while they're incarcerated. In addition, many defendants have lost their jobs.
According to reports, Jan. 6 defendants like Matthew Martin, James Mault, Jerry Ryals, and a host of others have lost their jobs in relation to the protests.
'A Great Concern'
David Sumrall calls the government's effort to confiscate Jan-6er crowdfunding donations "a great concern."

Sumrall is a small business owner, activist, citizen journalist, documentary filmmaker, and founder of StopHate, with

a mission

to "Start Turning Off Prejudice and Heal Attitudes Through  Education" and to assist Jan-6ers in their crowdfunding efforts.
As reported by Politico on April 18, Assistant U.S. Attorney Jordan Konig recognized Sumrall's prominence in the Jan. 6 crowdfunding effort during his testimony in defense of Jan. 6 defendant Christopher Alberts. During questioning, Konig pressured Sumrall to identify others who went to the Capitol on Jan. 6 but had not yet been identified.
"I don't think it's my job to doxx people," Sumrall said.
His refusal to answer was supported by U.S. District Court Judge Christopher Cooper.
In an interview with The Epoch Times, Sumrall said he has "never seen the court take money from people like this."
"This sets a very dangerous precedent because people who consider donating to [Jan-6ers] might think they'll be put on a list for supporting them," he added.
"The government is trying to stipulate that these people raised money under false pretense to further cloud the judgment of the public," Sumrall explained. "If they think the government is just going to take the money, they won't donate."
Sumrall also questioned the government's use of the word "fine."
"When they take money from the crowdfunding accounts, that 'fine' is designated for restitution, yet there is no victim of their alleged crime," Sumrall explicated. "So who gets the money the government takes? Where does it go if it doesn't go to an identified victim? Does the judge get the money? Do the lawyers get the money if they get plea deals?"
'This Is Test Marketing'
According to Sumrall, this is just another government effort to further destroy Jan-6ers and their families: "These people are already in financial straits. The government has already drained them of everything they had. They are losing their homes. These Jan. 6 people are not just using the money for legal fees. They are using this money to support their families."

"I can promise you there isn't one Jan-6er who is living high on the hog," Sumrall said. "They're broke. They're just trying to hang on to their cars and their homes."

Jeremy Brown says, "They've already done it to me."
On April 7, U.S. District Judge Susan C. Bucklew
sentenced Brown
to seven years and three months in federal prison for possession of unregistered short-barrel firearms, possession of unregistered explosive grenades, improper storage of explosive grenades, and retention of classified information. At his trial on Dec. 12, 2022,
The Epoch Times reported
that Brown's defense presented evidence to suggest the evidence was planted. While Brown has been incarcerated since his arrest on Sept. 30, 2021 (
pdf
), Bucklew also ordered him to pay missed child support payments and a special assessment totaling $525.
It was in March of 2022 that Brown says the government seized $12,300 from his GiveSendGo account "to compensate for attorney fees."
"Now they're trying to use it against the other Jan-6ers," Brown told The Epoch Times from Citrus County Detention Facility in Lecanto, Florida.
However, Brown said, "It's actually worse."
"What they do is they track GiveSendGo accounts the entire time," Brown revealed, noting how the balance of his account was "a frequent topic of discussion" throughout the course of his hearings.
Sumrall insists, "It's part of the torture."
"What better way to torture a population into submission than to take out the breadwinner?" Sumrall suggested, adding that it's moves like this that explain 
the suicides
in the J-6 community.
"They feel the pressure from the federal government," Sumrall surmised. "They don't see any reason to keep fighting because the DOJ keeps dragging them deeper and deeper into the water until they drown financially and socially. That's a hard place to be. This is test marketing by the government. They are trying to find out just how much torture and pain we will tolerate."
"My plan is to spend all the money I collect before I go to trial," Lang told The Epoch Times from what he and his fellow Jan. 6 inmates refer to as "The D.C. Gulag."
Although Lang has been incarcerated for over 900 days, he has yet to go to trial or be convicted of any crime.
"I think this is incredibly tyrannical and overbearing," Lang said further. "They're just going out of their way to make people's lives more miserable. These people have lost everything. Now they're trying to take the little bit that Americans give to them. It's reprehensible."
'It Is Alarming'
In a statement issued to The Epoch Times, GSD cofounder and CFO Jacob Wells began by saying "the use of GiveSendGo as a platform for the legal fees of Jan. 6 defendants should not be misconstrued as an endorsement of their actions or the charges leveled against them.

"Our platform provides equal opportunities to individuals involved in a broad spectrum of legal cases, ensuring that they have access to the necessary resources for their legal representation. We firmly believe in the principles of justice, fairness, and due process for all."

However, while he acknowledged "the importance of upholding the law and preventing the misuse of funds," he also said "cases should be examined individually to determine if any funds raised are being used for illegal purposes."

"The legal system exists precisely to address such matters on a case-by-case basis. It is essential to strike a balance between safeguarding against illegal activities and ensuring that individuals can exercise their constitutional rights," Wells said further. However, he admitted GSG does "have a concern about the potential consequences of a blanket ruling that would strip defendants of their legal fees."

"It is alarming to contemplate a scenario where the government can intervene and infringe upon the ability of citizens to access funds for their legal defense," Wells concluded. "We firmly believe that such actions would be unconstitutional, as they would create a situation where only individuals of means can fully utilize the U.S. justice system."