SACRAMENTO—Nearly three dozen South Americans picked up in El Paso, Texas, and flown by private jet on two charter flights over the last week to California—at the request of Florida Gov. Ron DeSantis—are being shielded from reporters by local religious and charity groups, with no sign of their whereabouts since they were dropped off at the Catholic Diocese in Sacramento near the state Capitol.
"Everyone was taken away so fast that if it wasn't for the news, we wouldn't have known they were here," Maria Gonzalez, a local store clerk, told The Epoch Times. "But a lot of people are wondering if more buses and planes will be coming."
All attempts to contact the Diocese, including emails, phone calls, and visiting the building, were met with referrals to a communications director, and no response was received on deadline.
The Epoch Times canvassed the area surrounding the location where the illegal immigrants were last seen, with local workers and business owners at nearby establishments—including restaurants, gas stations, and the post office across the street—reporting no activity since a busload of people arrived on two occasions since June 2 at the Catholic church's Sacramento headquarters.
Calls to local homeless shelters failed to locate the families, though some spokespersons did say they couldn't provide details because the locations are "safe havens."
The bishop of the Sacramento Diocese, Jaime Soto, told another news outlet that charity groups came together as soon as the need arose to provide temporary housing for the migrants.
In what some residents describe as an ironic twist of fate, a homeless encampment with more than 25 tents resides directly across from the premises where the new arrivals were unloaded.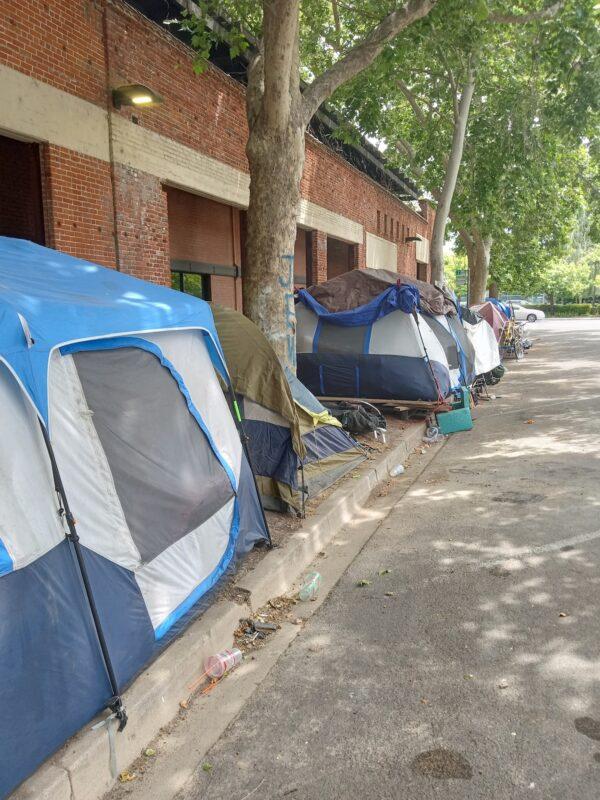 One person living in the makeshift community, Frank Marshall, said he saw the bus come in and depart soon after, headed southbound, and the quick response to assist the newcomers concerned him.
"What I want to know is why those people got help so fast, but we've been here for months and nobody cares?" Marshall said. "Maybe we need to fly in on a fancy jet to get noticed."
California's status as a self-proclaimed sanctuary is one of the reasons DeSantis said he chose it as the most recent recipient of his illegal immigrant relocation campaign, following similar flights to Martha's Vineyard—though Massachusetts is not a sanctuary state, the municipality is.
In a roundtable held with law enforcement officials and lawmakers from several border states on June 7 in Sierra Vista, Arizona at the border with Mexico, DeSantis reiterated his commitment to sending more such flights in response to what he said is a failure of leadership from the federal government, with sanctuary states exacerbating the dilemma.
"Joe Biden is derelict in the performance of his duties and refuses to uphold the borders of our nation," DeSantis said in a press release the same day. "In Florida, we're stepping up even as the federal government falls down on the job."
More than $24 million was allocated from Florida's budget to relocate those entering the country illegally, according to the press release.
"[California] has a big budget deficit, and [Florida] has a big budget surplus," DeSantis told the roundtable. "We can help out the police and Texas because we're a well-managed state."
Border communities report being overwhelmed by the number of people crossing into the United States from Mexico, with resources strained and impacts felt across the region, according to experts.
Collin County, Texas, Sheriff Jim Skinner told the roundtable his county has seen a 1,320 percent increase in fentanyl deaths since 2020, attributing the spike to the administration's open border policy.
"It's because of the tsunami of death and destruction that flows unimpeded across our southern border," Skinner said during the discussion. "It's also because President Joe Biden and his administration have abdicated their responsibility to secure our southern border."
A recurring theme of the Florida governor's operation is his belief that sanctuary cities and states are incentivizing millions of illegal immigrants to enter the country.
"You can see why some people coming illegally want to go there," DeSantis said during the discussion. "In California they give benefits. They give unemployment checks."
The press release noted DeSantis's goal of "relieving overrun border communities and bringing the reality of the border crisis to the communities that support Biden's open border policies."
California Gov. Gavin Newsom responded to the arrival of illegals on the private jets sent by DeSantis with an ad hominem attack, calling his Republican rival a "small, pathetic man"—in what some say was a jab at the Florida governor's height, with the tale of the tape showing DeSantis at 5 ft 9 in. and 154 pounds and Newsom at 6 foot 3 inches and 198 pounds.
Newsom subsequently threatened to pursue charges against DeSantis and called the move "state-sanctioned kidnapping," claiming that people were involuntarily relocated.
Florida officials are adamant that every individual knew they were headed to California.
"We are investigating the circumstances by which these individuals were brought to California," state Attorney General Rob Bonta said in a press release on June 3 after the first plane bringing migrants touched down. "We are also evaluating potential criminal or civil action against those who transported or arranged for the transport of these vulnerable immigrants."
Some lawmakers in California were vocal in their belief that federal policies are weakening the border and national security in the process and dismissed the governor's kidnapping statements as political posturing.
"The Biden Administration has completely failed to secure our border and California Democrats turned our state into a sanctuary for anybody here illegally. These migrant flights are the result," Assemblyman James Gallagher (R-Yuba City) told The Epoch Times by email on June 8. "It's beyond irresponsible for Gavin Newsom to fabricate kidnapping accusations when the migrants travelled voluntarily, but that's what we've come to expect from a governor more interested in the national spotlight than the people he was elected to serve."
Requests for comment from Newsom and Bonta were not received on deadline.
With border policies and national security as primary issues in the upcoming presidential election, some political analysts say the two governors are jostling for position on the national stage.
Newsom has been on a
tour
of traditionally red states, while DeSantis's multi-agency law enforcement operation has him working with officials across the country.
The Florida governor already announced his candidacy, and while speculation is mounting that Newsom is seeking higher office when he is termed out in 2027, he has repeatedly voiced his support for the Biden administration and reiterated that he is "absolutely not running for president" this year.
With approximately 17 months left in the campaign, DeSantis's moves suggest he is seeking to gain traction with voters concerned with open border policies and a fentanyl crisis that is killing more than 1,400 people per week across the U.S., according to experts.
DeSantis laid out his plan to the roundtable audience in a forceful statement that stressed the urgency of action.
"We enacted strong legislation to combat illegal immigration, sent law enforcement officers and equipment to the border, and have dedicated resources to divert migrants to sanctuary jurisdictions," he said. "Today we're taking Florida's no-nonsense approach to border enforcement nationwide."