DEL RIO, Texas—Border Patrol agents along the southern border apprehended more than 7,500 illegal aliens per day in May, according to provisional Customs and Border Protection (CBP) data obtained by The Epoch Times. The average daily apprehension rate in January was 4,700.
Agents from Brownsville, Texas, to San Diego apprehended 232,628 illegal border crossers in May, the highest monthly total in at least 23 years.
Another 34,547 individuals—also known as "gotaways"—were detected illegally entering the United States, but weren't apprehended as they headed into the interior. It's impossible to estimate how many illegal aliens entered and weren't detected.
The provisional statistics also reveal that 79 illegal immigrants were found dead or died while crossing the border in May. Deaths during the summer months are generally higher, as the heat claims more lives.
​​"Already this morning, we've encountered two deceased individuals that were apparently left behind by the smuggler in the desert," Del Rio Border Patrol Sector Chief Jason Owens said on May 17.
Owens said a third body was found in the river.
During fiscal year 2020, a total of 247 individuals died, according to the last available CBP statistics for deaths along the southern border.
CBP is yet to provide The Epoch Times with the number of deaths for fiscal year 2021 and fiscal year 2022 to date, after an initial request was made on May 3.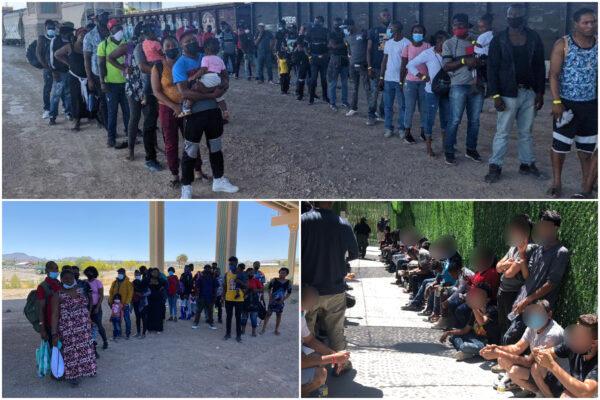 Apprehensions in the El Paso, Texas, sector have almost doubled this year—to 35,650 in May from 18,039 in January.
El Paso Deputy City Manager Mario D'Agostino told the El Paso City Council on May 23 that during the previous two weeks,
more than 60,000
migrants had amassed in Ciudad Juárez, Mexico, directly across the border from El Paso in anticipation of Title 42 being lifted.
"And we can only imagine it growing even further," D'Agostino said.
The Biden administration had planned to end the Title 42 public health order on May 23, although it was blocked by a federal judge in Louisiana, and the order remains in place. The measure allows for the quick expulsion of illegal aliens at U.S. borders to curb the COVID-19 pandemic.
However, the Department of Homeland Security has been exempting whole groups of illegal immigrants from Title 42 since February 2021, and is instead releasing the majority into the United States with a court date that can be years away.
During April, 53 percent of illegal immigrants were processed under Title 8 immigration law and ushered into the United States, while 47 percent were quickly expelled under Title 42. Three-quarters of the Title 42 expulsions were Mexican.
Other nationalities, such as Venezuelans, Cubans, and Nicaraguans, are being
given "parole" status,
which used to be a rare exception to the rule and allows illegal aliens to stay in the United States for at least a year.
During April, Border Patrol agents released more than 40,000 illegal aliens as parolees—15,000 more than in March.