HUNTINGTON BEACH, Calif.—To deter rampant thefts of vehicle parts, Huntington Beach made it illegal to possess an undocumented catalytic converter that is disconnected from a vehicle.
"I think it's great that we're able to kind of fill in this gap so that we can empower our officers to be able to stop this crime or at least [reduce it]. It is so rampant," Councilwoman Natalie Moser said during the April 5 council meeting, where the new city ordinance was passed unanimously. "I'm looking forward to giving them that ability to kind of stymie these types of crimes."
Catalytic converters are a component of a vehicle's exhaust system that helps reduce harmful emissions and airborne pollutants.
The converters usually contain a variety of precious metals, including platinum, palladium, and rhodium, which make them high value and easily targeted by thefts.
Though it only takes seconds for a catalytic converter to be cut off a car with an electric saw, car owners have to pay an average of $2,000 to have a converter reinstalled once stolen.
Under the new ordinance, anyone possessing a catalytic converter not attached to a vehicle will need to have proof that they are legally in possession of the converter.
The proof should record the license plate number and VIN of the car it was removed from, the name, address, and phone number of the car owner, a signature of the owner authorizing the removal, and the name, address, and phone number of the current owner of the catalytic converter.
The number of converter thefts in the city has gone up dramatically in recent years, from 49 in 2019 to 461 in 2021.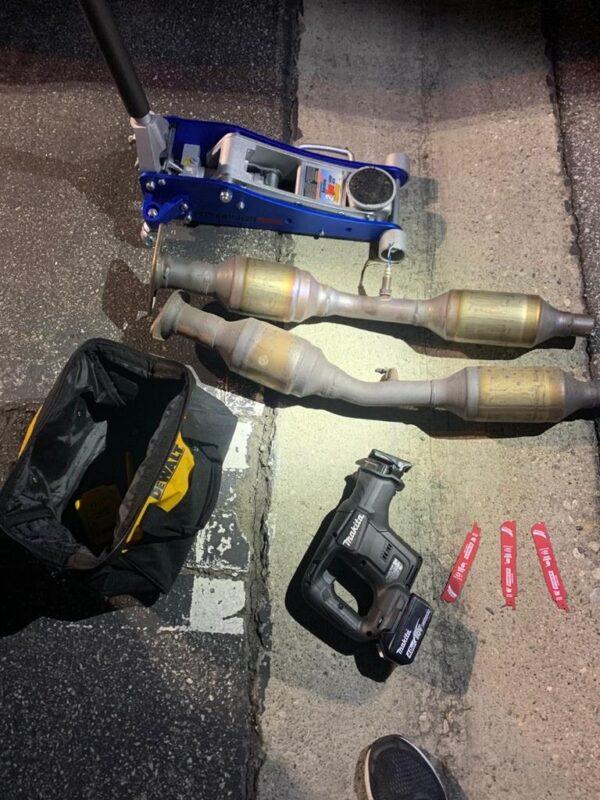 In the past, police officers have had difficulties holding converter thefts accountable because of how hard it is to prove a lone converter in someone's possession to be in fact stolen. Many vehicle parts do not have any identifying features on them to show whom or which car they originally belonged to.
Huntington Beach's ordinance will follow the precedents set by Irvine, Lake Forest, Mission Viejo, and other cities that have added ordinances in the last six months to combat catalytic converter thefts.
During the meeting, Mayor Pro Tem Mike Posey suggested that Huntington Beach go further than other cities by making the crime a felony instead of a misdemeanor.
"We know what misdemeanors mean—virtually nothing. [It means] a ticket and promise to appear [in court]. Does that deter somebody from … stealing another $2,000 [converter]?" he said. "If the penalty is not sufficient to deter, maybe we should be looking at other charges that can amplify the penalties and vigorously prosecute every single one."
In the end, the council decided to pass the current ordinance and let the Huntington Beach Police Department and the City Attorney's Office determine the extent of the charge.