WASHINGTON—The words "humanitarian crisis" are constantly being used on both sides of the aisle during negotiations over border security and the government shutdown.
President Donald Trump says a humanitarian crisis exists due to a weak southern border, while congressional Democrat leaders have said the crisis is manufactured.
Rep. Dan Crenshaw (R-Texas) said the sheer number of people crossing the southwest border illegally—most of whom are families and children hoping to seek asylum—constitute a humanitarian crisis. In fiscal 2018, almost 400,000 people were apprehended by Border Patrol after illegally crossing the border.
"So it [asylum] has created a draw. And so when that happens, you have dead bodies all throughout the southern border. It's really sad to see this. Not only that, but you have a third of the women being sexually assaulted," Crenshaw told The Epoch Times.
Two-thirds of migrants traveling through Mexico report experiencing violence during their journey, including abduction, theft, extortion, torture, and rape, according to Doctors Without Borders (MSF), which has been providing medical and mental health care for migrants and refugees in Mexico since 2012.
Almost 1 in 3 women surveyed by MSF said they had been sexually abused during their journey—60 percent through rape.
Customs and Border Protection
Commissioner Kevin McAleenan
said last year that his agency's intelligence and interviews put the numbers even higher.
"That scale represents a humanitarian crisis, in my humble opinion," Crenshaw said. "But whether you call it humanitarian crisis or not ... it's just completely unsustainable."
Crenshaw said the volume of illegal immigration is unsustainable particularly for Border Patrol, the U.S. education system, and emergency rooms.
He said the Lyndon B. Johnson Hospital in Houston spends 25 percent of its funding on illegal immigrant health care.
"That means every dollar does not go to a native-born citizen who is low-income. So that's what we're dealing with. It's not a sustainable situation," he said.
Crenshaw said a mixed solution is needed to alleviate the crisis, but a border wall is necessary.
"We're asking for about 234 miles of border wall. It's extremely effective. And I know this from being somebody in the military—when we need to get places, barriers matter. They're not easy to climb over. They're not easy to dig under. They're a mitigating factor, they're a huge mitigating factor."
'We're Not Doing a Wall'
Speaker of the House Nancy Pelosi (D-Calif.) is adamantly against appropriating funds for a border wall.

"We're not doing a wall. Does anybody have any doubt that we're not doing a wall. So that's that," Pelosi said at a news conference Jan. 3. "No, it has nothing to do with politics, it has to do with a wall is an immorality between countries; it's an old way of thinking."

Senate Minority Leader Chuck Schumer (D-N.Y.) said in his rebuttal to Trump's national address Jan. 8, that, "This president just used the backdrop of the Oval Office to manufacture a crisis, stoke fear, and divert attention from the turmoil in his administration."

Trump has said he won't sign a spending bill that doesn't contain $5.7 billion in funding for a wall. On Jan. 8, he said another $3.5 billion must be added for resources, including additional detention space, more ICE and Border Patrol agents, additional immigration judges, and other resources.

On Jan. 10, during a press conference, Pelosi said, "And, quite frankly, when the president talks about this being a national security issue, no, it really isn't. It's about a policy that is discriminatory as to where people are coming into this country."
Trafficking and Homicides
In fiscal 2018, Border Patrol agents apprehended 17,000 criminals entering the United States illegally.

In a bill-signing for trafficking victims Jan. 9, Trump said human trafficking "really hits a nerve."

"We're talking about, in many cases, women and children grabbed, thrown into the backseat of a car, or thrown into a van with no windows, with no—any form of air. Tape put across their mouths," he said. "And they're brought across the border. And they don't go through checkpoints; they go through the emptiest spot they can find, with no walls, with no fences."

In fiscal year 2018, ICE made more than 1,500 human-trafficking arrests, Trump said. Most for sex trafficking.

Eric Dreiband, assistant attorney general for the Civil Rights Division of the Department of Justice, highlighted a recent case where the department sentenced five members of a Mexican sex-trafficking organization. Over the course of a decade, the organization had sex-trafficked young women and girls from Mexico and Central America into the United States.

"The case ... was a very complicated, long-running human-trafficking case where Mexican nationals were engaged in trafficking young girls and women across the border, smuggling these women across the border, into the United States, and forcing them into prostitution," Dreiband said Jan. 9.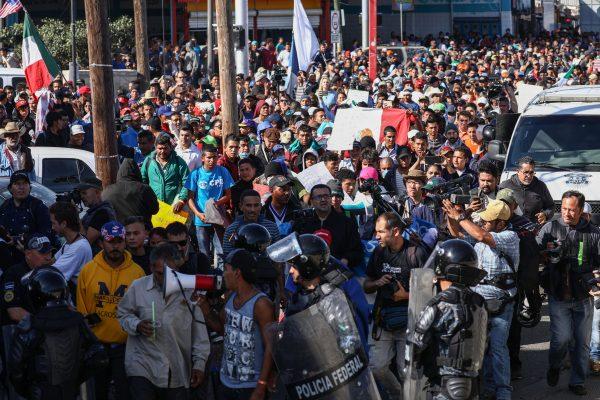 The Texas Department of Public Safety recently released a report that showed almost 200,000 illegal aliens were booked into local Texas jails in the seven years ending Dec. 31, 2018.
Those aliens accounted for 624 homicide charges, more than 38,000 drug charges, and 418 kidnapping charges.
"For the last seven years, we had over 4,000 people incarcerated that are illegal aliens in Texas jails for sexual assault," said John Jones, chief of the department's Intelligence and Counterterrorism division, during a roundtable at the White House on Jan. 12. "The sad thing is, 62 percent of them are sexual assault against children. And those are Texas children. Those are American children. Those are our children."
The report also includes the number of crimes the illegal aliens were charged with beyond the seven-year period. Accounting for this, the homicide charges shoot up from 624 to 2,945 over their whole criminal career in Texas. The number of sexual-assault charges reached 8,507.
'Crisis of National Security Proportions'
Sheriff Andy Louderback of Jackson County, Texas, said the numbers support what law enforcement has been saying for decades.

"From a law-enforcement perspective on this, we have declared and said many times over, that we have a massive problem on our southern border, on security, of national-security proportions," Louderback told The Epoch Times.

"This is not manufactured and it's not to be minimized. Is it significant enough to shut the government down? And the absolute truth is, yes. If we don't do it now, when are we going to do it? If it's not now, if it's not under this administration, what hope do we have as Americans to solidify our southern border?"
Louderback said the idea that the border crisis is manufactured is "absolutely false."
"Let me tell you what's manufactured in this deal. And that's metric tons of narcotics, and tons of people who are just being shipped into this country. That's what's manufactured, manufactured by the cartels," he said.
"All of our states are affected by this. Every law-enforcement agency in this country is dealing with the effects of an unsecured border. It's a very real, constant threat that we face every day."
Louderback said a physical barrier is a vital part of border security.
"We're faced with walls everywhere. They're very effective because they work," he said. "They provide the solid piece of foundational strength for you to keep that area secure—whether it's a prison, whether it's trying to get into CIA headquarters."