House Democrats on July 26 introduced a proposal that would set term limits on U.S. Supreme Court justices.
The bill's sponsor, Rep. Hank Johnson (D-Ga.), chair of the chamber's Judiciary Subcommittee on Courts, claimed that the nation's higher court faces a "legitimacy crisis."
"Five of the six conservative justices on the bench were appointed by presidents who lost the popular vote, and they are now racing to impose their out-of-touch agenda on the American people, who do not want it," he said in a
statement
.
Johnson is joined by Democratic co-sponsors Reps. Jerry Nadler of New York, David Cicilline of Rhode Island, Sheila Jackson Lee of Texas, Steve Cohen of Tennessee, and Karen Bass and Ro Khanna of California for the TERM [Supreme Court Tenure Establishment and Retirement Modernization] Act.
Stung by rulings "this last year," which he didn't name, Nadler said he wanted term limits to shift the balance of power away from the high court's conservative majority, which he considers to be "radical, unrestrained."
Among its decisions this year, the Supreme Court in May overturned Roe v. Wade, the seminal 1973 ruling that made abortion legal nationwide. That ruling was cheered by conservatives but was met with anger by politicians on the left as well as protests and vandalism by activists.
Since 1869, the Supreme Court has been made up of nine justices appointed for lifetime terms. But this tradition has been increasingly challenged by some Democrats and left-leaning advocates.
There are currently six conservative justices: Chief Justice John Roberts, Clarence Thomas, Samuel Alito, Neil Gorsuch, Brett Kavanaugh, and Amy Coney Barrett. There are also three left-leaning justices, including Sonia Sotomayor, Elena Kagan, and Ketanji Brown Jackson.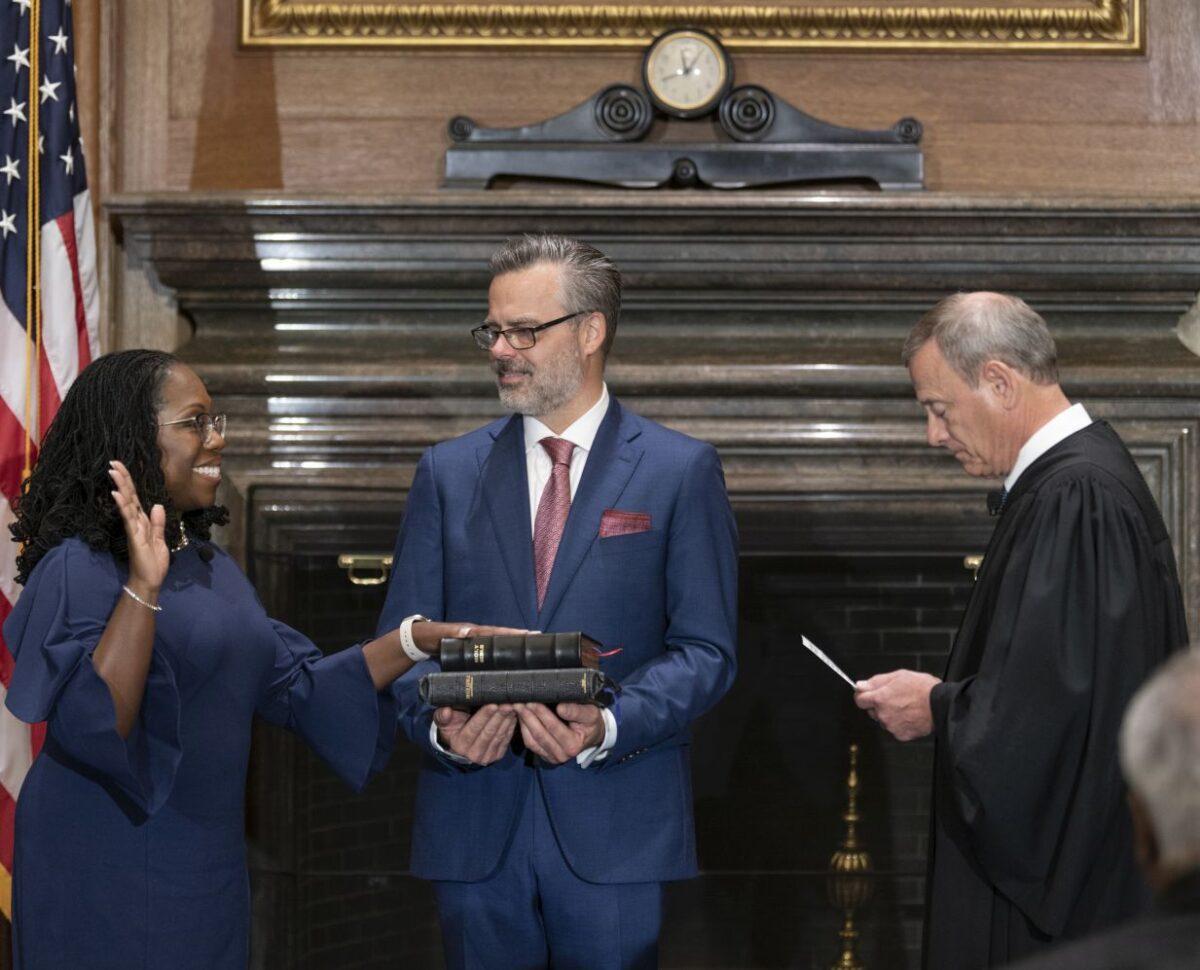 Opposition
Harvard Law School professor Noah Feldman, who was part of President Joe Biden's Presidential Commission on the Supreme Court in late June, previously said substantial reforms could be "disastrous."

"The question is whether under our current circumstances, weakening the court through substantial reform—and I have in mind 'court-packing,' and most forms of jurisdiction stripping—would enhance or undermine the institutional legitimacy of the court, which legitimacy enables it to fulfill these functions," he said.

"In my view, those sorts of firms would be disastrous for the capacity of the Supreme Court to engage in these roles that it currently engages in."

Republicans

criticized

 Biden for creating the commission, calling it "an assault on our nation's independent judiciary and yet another sign of the far left's influence over the Biden administration."

"The president spent most of his campaign playing coy on the issue, but has now admitted from the safety of a four-year term that he views the judiciary as 'out of whack,'" Senate Minority Leader Mitch McConnell (R-Ky.) said in a 

statement

 at the time.

"This faux-academic study of a non-existent problem fits squarely within liberals' years-long campaign to politicize the court, intimidate its members and subvert its independence."
Democrats
The bill's co-sponsors described the legislation in terms of "restoring balance [and] ... the public's trust" in the Supreme Court, which some of them described as "radical," "unrestrained," and "backwards."

They made no mention of any support among conservatives for the Supreme Court's rulings on gun laws and abortions—issues that typically divide Americans on the left and right.

Nadler, the chairman of the House Judiciary Committee, expressed concern that the United States would "be left with" a majority of conservative Supreme Court justices "for a generation or more."

"Instead, under this bill, each President would be entitled to appoint two justices," he added, expressing a view that under the proposed legislation there would be an opportunity over time to undo the current makeup of the bench to reflect left-leaning public views.

Cicilline claimed the Supreme Court is losing the public's confidence, and said the legislation is a way to restore "the Court's important role in our constitutional system."

This isn't the first attempt to take aim at the Supreme Court by Democrats, who earlier this month called for legislation to add four more seats to the bench to work around the conservative majority.
The Bill
Under the TERM Act (
pdf
), a new justice would take the bench every two years and spend 18 years in active service.
Staggering term limits with nine justices means there would be a vacancy every two years, allowing each president two appointees per term.
The justices who retain office would assume senior status. The new appointments would happen in the first and third years following a presidential election as the sole means of high court appointments.
Justices on the current bench would assume senior status in order of length of service as each new justice is appointed. Thomas, who is currently the longest-serving justice on the court with a tenure of 30 years, would be moved to semi-retirement first under the proposal.
The proposal would also preserve judicial independence by ensuring that Supreme Court justices who assume senior status remain fully compensated members of the federal judiciary for life, capable of exercising official duties on and off the bench for as long as they choose.
Sen. Sheldon Whitehouse (D-R.I.) introduced a similar bill in the Senate.