SACRAMENTO—California Gov. Gavin Newsom recently unveiled a new proposal to force some homeless suffering from drug addiction and mental illnesses into substance abuse treatment amid sprawling encampments and homelessness on the streets. The move has become a buzzing conversation among activists for the homeless, residents, and providers alike.
Amid a wave of progressive reforms across the state, and the "Housing First" model that seeks to house all homeless individuals, some say Newsom is finally addressing the root of the problem in his new proposal.
The new plan, termed the Community Assistance, Recovery, and Empowerment (CARE) Court, will summon homeless people dealing with substance abuse and mental illnesses to receive a court-ordered treatment plan lasting up to two years. If an individual denies treatment and they are deemed unfit to make decisions for themselves, they will be placed into conservatorship.
"I think the governor definitely is tapping into the real deal," co-founder of Venice-based HELPER Foundation—a gang intervention nonprofit—Ansar El Muhammad told The Epoch Times. "Addiction and mental health, you've got to address those two issues before you even deal with housing."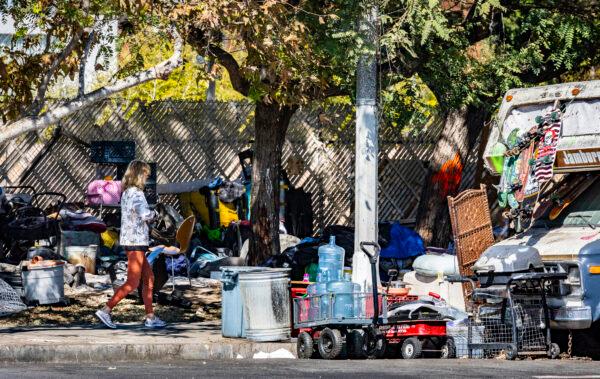 Muhammad, who was formerly involved with gang activity in his 20s, said his only concern with the proposal is that "the larger agencies don't gobble up all the resources and don't deliver the services." His foundation is one of several small nonprofits in Los Angeles that don't rely on city or state funding to do outreach.
Newsom visited Kress House, a residential facility, in Los Angeles on March 10 and met with clients, health care and service providers, and local and judicial officials to discuss his CARE Court proposal. This is the first of many visits Newsom said he plans to have with community groups across the state.
"With new tools and a focus on accountability, CARE Court will empower communities to help those in the greatest need get critical services to put them on a path to recovery and healing," Newsom said in a statement. "In the weeks ahead, we'll be hearing firsthand from everyday Californians and their families, service providers, health care professionals, first responders, members of the judiciary, local officials and other stakeholders whose partnership is foundational to our community-based approach."
As of January 2020, California had more than 150,000 homeless individuals living on the streets. According to the last homeless count in LA, there were 66,000 homeless countywide and more than 41,000 across the city.
Those with boots on the ground in some of the state's hardest-hit areas of homelessness applauded Newsom's action but want to see more of the details fleshed out before they get fully on board.
SHARE! Housing President and LAPD Community Police Advisory board member Brian Ulf told The Epoch Times "anything is better than nothing" when it comes to addressing mental illness and substance abuse among the homeless.
"The CARE program's got to not only have treatment, but it's got to have detox," Ulf said. "You have to be able to meet people where they are, but get them where they need to go. You've got to be able to put them in the programs directly from the street."
Ulf said the current process of getting an individual treatment and into interim housing can take up to a week or longer, which is a critical time frame once someone agrees to be helped. Outreach workers have told The Epoch Times in previous interviews that it can take an individual up to ten points of contact before they agree to receive help.
Court-ordered responses for individuals to be admitted to CARE Court can be triggered by family members, homeless providers, behavioral specialists, or first responders.
If Newsom receives enough legislative support to make the program a law, all counties will participate in CARE Court. If local municipalities "do not meet their specified duties under court-ordered Care Plans," the proposal states "the court will have the ability to order sanctions and, in extreme cases, appoint an agent to ensure services are provided."
Funding for CARE Court will come out of Newsom's $14 billion multi-year investment to build 55,000 new housing units and treatment programs, including over $10 billion annual investment in community behavioral health services.