A group of field experts, nonprofit leaders, and government officials discussed the health and economic benefits of trails at an annual conference by Vision Hudson Valley on June 2.
Vision Hudson Valley is a nonpartisan and nonprofit organization that seeks to preserve and enhance the quality of life for residents in Orange County and the Hudson Valley region.
Garnet Health Foundation President Bill Dauster, an avid outdoorsman, opened the health panel discussion by citing his personal experience.
"I wonder all the time when I get to a summit of a mountain why I feel completely elated ... and then when I sit in the observer cabin on top of Balsam Lake Mountain, and I watched countless people all day long come sweaty, breathing, hungry, and sometimes not looking good, and they are all smiling and elated," he said. "I believe there [are] real clinic reasons for that."
Panel expert Dr. Mary Gillis said that when exercising in a natural and calming environment, one's body produces mood-boosting chemicals such as serotonin and dopamine.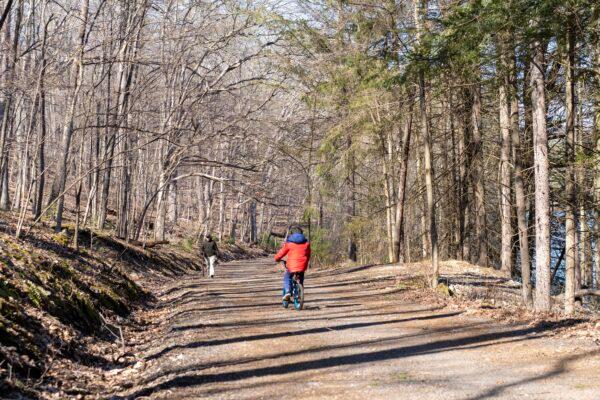 Garnet Health wellness director Dr. Anjana Poonthota said that being in nature breeds emotional connection and overall wellness, but unfortunately, it's a point often lost on younger generations.
"I see [kids] always on their laptops or iPads, and parents are so used to it," Poonthota said. "My heart breaks to see the number of adolescent children come in [the hospital] and they are suicidal ... these children do not have the coping skills nor are they [being taught].
"We need to take that message to teach the next generation why nature is important."
Aside from health benefits, trails increase foot traffic for businesses along the routes and drive economic growth in adjacent areas, according to several conference speakers.
Orange County tourism coordinator Rachael Carr said that about 500,000 people—some hail from nearby counties, Long Island, and New York City—use the county
's 
Heritage Trail every year.
She said the county is working on promoting the Heritage Trail and with nearby attractions to increase the number and length of hotel stays.
Middletown Mayor Joseph DeStefano said that he advocated for the extension of Heritage Trail from Goshen into his city, which spurred a slew of businesses and housing developments.
The next phase of the trail—it now stops at East Main Street just outside the central business district—will run through downtown before it reaches West Main Street in the city.
Once the urban section is completed, it will drive more foot traffic to downtown businesses, such as the Paramount Theatre, restaurants, and retail stores, he said.
As to new rural trails, Orange County planning commissioner Alan Sorensen said the county is working with Open Space Institute to build a new 9.8-mile Schunnemunk Rail Trail to link Camp La Guardia in the Town of Chester to the Moodna Viaduct in Salisbury Mills.
Camp La Guardia, a former homeless shelter, is planned to be converted into a new county park, he said.
On a larger scale, Open Space Institute has an ambitious long-term plan to connect more than 20 communities by linking 250 miles of trails across Ulster, Sullivan, and Orange counties.