LOS ANGELES—At the commission meeting on Jan. 25, Los Angele Police Department (LAPD) Chief Michel Moore confirmed that a number of firearms have also been stolen from cargo containers on rail tracks in Los Angeles.
After the arrest of an individual possessing a firearm, the LAPD discovered that tens of firearms are among the items stolen by cargo thieves in the Lincoln Heights neighborhood.
"Our attention was first drawn to these instances effects by what we later determined through an arrest of an individual in possession of a firearm. People were looting and breaking these containers and stealing firearms, tens of firearms," Moore said at the
meeting
.
An LAPD spokesperson told The Epoch Times via email that approximately 82 guns were stolen, and only two have been recovered so far, which concerns LAPD as the unrecovered firearms may be used inappropriately and result in negative consequences in the city.
"That gave us the great concern as a source again of further violence in the city as people were capitalizing on the transport of these containers with having little or no policing or security services there," Moore told the commissioners.
As of Jan. 26, a total of 122 individuals have been arrested by various agencies in relation to cargo theft. To prevent more cargo container break-ins at the rail track, more resources are being deployed to the area, and law enforcement agencies are maintaining high visibility, according to the LAPD.
Cargo theft has been a long-existing problem in California—the most targeted state in the country—with over 250 cases recorded in 2021, and the top five cities in the state with the most incidents are Fontana, followed by Los Angeles, Dinuba, Compton, and Ontario, according to Verisk's CargoNet, a data-sharing system dedicated to the prevention of cargo theft by generating crime analytics.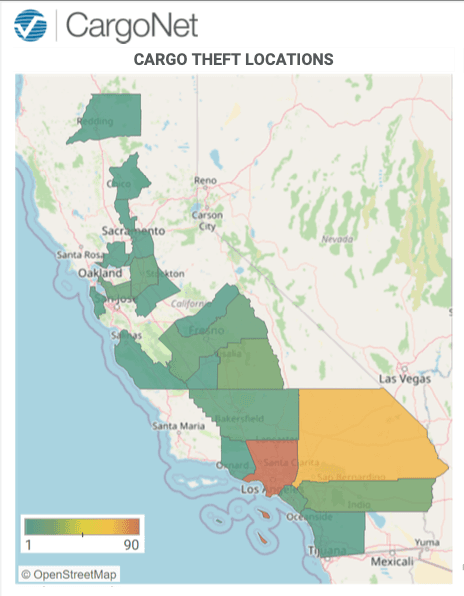 Keith Lewis, vice president of operations at Verisk's CargoNet, told The Epoch Times that railroad cars, containers, and trailers often do not have any security devices other than a plastic or metal seal on the rear door, which makes it easy for thieves to target high-end goods, especially electronics.
When the seals are compromised and the goods are stolen, more costs will be incurred throughout the supply chain, and ultimately the price of the commodities will increase, which directly affects consumers, according to Lewis.
"Think about the remanufacturing of all these goods that get stolen and that have to be shipped again. The cost. That's what I call 'the cost below the iceberg.' It's the cost that we don't see, but it's passed on to the consumers," Lewis said. "[With] any disruption in the supply chain, there is a cost to the end consumer."