Government-imposed measures in response to the pandemic are driving academic proficiency and graduation rates down in U.S. schools.
That's the consensus of several studies assessing the impact of government measures on the education of America's schoolchildren over the past two years.
Michigan State University's Education Policy Innovation Collaboration last month released a
350-page study
, which quantified that the move to virtual instruction during the pandemic caused most of Michigan's 1.4 million K–12 students to learn less.
State statistics show 51 percent of Michigan school children qualify as economically "disadvantaged." It was this group that was harmed the most by virtual instruction, according to the MSU study.
Brown City Community Schools is a Michigan school district where all 750 students receive a free breakfast and lunch, and are considered by the state as economically and socially "at risk."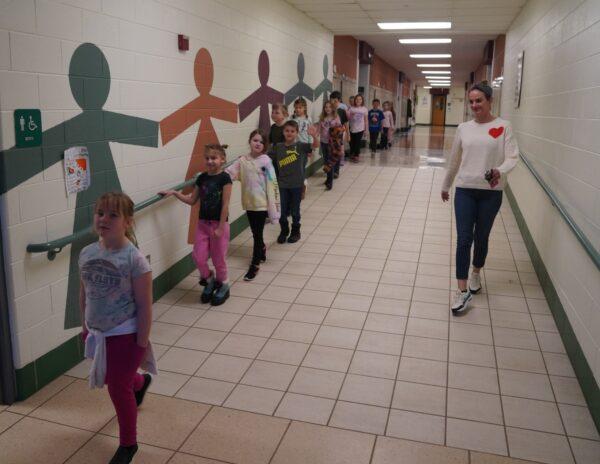 Brown City is a small farming town in rural southeast Michigan, an area with poor or no internet access.
Parent Stephanie Stimson told The Epoch Times: "When Michigan schools were shut down to in-person instruction from March through June of 2020, and then again for six weeks at the end of the year, we had to drive to the school and pick up paper packets of assignments to be completed at home.
"Brown City Schools didn't have a virtual instruction platform set up until mid-summer 2020. Because they don't have Wi-Fi at home, some parents sat in the parking lot with their children so they could do their homework by connecting with the school's Wi-Fi.
"My son was a sophomore. He didn't like virtual. He wanted to be in class. Like many teens, he is a procrastinator and doesn't do well when he has to schedule himself.
"There was no track season that year, and football was cut way back. That was very disappointing for him. He's a senior this year and has somehow kept up his credits," Stimson said.
Brown City Schools Superintendent Neil Kohler told The Epoch Times, "Every year, a small number of seniors don't graduate. The rate has gotten worse during this pandemic."
A 2021
survey of 26 states
, conducted by the publication Chalkbeat and the Associated Press, found that graduation rates in 20 of the states declined, reversing a decades-long trend of improvement. The slippage was widely attributed to remote learning and increased demands on students' time as their families struggled with added burdens and complications stemming from the pandemic.
In keeping with a national trend, Brown City Schools officials said they saw "the most course failures in memory," with many students failing two out of seven of their daily classes.
"That's what happens when kids get bounced around in and out of virtual. They need structure. They need to be with their teacher and work out math problems together.
"Parents are more likely to sit with their elementary-age child than they are their high schooler. Left unto themselves, some teens did absolutely nothing at home.
"At least if they came here we could get some work out of them. We are doing everything we can to stay with in-person instruction," Kohler said.
Pandemic mandates have resulted in an observable social and emotional change among Brown City's high school and middle school students.
"Our older kids are worried about the impact of the pandemic on college and the job market," Kohler said. "They are also stressed because their home life has been disrupted as their families try to cope with all the mandates.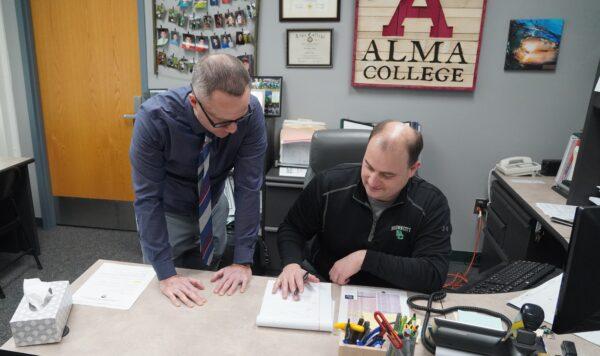 "These young people needed to hang out with their friends. This was taken away. They needed sports as a stress release. That was taken away.
"Our high school students are not getting the experiences they expected. Despite our best efforts, every kid has missed out on stuff they should have gotten."
Brown City Elementary School Principal Sean Hagey said the lack of consistency of federal, state, and county health department policies is making things difficult for his staff, students, and their parents.
"Just when we think we've got things down pat, along comes another policy change, and we are forced to reset."
Kohler outlined some of the damage done to the youngest of the students by the various mandates.
He said the shutdown of the district's preschool resulted in a significant learning loss.
"This will likely lead to more students being classified as special needs at an earlier age, when it's not their learning abilities but their lack of experience that is responsible," he said.
At Brown City Schools, children start learning to read in kindergarten and build on their skills in first grade.
"This foundation has been lost already. Our second graders are coming in as if it were the first day of kindergarten," Kohler said.
The mask mandate has also contributed to the decline in reading.
"It is absolutely critical that young children and their teachers see one another's lips as they form phonics sounds, the basis of reading. This did not happen," Kohler said.
The
NWEA
, an educational research foundation, discovered achievement was lower for all student groups in the United States in the 2020–21 school year.
The study noted that the typical K–12 student is performing 8 to 12 percentage points below grade-level in math and 3 to 6 points below in reading.
A 2021 study by the national education consulting firm
McKinsey & Co.
found that first-grade through sixth-grade students across the country were five months behind where they should be in math and four months behind in English.
The 2021 state assessment test in Tennessee (TCAP) showed only a quarter of students tested proficient in math compared to one-third in the pre-pandemic year of 2019.
Only 29 percent of Indiana students in grades 3 to 8 tested proficient in both math and English in 2021, down 37 percent from the 2018–19 school year, according to the statewide ILEARN test.
The test determined that just 10 percent of Indianapolis Public Schools students were proficient in both math and English.