As the demand for masks increases, the people of Orange County are getting creative to meet the need.
Shortly before the COVID-19 outbreak escalated, Soheila Golgolab had ordered $10,000 worth of fabric to launch a new clothing business based in Laguna Beach.
Her plans were dashed, including photoshoots for the launch, due to social distancing. But, she told The Epoch Times, "I have more than enough supply of fabric to keep making masks for a few weeks."
For every two masks she sells, she donates one to Waymakers Laguna Beach Youth Shelter.
She said, "I really truly wish to God I could [donate all that I make], but I still have to be able to support myself." By donating as well as selling, "I can support myself, and still support my soul," she said. She has owned Mimi's Tailoring and Design for the past 15 years, but will have to put her new venture on hold.
"I try to keep positive because there's a lot going on and I need to stay positive, and have hope," Golgolab said.
Orange County health officials have recommended non-surgical grade masks for people working in essential businesses. Some other counties in Southern California have made that an order.
Community members like Golgolab are stepping up to provide those workers with personal protective equipment (PPE), especially hoping to ease the supply strain so frontline healthcare workers aren't left without gear.
A Small Act of Kindness Goes a Long Way
Jenn Paige started a Facebook group called
RSM (Rancho Santa Margarita) Facemask Volunteers
, expecting to attract a few locals to help her make masks for doctors and nurses.
"A couple of weeks ago when I heard the call to make these facemask covers, I ordered a few hundred dollars of supplies, and I thought that if I put a message out over Facebook for any local viewers, you know, three or four of us could work together and get the masks done," Paige told The Epoch Times.
"The response was tremendous," she said.
She didn't expect sewers from outside Rancho Santa Margarita, but "now we have sewers all over Orange County who are working together on our project, and we even have a couple now who are in Corona and Riverside," she said.
So far, the group has facilitated the donation of more than 8,000 masks to frontline healthcare workers.
"[We] have over 50 people sewing and we're sourcing thousands of dollars in materials," Paige said.
Learning to Sew Just to Help
One of those sewers, Adrienne Lee-Zakhar, taught herself to sew just to be of service.

"I took my sewing machine and I actually taught myself how to sew two weeks ago from watching YouTube videos. I started going to JOANN's fabrics and buying everything on my own and doing it on my own," Lee-Zakhar told The Epoch Times.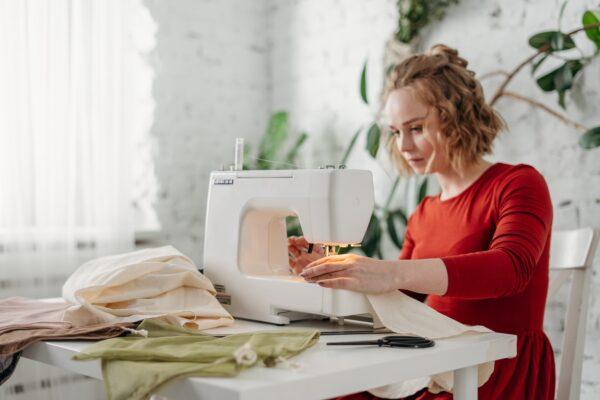 Then, she stumbled across Paige's Facebook group. She decided to join and now she sews 30–50 masks a week, which is much less than the "veteran sewers" in the group, she explained. Some are sewing 50 per day.
"For me, personally, I have a lot of friends and family overseas in Asia, I'm Asian, and so I come from a mask-wearing society," said Lee-Zakhar. "And so when I found out that the hospitals were really low on supplies, I started asking around 'how can we help?'"
Lee-Zakhar also donates some of her masks to hospitals she knows are in need. One of those was Saddleback Medical Center in Laguna Hills.
"The first 30 that I made, I actually donated it to a friend of mine who's a nurse at Saddleback Memorial for the COVID-19 unit," said Lee-Zakhar. "So I brought them directly to her."
A Group Effort, Each Step of the Way
To buy the materials, Paige said her group has been all donation-funded by Orange County residents.

The group has established a step-by-step system, from creation to transportation.

First, cutters will cut the fabric in a rectangular shape. Sewers will gather materials either on their own or from Paige's doorstep, where she leaves  materials out for the sewers if they need them.

Then, the volunteers will sew the masks in their homes, package them, and take them to Paige's house. Volunteers from the group will come by Paige's to pick up the masks to transport them to hospitals or post offices.

One of the volunteer drivers, Robin Jochims, explained she makes daily trips to sewers who need materials and will also pick up packages to deliver to hospitals.

"I'm picking materials up from Jenn, and I'm delivering them to the sewers, so that they can focus on sewing and not time on the road transporting materials," Jochims told The Epoch Times. "It seems to take sewers about 15 minutes to sew each mask, if all things go perfectly."
The requests from hospitals range anywhere from 20–130 masks each, depending on how big the medical team is. On average, the group is donating "400 a day and growing because we have more sewers joining us every day," Paige said.
"I literally answer hundreds and hundreds of messages a day," Paige explained. "So I sew my own masks every day. It's going from 8 a.m. until 1 a.m. every single day non-stop, but it's wonderful to keep it all together and to help."
Turnaround time on requests is about three to four days and there's currently a waiting list "of thousands of masks that are needed, both local and shipping to other states."
"I think just seeing how people pull together, immediately when they hear there is a need is just such an amazing reminder of what we can all do for one another," Paige said. "And that's just in this community of Orange County, and there are other groups doing this as well. Seeing everybody do what they can gives me amazing hope for getting through this."