The 2019 Gerber "spokesbaby" title goes to Kairi Yang, a 15-month-old girl from Hickory, North Carolina, whose close-up photo was selected out of more than half a million entries on Instagram in the baby company's ninth annual photo search. Kairi is also the first Gerber "spokesbaby" who is of Hmong descent.
"As soon as we saw her photo, we fell in love with Kairi's expressive eyes and angelic face, looking toward the future and being excited for all that it holds," President and CEO of Gerber, Bill Partyka, said.
As the winner of the nationwide contest, Kairi will appear on the company's social media channels as the face of Gerber for the year and her family will receive $50,000.
Gerber is one of the largest baby food and baby products companies in the United States. It is a subsidiary of the Nestle Group.
Kairi's mother, Ying Vue, said when the family found out she had won, they "were speechless and couldn't believe it."
"We are beyond thrilled that our sweet Kairi is Gerber's 2019 Spokesbaby," 
Vue said
.
"Kairi's personality is larger than life and she always maintains a spunky attitude," she added. "We hope Kairi's one-of-a-kind, entertaining personality and vibrant facial expressions radiate positivity around the world, just like she does in our home every single day!"
Gerber
says on its website
that Kairi loves to play hide and seek and to build forts with blankets. Her parents say she makes a cute "growling" sound when she's excited. She also laughs a lot when her father plays with her.
Kairi's name came from a nickname her mother used during high school and it's also the name of a character from a game called Kingdom Hearts. According to Gerber, Kairi enjoys eating Gerber Lil' Crunchies, Arrowroot Cookies, and Puffs, and she loves to eat chicken nuggets.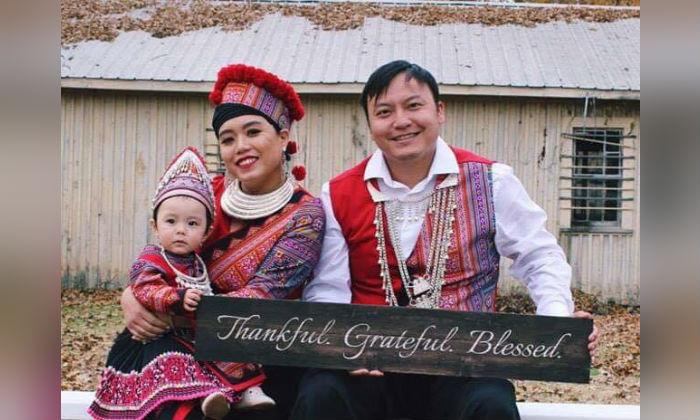 The First Gerber Spokesbaby of Hmong Descent
Gerber confirmed in a statement
to CBS News
that Kairi is the first Gerber baby who is of Hmong descent. The Hmong is an ethnic group from the mountainous regions of southern China and Southeast Asia.
"Being surrounded by all her family has been a very positive influence on Kairi's life, especially when it comes to preserving our culture and tradition," Vue, who is originally from Thailand,
told NBC's Today.
"Kairi will grow up knowing how to read and write in Hmong so that she can speak with her grandparents."
Gerber started the photo contest in 2010 to have different babies represent the brand on social media. The company says participation for the photo contest keeps increasing each year. This year, the contest saw a record-breaking 544,000 entries.
The 2018 Gerber Spokesbaby, Lucas Warren, was an honorary judge on the panel for this year's photo contest. He is the first Gerber Spokesbaby with Down Syndrome.
"It's been an incredible year celebrating our 2018 Spokesbaby Lucas Warren and his family," Partyka said. "We are excited to see the world fall in love all over again with our newest Spokesbaby."
Next year will mark the contest's 10th anniversary and Gerber plans to launch its 'Photo Search' contest globally.
The first ever Gerber baby was Ann Turner Cook, who is pictured on the company's logo. A charcoal drawing of her was submitted in 1928 when she was four months old and became the company's official trademark in 1931. Cook is now 91 years old.
Gerber was founded in 1928 in Fremont, Michigan. In 2007, Nestle purchased Gerber for $5.5 billion.