Jurors convicted four members of the Oath Keepers on Jan. 23 of seditious conspiracy in the Jan. 6, 2021, breach of the U.S. Capitol.
Joseph Hackett of Sarasota, Florida; Roberto Minuta of Prosper, Texas; David Moerschel of Punta Gorda, Florida; and Edward Vallejo of Phoenix were convicted of seditious conspiracy and other crimes related to the breach.
Seditious conspiracy is defined in federal law as two or more persons conspiring to "overthrow, put down, or to destroy by force the Government of the United States, or to levy war against them, or to oppose by force the authority thereof, or by force to prevent, hinder, or delay the execution of any law of the United States, or by force to seize, take, or possess any property of the United States contrary to the authority thereof."
The charge carries up to 20 years in prison.
The Oath Keepers is a group comprised primarily of former and current law enforcement and military members.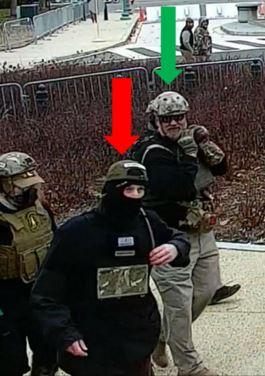 The convictions come about two months after Stewart Rhodes, the founder of the group, was
convicted
with co-defendant Kelly Meggs of seditious conspiracy linked to Jan. 6. Three people tried with them were acquitted of the charge. Four other defendants, including three Oath Keepers, have pleaded guilty to seditious conspiracy.
"For the second time in recent months, a jury has found that a group of Americans entered into a seditious conspiracy against the United States," Matthew Graves, U.S. Attorney for the District of Columbia, said in a statement. "The goal of this conspiracy was to prevent the execution of our laws that govern the peaceful transfer of power – striking at the very heart of our democracy. We are grateful to the thoughtful, deliberative work of this jury who gave weeks of their lives to carefully consider and deliver justice in this case and in so doing reaffirmed our democratic principles."
Hackett, Minuta, Moerschel, and Vallejo, were also convicted of two other conspiracy charges as well as obstructing an official proceeding: Congress' certification of the 2020 election. Minuta, Hackett, and Moerschel were acquitted of lesser charges.
The judge didn't immediately set a date for sentencing. The judge denied prosecutors' bid to lock up the men while they await sentencing, finding them not to be a flight risk. They were ordered to remain in home detention with electronic monitoring.
Prosecutors had said the Oath Keepers conspired to obstruct and impede the certification of the electoral votes by planning to disrupt the congressional session, using messages and social media to encourage people to travel to Washington, and ultimately going to Washington and entering the Capitol after "storming past exterior barricades, Capitol Police, and other law enforcement officers."
"Our democracy was under attack, but for the defendants it was everything they trained for and a moment to celebrate," prosecutor Louis Manzo told jurors in his closing argument.
Defense attorneys said the messages their clients exchanged were bluster and that Oath Keepers traveled to Washington to provide security at events. They noted the lack of evidence that the Oath Keepers had an explicit plan to storm the Capitol before Jan. 6 and told jurors that those who breached the Capitol acted spontaneously.
Prosecutors "left evidence out and they picked and chose what they wanted," said William Lee Shipley, an attorney for Minuta.
Prosecutors argued that while there is no evidence specifically spelling out a plan to attack the Capitol, the Oath Keepers saw the riot as a means to an end and sprung into action at an apparent opportunity to help keep Trump in power.
Communications from Hackett and others planned the obstruction and Hackett and Moerschel were part of the so-called stack formation that the Oath Keepers used to make their way to the Capitol and enter the building after a group breached a set of doors there, according to court documents.
Minuta was said to have later forcibly entered the building with a different "stack" through the same doors, armed with bear spray and wearing tactical gear.
Vallejo did not enter the Capitol but coordinated with other members, according to prosecutors.
U.S. prosecutors have aggressively pursued people involved in the breach, with nearly 1,000 charged with crimes as of Jan. 6. Approximately 50 have been charged with seditious conspiracy or another conspiracy, such as conspiracy to obstruct a congressional proceeding.
The breach interrupted a joint session of Congress convened to certify electoral votes from the 2020 presidential election, causing the evacuation of members, as well as then-Vice President Mike Pence.
The Associated Press contributed to this report.