Former U.S. Senate Sergeant-at-Arms Michael Stenger will be buried on July 2, after a funeral Mass in Maywood, New Jersey, the Trinka-Faustini Funeral Service
announced.
Stenger, 71, 
died
 early on June 27, although word of his death didn't circulate widely until that night.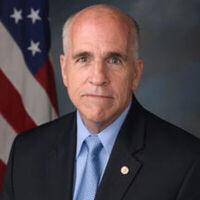 No cause of death has been released.
A resident of Falls Church, Virginia, Stenger retired from his sergeant-at-arms post after the Jan. 6, 2021, breach of the U.S. Capitol.
Michael Conrad Stenger was born July 11, 1950. He served in the U.S. Marine Corps during the Vietnam War, then embarked on a 35-year career with the U.S. Secret Service. He rose to the position of assistant director.
Stenger joined the staff of the U.S. Senate Sergeant-at-Arms in 2011. He was
appointed
sergeant-at-arms in April 2018 by then-Senate Majority Leader Mitch McConnell, becoming the 41st person to hold that title since April 1789.
Stenger maintained "core values" in his Senate post, a co-worker wrote online.
"From the beginning, he was a breath of fresh air. He brought the perspective of a regular person to a place known for outsized egos," said Don Kellaher, former U.S. House deputy sergeant-at-arms. "Mike never forgot where he came from. The best personification of a 'Jersey Boy.'"
Stenger stepped down after McConnell requested his resignation following the Jan. 6, 2021, security debacle. U.S. Capitol Police Chief Steven Sund and House Sergeant-at-Arms Paul Irving also lost their jobs as a result of mistakes made that day.
While Sund had requested help from the National Guard on Jan. 6, Irving and Stenger deferred, saying they would run it up the chain of command.
In his testimony before a congressional committee on Feb. 23, 2021, Stenger said there needed to be an investigation of paid provocateurs at the Capitol on Jan. 6.
"There is an opportunity to learn lessons from the events of January 6th," Stenger told the Senate Committee on Homeland Security and Governmental Affairs, and the Committee on Rules and Administration. "Investigations should be considered as to funding and travel of what appears to be professional agitators. First Amendment rights should always be considered in conjunction with professional investigations.
"The law enforcement coordination in the National Capital Region should be reviewed to determine what can be done in a more efficient and productive manner," Stenger said. "Intelligence collection and dissemination, training, and concepts on the use of force must be consistent. This integration should be accomplished without regard to self-serving interest and cost."
The funeral Mass for Stenger will take place at 10 a.m. at Our Lady Queen of Peace Catholic Church in Maywood, New Jersey, followed by burial in Paramus, New Jersey. He is survived by his wife Janet, two children, and two grandchildren.