With Congress approaching a government shutdown if it fails to adopt a new federal budget by the end of the current fiscal year on Saturday at midnight, frustration with the legislative branch's growing inability to set spending levels in an orderly manner is growing intense.
But Bill Beach thinks he knows a way past the seemingly endless cycle of missed budget deadlines that for the past decade has lead to a progression of temporary fixes known as continuing resolutions (CRs), which in turn result in Congress voting on one massive omnibus spending bill instead of the 13 individual appropriation measures required by a 1974 law.
Mr. Beach served as the Senate Budget Committee's chief economist from 2013–16 under two Republican chairmen: Sen. Jeff Sessions of Alabama and Sen. Mike Enzi of Wyoming—and later was appointed commissioner of the Bureau of Labor Statistics by President Donald Trump in 2019.
Mr. Beach was among the architects under Mr. Enzi of a major package of budget reforms—the Bipartisan Congressional Budget Reform Act— that featured moving to a two-year cycle, but that drew limited support in Congress in 2019. The current budget impasse in Congress is fueling a revival of interest in the approach. The Wyoming Republican passed away in 2021.
"The massive spending and public debt increases of the past five years—42 and 53 percent, respectively—reflect a 20-year decline in responsible fiscal governance by Congress and the White House. To avoid further credit downgrades and the catastrophic devaluation of our currency, Congress needs to signal powerfully and now its intent to restore the traditional norms of sound fiscal practice: that spending changes will always support the creditworthiness of our public debt and, thus, the value of the dollar," Mr. Beach told The Epoch Times in a recent interview.
He was referring to the Aug. 1 downgrade by Fitch Ratings of U.S. creditworthiness, from "AAA" to "AA." Mr. Beach expects additional downgrades will quickly follow the government shutdown that is widely expected to begin this weekend.
"An important signal in that direction would be substantial reforms to the Budget and Impoundment Control Act of 1974, most particularly changing the fiscal process to a biannual, two-step system in which a budget is created in the first year and appropriations for that budget are enacted in the second year," Mr. Beach said.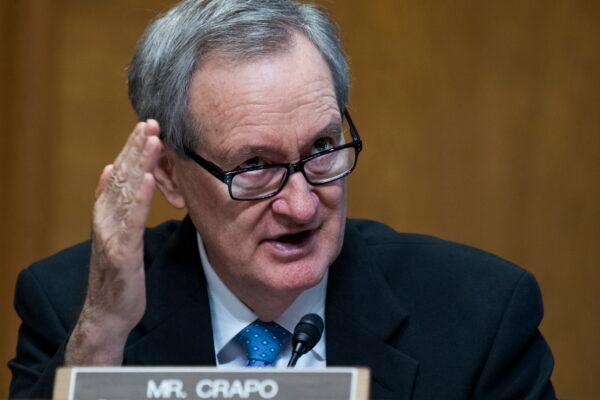 "This two-step fiscal process would allow Congress and the White House to focus on planning without simultaneously sorting through how public funds will be spent. A biannual system also aligns with the two-year, congressional election cycle, thus more tightly connecting the electoral debates about priorities with the legislation that enacts those priorities," he continued.
Having two years of spending would minimize the need for temporary CRs, thus reducing the possibility of shutdowns, while the extended cycle would also enhance accountability of senators and representatives during election years, Mr. Beach believes.
That the current budget process desperately needs reform is clear from the sad record of Congress in recent decades, according to another Senate Budget Committee staff veteran, Eric Ueland, who, like Mr. Beach, served under Mr. Sessions and Mr. Enzi as staff director and then senior adviser from 2013 to 2018. Mr. Ueland is now a commissioner of the United States Commission on International Religious Freedom and a visiting fellow at the Heritage Foundation.
"The record is pretty stark: there have been 200 continuing resolutions since 1977, we've had over 20 partial government shutdowns in the past four decades, and only four times since 1956 has the federal spending process been completely done on time, so a thoughtful effort to look at the federal budget process is long-overdue," Mr. Ueland told The Epoch Times.
The two biggest obstacles to effective budgeting by Congress under the present system, according to Mr. Ueland, are "the absence of budget buy-in in both chambers at the beginning of the year which doesn't let members participate in building their own integrated fiscal framework; and the continued decreasing share of discretionary spending as a percentage of the overall budget, which reduces the chance members have to exercise their ability to make spending decisions on behalf of their constituents--both contribute to the current difficulties Washington faces for regular-order budgeting."
Only 27 percent of the present annual federal budget of $6.3 trillion is for discretionary spending, including defense, while the remaining 73 percent is considered mandatory to fund Social Security, Medicare, and other entitlement programs.
The two-year budget proposal continues to have support in Congress.
Sen. Mike Crapo (R-Idaho) was an original co-sponsor of the 2019 reform package, saying, "Our country is on an unsustainable spending path. Added accountability and a more deliberative, transparent process for managing our nation's finances in the congressional budget process would be a much-needed step in the right direction to help Congress adequately balance our budget. I am not letting up in efforts to improve our nation's fiscal future, security and stability."
Sen. Sheldon Whitehouse (D-R.I.), the present budget panel chairman, was a co-sponsor of the reform package, as were Virginia Democrats Mark Warner and Tim Kaine. Spokesmen for Whitehouse, Warner, and Kaine did not respond to The Epoch Times request for comment.
The two-year proposal is not without congressional critics. Sen. Mike Lee (R-Utah), a present member who was not on the budget committee in 2019, doubts the change would do much to improve the present situation.
"The current budget process is fundamentally broken because leadership of both parties has refused to follow the system already in place. Swapping out the current system for another won't necessarily fix the underlying disfunctions, bills written in secret, votes forced at the last minute, and a complete unwillingness by leadership of both parties to rein-in wasteful spending," a spokesman told The Epoch Times.
"Senator Lee believes that tweaking budget timelines won't do as much as getting the American people to demand proper process and transparency from their elected officials, and fighting within Congress to embarrass the appropriators into doing their jobs," the spokesman said.