It's three days before Virginia's June 21 primary and the last day for early voting, so candidates in inter-party contests across the commonwealth are making their final pitches in the battles for berths on November's ballot.
What matters now in this 11th-hour push before the June 21 primary is face-time with residents on their doorsteps, in shopping centers, and at churches in a concerted drive to be the name that they remember in polling booths in a few days.
That last-72-hour scramble is always intense in contested elections, but it may be no more frenetic anywhere in the nation at this point in the 2022 midterm election cycle than in Virginia's Congressional District 7 Republican primary.
"I just put up a sign on this man's front lawn," congressional candidate Derrick Anderson said as he door-knocked in Spotsylvania County, Virginia, on June 18. "He's going to vote for me."
All signs indicate that every vote will count in Congressional District 7's June 21 Republican primary, where there are six candidates—including four who have raised more than $500,000 each—to sustain aggressive in-it-to-win-it campaigns until the polls close.
The winner will take on Rep. Abigail Spanberger (D-Va.), who doesn't face a primary challenge. A former CIA officer seeking a third term, Spanberger's June 1 Federal Election Commission (FEC) campaign filing reported $4 million in cash on hand, ready to spend on retaining her seat.
Analysts say the state assembly's post-2020 Census revamp of Congressional District 7 benefitted Republicans by excluding areas of suburban Richmond that served as Spanberger's base when she flipped the central Virginian district blue in 2018.
The Cook Partisan Voting Index (CPVI) rates the district as "a tossup." FiveThirtyEight gauges Congressional District 7 as "highly competitive," with the purple district receiving a nominal 2 Democrat "lean."
Along with Virginia's Congressional District 2, District 7 is one of two Virginia congressional districts among 22 nationwide occupied by incumbent Democrats that the CPVI rates as "tossups" likely to produce significant congressional gains for Republicans.
The Congressional District 7 Republican primary slate includes a high school football coach who has served in the state Senate for a decade and three county supervisors, all of whom entered the race with solid bases of support and well-honed ground games.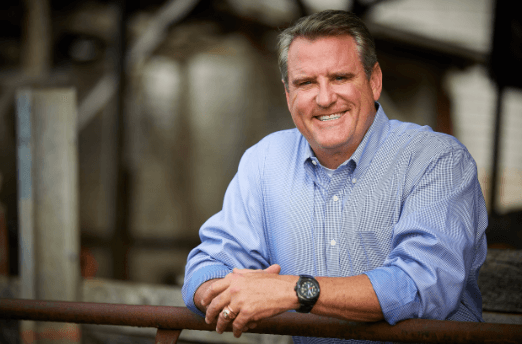 They're state Sen.
Bryce Reeves
, a former high school football coach, Prince William County narcotics officer, and U.S. Army veteran elected to the state house in 2011; Stafford County Board of Supervisors Chair
Crystal Vanuch
; Spotsylvania County Board Supervisor
David Ross
; and Prince William Board Supervisor
Yesli Vega
, a sheriff's deputy who led Republican Gov. Glenn Youngkin's Latinos for Youngkin campaign.
On the other hand,
Anderson
is a self-professed outsider who created his campaign "from the ground up," talking with people in 13-degree weather outside stadiums and 90-degree heat outside Walmarts, as well as door-knocking in communities he knows well.
"I'm from the district," he said. "This is my home district. This is my family."
An attorney and U.S. Army Green Beret special forces veteran of six Afghanistan and Iraq combat deployments, Anderson's campaign has generated excitement within Congressional District 7 and beyond, as evidenced by a bevy of endorsements, including from Sen. Tom Cotton (R-Ark.) and Rep. Mike Waltz (R-Fla.), the only former Green Beret serving in Congress.
His grassroots campaign has "blossomed" into the second most well-funded operation in the District 7 Republican primary. Supported by SealPAC and other Republican sources, his campaign reported to the FEC on June 1 that it had raised $599,324, spent $450,447, and had $148,878 on hand.
"We've just been working hard. I've been doing this for months," Anderson said while leading more than 30 volunteers in canvassing subdivisions and shopping centers. "Two, three events a day. My voice is barely hanging on."
All District 7 Republican candidates share similar America First conservative platforms focusing on parents' rights, election integrity, defending the Second Amendment, strengthening immigration laws, and opposing abortion rights.
But "outsider" candidates have seen momentum on their side in recent Republican elections in Virginia, where Gov. Glenn Youngkin, a Republican and a former private equity executive with little name recognition, was elected in his first political campaign in 2021, and Republican Hung Cao, a relatively unknown newcomer, won Virginia's Congressional District 10 special election in May.
Anderson said he's tapping into that momentum, telling fatigued voters that change won't happen until "true political outsiders" foster it.
"Virginians are tired of seeing the same people doing the same things," he said. "People in Virginia are ready for new faces, new ideas."
With days dwindling before the primary, Anderson is among the frontrunners in a race that appears to be so close there aren't frontrunners. A winner may not be determined until days after primary polls close.
But he may be the only one in the crowded field not claiming to be the frontrunner in campaign pitches. Reeves and Vanuch, in particular, both say they're leading the pack and will emerge from the scrum victorious.
They backhandedly thanked Anderson for making their backgrounds as elected officials and alleged reputations as "professional politicians" known, a campaign issue because both said they're proud of their records in performing for their constituents, with tangible achievements to show for it.
Reeves said his record in Richmond shows that he's "up to the challenge" in being an effective lawmaker in Washington.
"I've done a lot of things," Reeves said of his decade in office on June 17, while he was in Richmond to vote on 38 budget amendments proposed by Youngkin for Virginia's $61 billion general fund two-year spending plan that goes into effect July 1.
Among the highlights he cited was securing tax breaks for veterans—"we're finally getting this done"—refashioning Virginia's foster-care program, earning the National Rifle Association's endorsement for garnering bipartisan approval of a measure that expanded concealed carry, and his 2013 parental rights legislation that "was way ahead of the national curve."
Reeves has raised the most and spent the most ahead of the primary. His campaign reported to the FEC on June 1 that it had raised $680,511, spent $497,482, and had $183,028 on hand.
But the financial support isn't why he's the favorite, he said.
"I am the frontrunner because my constituents tell me I am," he said. "My constituents tell me, 'We don't want to lose you in the Senate,' but they know I'll do a good job representing us in Congress."
Vanuch is also running on her track record as an elected official, such as getting pay raises for law enforcement officers and responding to January's blizzard that shut down I-95 when no one else did.
Vanuch said that snow storm alerted her to the show jobs that most politicians' promises are.
"I was reaching out for help from the federal government and our congresswoman—she was silent, couldn't reach her," she said. "I rolled up my sleeves" and got assistance to where it was needed to get I-95 open again.
"That's the difference between her and me. My constituents asked me to get into the race because I do what I say I'm going to do and get things done."
There's also another difference between Vanuch and her rivals. Of the $517,874 her campaign reported raising in its June 1 FEC filing, $400,000 is from her own pocket.
That's not a weakness, she said, that's a strength.
"Absolutely," Vanuch said. "I am the only candidate putting my own money where my mouth is. What we need is effective leaders who aren't tied to political (groups)" and don't need to "make deals with dark money PACs. I have a clear mind and clear heart."
She said she's also "the only one who has a plan" to defeat Spanberger by "holding her accountable for her voting record."
I cannot wait to go toe-to-toe with her," Vanuch said.
She said she was "born and raised" in the district and that her campaign has knocked on 20,000 doors and made more than 45,000 phone calls since February.
"I am talking with constituents on their doorsteps" and vowing to "never waver on my conservative record," a message that's resonating, generating enthusiasm, and making her the frontrunner in the waning days of the campaign, she said.
It's a strong field, according to Vanuch, but Republican voters need to think carefully before casting their ballot because, if the wrong candidate wins in June, "I think they can lose" in November by not electing her.
"I am the only one who can beat Abagail Spanberger," she said.
Reeves said Vanuch may think she's the only one who can beat Spanberger. But apparently, the incumbent's campaign fears him the most and is keeping an eye on him.
"Spanberger moved her campaign office right next to ours" in a Kenmore Avenue business park in Fredericksburg, Virginia, he said, noting that it's going to be "a very difficult year for Democrats; they have no vision and have reversed policies that were working" for ideological reasons.
One thing that Anderson, Reeves, and Vanuch agree on is that voters are anxious about the economy.
"The resounding No. 1 issue is how much it costs to live right now," Anderson said, noting the average U.S. consumer through the first five months of 2022 paid $460 more each for the same items purchased during the first five months of 2021.
"The cost of living, people just can't afford it."
"What I'm hearing from people is that they are trying to make ends meet. They are trying to make a living and get to work," Reeves said, noting more than $6 for a gallon of diesel "just blows me away."
He recently saw a lady with two young children at a gas station. All she had was $5, which bought her "30 seconds" of gas, and she was nearly in tears because that's all she had to get back and forth from work, he said.
"I did what anyone would do if they could and filled her tank," Reeves said. "I don't know what people are supposed to do. That's what people are talking about. If anyone says otherwise, they're not in the same world that I am living in."
There are things lawmakers can do, such as the state gas tax reductions and rebates in Virginia's pending budget, that he said he'll pursue immediately when in Congress "to lessen the regulatory burden" and restore the policies enacted under the Trump administration.
Some District 7 voters "may not like Trump, may not stand the guy, but his policies were working for America," he said.
Reeves, who helped sponsor a Virginia measure addressing the Chinese Communist Party's influence in state universities, said he would also be a stalwart in preparing for one of the nation's biggest emerging challenges.
"I hate Communist China," he said. "I think they are going to be our downfall someday" if Congress doesn't recognize it as the nation's most significant enemy.
But first things first: There's a primary to win, and time is running out.
"We're ready. We're ready to go to the next level. We hate losing more than we like winning," said Reeves, a high school football and volleyball coach for 23 years, praising "a phenomenal ground game" that includes "a bunch of my former players out there knocking on doors this weekend."
Like all good coaches, he was ready with a locker room speech before the big game.
"Until the buzzer rings, you play the game all four quarters," Reeves said. "We're still putting up points and not resting until 7 p.m. Tuesday."
In its June 1 FEC filing, Vega's campaign reported that it had raised $506,021, spent $388,021, and had $118,000 cash on hand. Her campaign didn't return repeated emails and phone calls on June 17 and 18.