New York Gov. Kathy Hochul has expressed frustration at the illegal immigration crisis gripping the Big Apple, telling would-be asylum seekers to "go somewhere else" while throwing her weight behind a push to suspend the city's right-to-shelter law amid the relentless influx.
Ms. Hochul made the remarks in a Wednesday interview on CNN, in which she said that New York City has run out of space to take in more illegal immigrants and that the city is at a breaking point due to the crisis.
"They're coming from all over," she said. "But we have to let the word out that when you come to New York, we're not going to have more hotel rooms. We don't have capacity."
She added that it's important to get the word out to would-be asylum seekers that "we're at our limit."
"If you're going to leave your country, go somewhere else. But the smarter thing is to apply for asylum before you leave your country, and then you'll have a different experience when you arrive," she continued. "But we're just trying to deal with the crisis we have right now."
According to New York City officials, over 110,000 illegal immigrants have come to the city over the past year, with around 60,000 living in the city's shelter system, costing billions of dollars per year.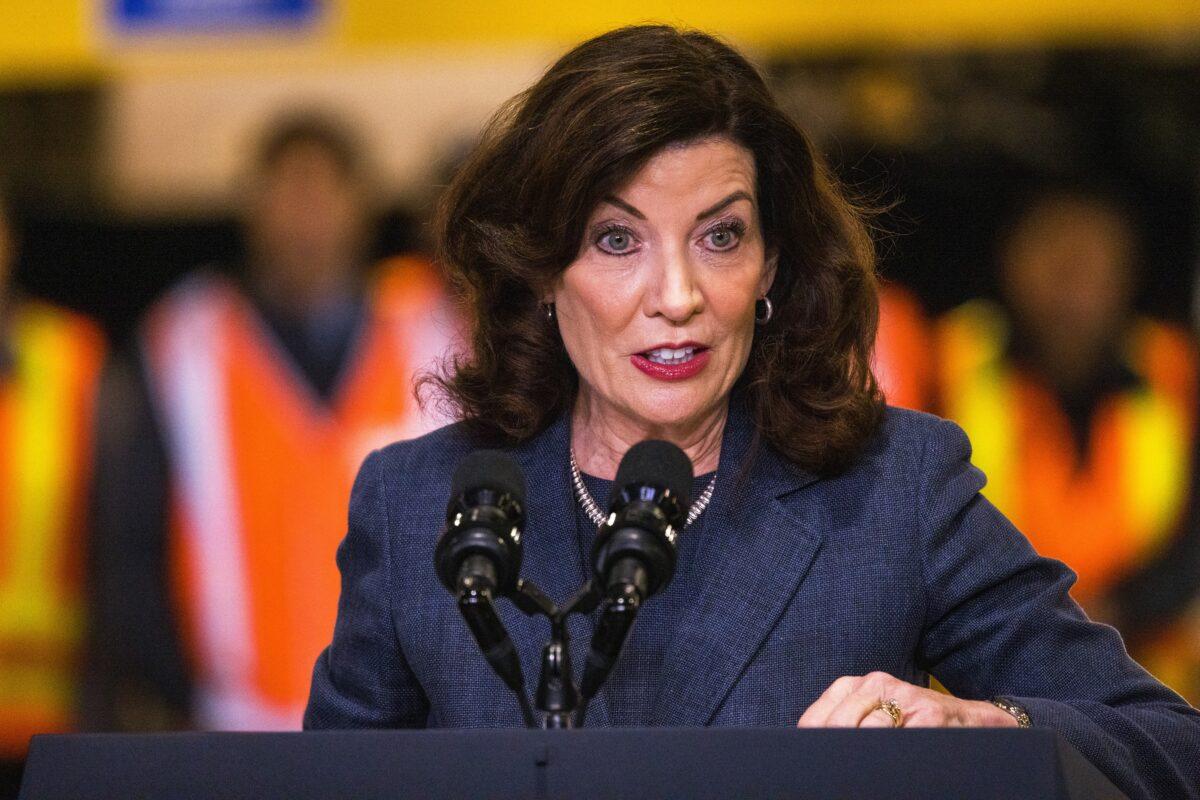 'New Yorkers Are Frustrated'
Patience among residents appears to be running thin amid the crisis, with fed-up Staten Island residents
taking to the streets
on Tuesday and physically blocking the arrival of a bus carrying dozens of illegal immigrants at a residential school converted into a shelter.
Several dozen protesters were
captured on video
stopping traffic after intercepting the bus, with police taking 10 demonstrators into custody.
"Of course New Yorkers are frustrated," New York Mayor Eric Adams said Wednesday in an interview with NY1.
"New Yorkers are really concerned and even the migrants are really concerned. We are both stating that this crisis should be dealt with in a manner where the national government carries out the role that it's supposed to," he continued.
"It should not be left on the backs of the New York City residents," the mayor added.
Amid the unrelenting influx of people to the Big Apple, Mr. Adams has proposed to suspend the city's 40-year-old right-to-shelter mandate, which was established to help address the city's homeless crisis and basically requires the city to provide a bed to anyone who asks for one.
Right-to-Shelter Mandate in Focus
In her interview on CNN, the New York governor said that Mr. Adams' proposal to pause the city's decades-old right-to-shelter mandate is the "right thing to do."

A senior official with the Adams administration told a local radio outlet on Thursday that the city is preparing to ask a judge to exempt newly arrived illegal immigrants from the right-to-shelter law, which requires New York City to provide a bed to anyone who asks for one.

"We're back in court next week to really say, 'I don't think that the right to shelter as it was originally written should be applied to this humanitarian crisis in its present form,'" Anne Williams-Isom, the deputy mayor for health and human services,

told WNYC

.

New York City authorities first sought to challenge the 40-year-old mandate in May, when thousands of illegal immigrants arrived in the Big Apple.

However, the city has since been stuck in court-ordered negotiations with the state and a homeless advocacy group over lifting the right-to-shelter law,

per The Gothamist

.

Ms. Hochul was asked in Wednesday's interview whether she backed the Adams administration's call to suspend the right-to-shelter mandate.

"Yes, I would because the original premise behind the right-to-shelter was ... for homeless men on the streets," she replied.

"People were experiencing AIDS, then it was expanded to families. That is the right thing to do," she continued. "But never was it envisioned that this would be an unlimited universal right or obligation on the city to have to house literally the entire world."

She said she doesn't think the mandate should be repealed permanently, crediting it with helping ease New York's homeless crisis and averting the situation where destitute families end up on the street.

"We don't want anything to happen to our children, but we also have to let the world know that there have to be limits to this," she said.

"There is a limit to what we can handle as a state," Ms. Hochul added.

Besides New York, other parts of the country are struggling with a surge in illegal immigration.
'Historic and Unprecedented Crisis'
Texas Gov. Greg Abbott on Wednesday declared an "invasion" due to the southern border influx, while blaming President Joe Biden's policies for the problem and ordering the National Guard and local law enforcement to help deal with the crisis.
"I officially declared an invasion at our border because of Biden's policies," Mr. Abbott wrote in a
post on X,
formerly known as Twitter, on Sept. 20.
"We deployed the Texas National Guard, DPS & local law enforcement. We are building a border wall, razor wire & marine barriers," he said.
"We are also repelling migrants," he added.
Citing U.S. Customs and Border Protection (CBP) data, House Republicans
pointed out in a statement on Sept. 20
that there have been more than 5.8 million illegal crossings of the southern border since President Biden took office.
In July, there were 183,503 illegal immigrants encountered at the U.S.–Mexico border, a 27 percent jump from June, according to the statement.
"July was the 29th straight month, where monthly illegal immigrant encounters have been higher than even the highest month seen under President Trump," reads the statement, in which they claim that the United States is straining under the burden of a "historic and unprecedented crisis" at its border.
"This should not come as a surprise to anyone given that it is Biden's Far Left open border policies that have caused this crisis, which has then turned every community into a border community," the Republicans wrote.
The White House didn't respond to a request for comment by press time.