Top U.S. Food and Drug Administration (FDA) officials were excited by the response to the agency's controversial ivermectin Twitter post, internal emails show.
The post
said
: "You are not a horse. You are not a cow. Seriously, y'all. Stop it." It linked to
an FDA page
that says people should not use ivermectin to prevent or treat COVID-19.
The post was created by Brad Kimberly, an FDA official, after Mississippi officials reported (
pdf
) an increase in calls from people who had taken ivermectin to prevent or treat COVID-19, including some who took the versions of ivermectin developed for animals.
Ivermectin is an antiparasitic that is used in both humans and animals.
Kimberly and a slew of other officials were thrilled when the post went viral, according to the emails.
The post "is the most popular post we've ever had on Twitter," Erica Jefferson, an associate commissioner for external affairs, wrote in one message, adding that "we're pleased with the response and the results."
Jefferson was writing to Dr. Janet Woodcock, an FDA official who was acting commissioner at the time.
"That was great! Even I saw it!" Woodcock said. She said she agreed with the new strategy of being "creative and accessible" and called the missive an "excellent start."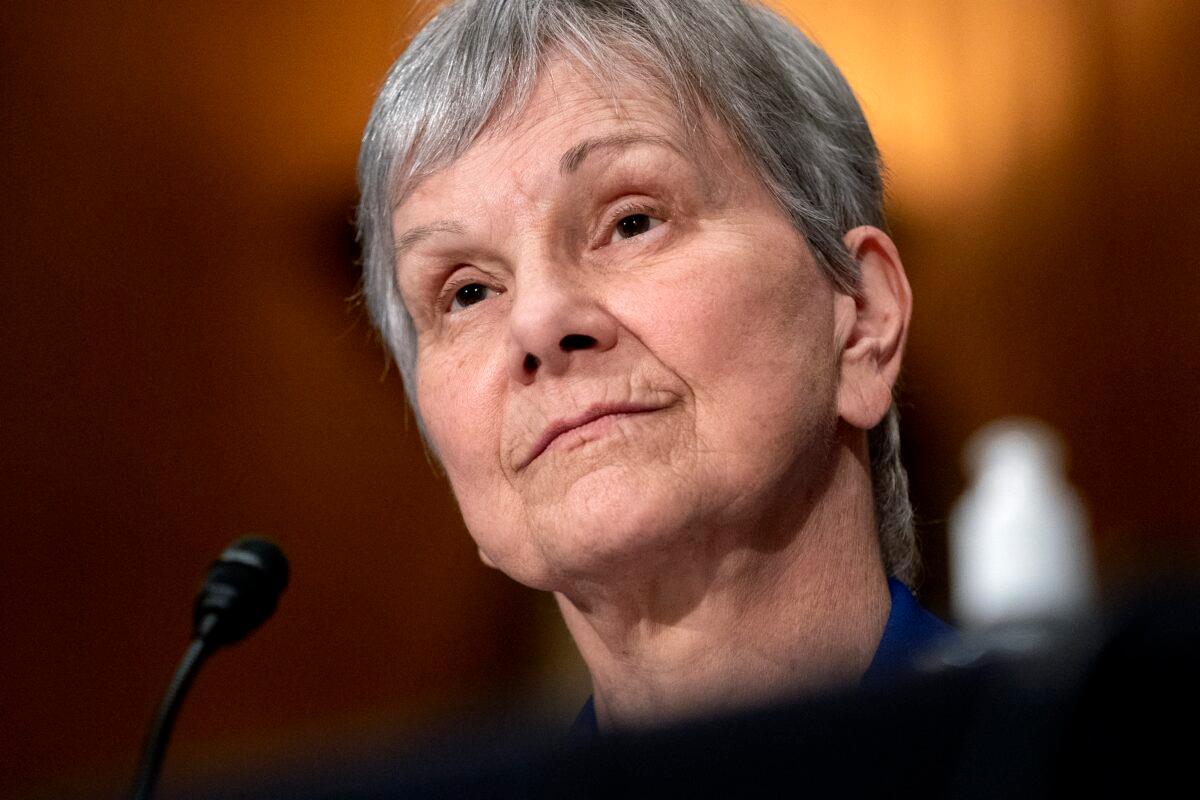 'Take the Opportunity'
Jefferson said she and another team wanted to capitalize on the Mississippi warning and were able to craft the post and send it out just one day later, even though it was a Saturday.

"I'm sure you saw some of the news coming out of Mississippi on Friday regarding the use of ivermectin to treat / prevent Covid-19 and the increase in adverse events (poisonings) the state highlighted as a result of its use. I expressed to the team late Friday night that we take the opportunity to remind the public of our own warnings for ivermectin and by early Saturday morning the social media team had posted the ... tweet," Jefferson said.

"Needless to say, the direct, straight-forward and clever (humorous) communication, paired with a follow-on tweet that provided additional answers to common questions about ivermectin, saw the tweet quickly going viral and being shared across multiple social medium platforms (where it was amplified by other influencers) and resulted in additional news coverage," she added.

Jefferson said she was focused on identifying ways for the FDA "to reach the 'everyday' American" and to "develop content that allows the agency to feel both accessible and informative in a time of incredible misinformation."

Several FDA officials, including Jefferson, said they laughed when they saw the post, which garnered praise from some half a dozen officials.

"Team – this is OUTSTANDING work So creative and, most importantly, gets FDA s public health message out to the universe I can't wait to see what else you all have in the works!" Julia Tierney, another official, said.

"I saw the Tweet and was super impressed. Glad we have data now to backup the direct approach," wrote Anna Staton, yet another official.

Jefferson and Sandy Walsh, another FDA official, reached out to Kimberly to create the post. Walsh said that the "edgy Tweet was a hit."
'Fun Weekend'
The post drew millions of eyeballs, according to analytics shared internally, including 23.7 million impressions on Twitter alone. Officials also shared the same post on Facebook, LinkedIn, and Instagram.

Kimberly was identified by others as the writer who crafted the language, and he told several colleagues he wrote it.

"It's been a fun weekend watching people say the words I wrote on TV and TikTok and such," Kimberly said in one email.

Kimberly was asked to present the data during a meeting. Details of the meeting weren't included, but Kimberly sent what he described as a "blurb" to colleagues.

"Responding to a topical item that had appeared in the news, we created a post that fell in line with the new engagement strategy our team has been working to implement. As a result, the post was seen by more than 24M people on Twitter… becoming the most popular post in our account's history," Kimberly said.

Woodcock told The Epoch Times in an email: "As you may be aware, ivermectin has been shown to be ineffective against COVID in large randomized trials. Additionally, taking any medicine at doses intended for large animals can result in serious illness. I believe professionalism is critical for staff of any regulatory agency. That said, sometimes humor can help get an important message across."

Jefferson, Kimberly, Tierney, Staton, and Walsh did not respond to requests for comment.

Vice News first reported on the emails, but only included screenshots and quotes from a subset of them. The

full set

was obtained by The Epoch Times through a Freedom of Information Act request.

A

second set of internal emails

showed that Woodcock said ivermectin "certainly is a very safe drug" but repeatedly questioned whether it would work against COVID-19, despite other countries such as Peru and India having success with the drug against the disease.
Lawsuit
The government defended the Twitter post, and another that was posted in 2022, during a recent court hearing. Lawyers said the statements "were not directives" but "recommendations."

The statements were made "with knowledge and intent that these actions would interfere with the practice of medicine," violating the Federal Food, Drug, and Cosmetic Act (FDCA) and the Administrative Procedure Act, according to the suit.

The FDA lacks authority to opine on using approved drugs off-label, or for another usage than that for which they're approved, the doctors asserted. The FDCA, they noted, says that nothing in it "shall be construed to limit or interfere with the authority of a health care practitioner to prescribe or administer any legally marketed device for any condition or disease within a legitimate health care practitioner-patient relationship."

U.S. District Judge Jeffrey Brown, a Trump appointee overseeing the case, said the social media statements were concerning because there were no qualifiers. On the FDA webpages, there are qualifiers about people being able to take ivermectin if their doctor prescribes it.

Brown has not yet ruled on the motion to dismiss.

Editor's Note: This story has been updated with a comment from Dr. Woodcock.