An FBI contractor has been arrested for producing child pornography.
Brett Janes paid a minor to engage in strip games over the internet, according to an FBI investigation.
The minor, a 13-year-old male, told authorities he met Janes while they were playing an online tactical shooter video game. The pair began messaging.
Janes asked to play a version of the game that involved the loser removing an article of clothing while the other watched through a video application. They later engaged in sexual acts.
Janes provided about $500 to the minor, who had seen Janes's badge.
Janes "is using tactics consistent with 'grooming' to entice [the minor] to play strip video games," according to FBI agent Paul Fisher, who authored an affidavit in support of an arrest warrant.
In one message, Janes acknowledged knowing the other person was 14 years old, according to the court documents.
Contacted Others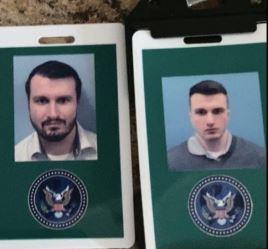 Janes between Feb. 20, 2023, and April 20, 2023, also contacted nearly a dozen other minor boys using the application, Discord, charging papers say. Janes enticed the minors to produce and send child pornography to him and to strip while on video calls.
Janes tried to get one boy to visit his house, which is in Virginia, even after learning the boy was just 14.
"you like beer? im picking some up thats why im asking," he allegedly said in one message to the boy. "im 14," the boy responded. "i started drinking at 16 lol," Janes replied. "oh," the boy said.
Janes later wrote "let me know when you leave" and sent his address. When the boy stopped responding, Janes wrote "wanna come over?"
Janes also threatened to kill himself after one of the boys accepted money he offered, according to the messages.
"if you ever need [expletive] im here but its still [expletive] up that you took money while im hammered guess im happy that it happened sooner rather than later and im just going to kill myself cause no one likes me," Janes allegedly wrote after the boy stopped responding to messages for a period of time.
Discord provided messages between the boys and Janes after receiving a subpoena. Discord enables users to text and video chat. Users, when signing up, must agree not to use the app to "violate any applicable laws or regulations, or promote or encourage any illegal activity" and to provide basic contact information.
Janes's username was "revision#3409."
Janes also utilized Snapchat to communicate with at least some of the boys. One of the boys, a 13-year-old in Pennsylvania, sent explicit images over the platform.
Janes was identified in part because he sent a picture of badges he used to access federal buildings.
"Those where my badges right one was when I first..." he wrote in one message, according to the FBI.
The images matched his driver's license picture. Authorities also identified the email address, phone number, and IP address associated with the Discord account. Subpoenas served on Verizon and Comcast showed addresses that were later linked to Janes, including his current address in Arlington, using law enforcement and commercial databases.
The investigation started when police officers in Galloway Township, New Jersey were notified by a father who had learned that his minor son had been communicating with an adult using Discord. FBI agents in Washington received a lead from agents in Atlantic City, New Jersey about two months later.
"I respectfully submit there is probable cause to believe that JANES operated multiple accounts on Discord and Snapchat and directed minors to engage in sexual activity that was viewed through Discord and Snapchat," Fisher said. "JANES also received child sexual abuse material on his Snapchat and Discord accounts, which was also produced at the direction of JANES. Much of this activity is directly traceable to an IP address that resolves to JANES's residence and/or to accounts that are associated with JANES's personal phone number."
Intelligence Agency
FBI agents verified in April that Janes worked for an unspecified intelligence agency as a contractor. No action was taken until late May, after which time Janes had taken a contract position with the FBI headquarters.

The FBI declined to comment.

The Department of Justice did not respond to a request for comment.

A query sent to Janes's public defender was not returned.

Janes was charged with violating 18 U.S. Code § 2251, which bars people from using, persuading, or coercing minors to engage in "sexually explicit conduct for the purpose of producing any visual depiction of such conduct or for the purpose of transmitting a live visual depiction of such conduct." He faces at least 15 years in prison if convicted, depending on if he has a criminal history.

The case was first reported by

Court Watch

.
Court Appearance
Janes was arrested on May 31, a day after a warrant was approved by a judge. Janes appeared in court without a lawyer on the same day he was arrested. He was informed of his rights and the charge against him. The court appointed a public defender.
Prosecutors asked the court to detain Janes, and Magistrate Judge Ivan Davis agreed to do so for now.
Janes will be detained until his next hearing, at least. The next hearing is scheduled to take place on June 2 at the U.S. court in Alexandria.