New legislation introduced on Sept. 28 looks to expand the Crime Victims Fund to include the immediate family members of those who are killed by an illegal immigrant, including drunk drivers.
Rep. Troy E. Nehls (R-Texas) and Sen. Roger Marshall (R-Kansas) introduced companion
bills
, the Justice for Angel Families Act, to their respective chambers on Wednesday.
"There is no official record that specifically tracks crimes committed by 'illegal immigrants' in the U.S., and little is done for the families of these victims,"
stated
a press release issued by Nehls and Marshall.
"Joe Biden's open border policies are providing terrorists, murders, rapists, and other felons a no-strings-attached invitation into our country, where they are no doubt committing violent crimes across our nation," Nehls
said
in the release.
The bill would also reinstate and codify the Victims of Immigration Crime Engagement (VOICE) Office that President Donald Trump launched by executive order in 2017 within the Department of Homeland Security.
The office helped family members follow the case of their loved one and track when the illegal alien responsible was detained, on trial, and deported, as well as provide other support including grief counseling.
The Biden administration
closed
the VOICE Office in June 2021.
"Under President Trump, angel families were respected and looked after by the federal government. That couldn't be further from the truth with Joe Biden in charge," Marshall said in the press release.
"This president prioritizes the radical left's open borders agenda instead of helping American citizens victimized by the worst consequences of out-of-control illegal immigration."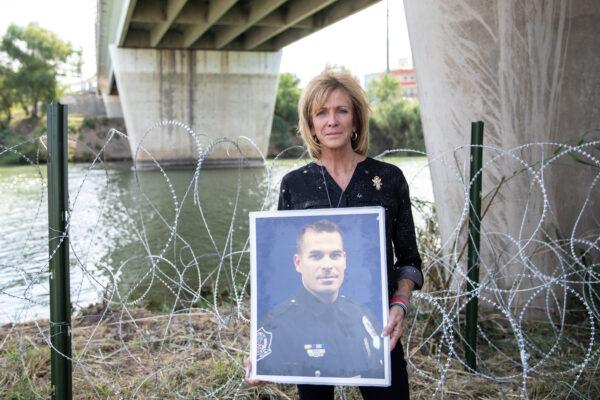 Angel mom Mary Ann Mendoza, who met Trump several times and supported the VOICE Office, said the new legislation is welcome.
Her son Brandon was killed in a 2014 car crash caused by an illegal immigrant who was drunk, high on meth, and speeding in the wrong direction along a highway in Mesa, Arizona. Brandon, a sergeant on the Mesa police force, was 32 years old.
"I am happy that Angel Families are still in the minds of some of our legislators and that they understand the tragic loss our families have endured and it is completely ignored by the current administration," Mendoza told The Epoch Times on Sept. 28.
"It's heartbreaking to see and hear daily, the obstacles and laws this administration will break down to accommodate those illegally present in our country. I am hoping this legislation is passed and American citizens harmed in unspeakable ways by illegal criminals are finally given the recognition and help they need."
Illegal Alien Crimes
In a rare insight into illegal alien criminal data, the Texas Department of Public Safety (DPS) publishes some statistics that parse out illegal alien criminals.

Between June 1, 2011, and Aug. 31, 2022, DPS has booked more than 261,000 criminal illegal aliens into local jails for state offenses, according to the agency's

website.

The 261,000 illegal aliens were charged with more than 434,000 crimes including 800 homicides, 822 kidnappings, and almost 12,000 charges for sexual offenses.

The data, DPS states, "simply identifies thousands of crimes that should not have occurred and thousands of victims that should not have been victimized because the perpetrator should not be here."

DPS explains that the figures represent the "minimum number of crimes associated with criminal illegal aliens" as they don't include federal charges or charges accrued in other states.

In rural Alabama last month an

illegal alien was charged

with first-degree kidnapping, three counts of capital murder, and two counts of abuse of a corpse, after a gruesome discovery in a home.
José Paulino Pascual-Reyes, 37, who had previously been deported, is accused of murdering Sandra Vazquez Ceja and her young son, as well as kidnapping Ceja's 12-year-old daughter.
The complaint alleges that Pascual-Reyes killed Ceja by smothering her with a pillow and her son by bludgeoning him. He is also accused of cutting both bodies into "small pieces at the joints in order to hide evidence."
Pascual-Reyes then allegedly tied Ceja's 12-year-old daughter to the bedposts for about a week, plying her with alcohol to keep her in a drugged state, and abusing her. The girl eventually chewed through her restraints and escaped from the house.
In late July, Alexis Saborit, an illegal alien from Cuba who was wanted by Immigration and Customs Enforcement, beheaded his girlfriend with a machete while out driving in the greater Minneapolis metropolitan area.
Saborit was charged with first degree premeditated intentional murder and faces life in prison without parole if convicted. He's being held in jail on $4 million bail.