Jacob Chansley, better known as the "QAnon Shaman," became the face of the breach of the U.S. Capitol on Jan. 6, 2021. Now, after having served a prison sentence of 29 months, including two months in a halfway house, Chansley is praying for national unity as he seeks to have his conviction overturned.
The Arizona native—a Navy veteran whose distinct look with face paint and a horned hat became a national symbol of Jan. 6—was released from custody on May 25 and is now serving 36 months of supervised release.
Chansley's prison sentence hit the spotlight earlier this year after Fox News aired previously unreleased surveillance footage in and around the Capitol on Jan. 6, 2021, on the primetime program hosted by Tucker Carlson, who was fired from Fox two months later.
Among the footage was a clip showing Chansley walking alongside several Capitol Police officers who didn't attempt to remove him from the building. At that time, prominent public figures such as Elon Musk called for Chansley's release.
Chansley's release came on the same day as the founder of the Oath Keepers militia, Stewart Rhodes, was
handed
an 18-year prison sentence—the lengthiest term yet in the Jan. 6 cases. During the sentencing hearing U.S. District Judge Amit Mehta, an Obama appointee, said Rhodes "wanted the democracy of this country to devolve into violence,"  while Rhodes insisted he's a "political prisoner." Rhodes didn't enter the Capitol building on Jan. 6.
To Chansley's former lawyer Albert Watkins, however, both Rhodes and Chansley went through a justice system "compromised" by a political narrative that permeated the prosecutions.
"The government, through the Department of Justice … chose to create a narrative that vilifies many individuals who would be our neighbor, or our colleagues, or relatives we knew … to be law-abiding citizens who, for any number of reasons, ended up in D.C., at the Capitol on January 6," Watkins told The Epoch Times on May 25.
"And I respectfully suggest that more damage has been done to our nation by how we have handled the Jan. 6 defendants than was done by the defendants in January 2021," he said.
In an interview with The Epoch Times after being released from prison, Chansley described his experience.
He said that during his time he "did everything that [he] could to help the inmates in that prison to look at life differently to see life from a more spiritual perspective, to realize that they as individuals, are affecting their community, whether they know it or not," he said.
"I definitely did a lot of reading. I also taught a metaphysics class while I was in prison," Chansley said.
'Prejudice' in Prison
While in prison, Chansley said he was targeted.

"I experienced a certain level of prejudice, considering I was the guy in the horns, and they knew who I was," he said of his 11-day stay in the Washington prison in February 2022, before being transferred to a facility in Alexandria, Virginia.

As an example, Chansley said, the guards sometimes purposely ignored his requests. One time, he recounted, he was sleeping in a soaked blanket in cold weather and asked a guard for another blanket.

"And then he like walked away to go look for a blanket, and then came back not even 30 seconds later and said, 'There ain't no more blanket,'" Chansley said.

During his time in Washington, he did not eat for days because the food was not organic, Chansley said. U.S. District Judge Royce Lamberth, a Reagan appointee,

ordered

that the Virginia prison facility provide Chansley with organic food after Chansley's then-lawyer, Albert Watkins, made a request for the diet.

"What was interesting, though, was that as I continued to fast and not eat the food … I started to see their hearts go from stone and soften," Chansley said of the guards. "And they started to see the human nature, they see the human aspect—their compassion started to take hold of their hearts."

Chansley also expressed sympathy for Jan. 6 prisoners and supporters of former President Donald Trump, who he said experienced 'abhorrent' living conditions in the Washington prison and alleged mistreatment.

A November 2021 inspection report published by U.S. Marshals Service found "systematic failures" in the conditions of confinement at the Washington jail.

U.S. Marshal Lamont Ruffin wrote in the

report

that he observed violations of civil rights including "overpowering" smells of urine and sewage, punitive withholding of food and water, lack of attentiveness to "observable injuries" on prisoners, and intentional antagonization of prisoners.

The Bureau of Prisons didn't respond to a request for comment by press time.
'I Want to See Unity'
Chansley said that his experience in prison gave him clarity around America's ideological polarization.

"The media sells outrage. They don't sell truth," he said. "And they never offer solutions. They only complain about the problem."

He also said he believes that the government is "certainly corrupt on both sides of the aisle—Republicans and Democrats."

Chansley said he wants to see unity in the country.

"I think in America, we can actually agree on a whole lot more than we disagree on," he said.

He said he hopes to promote "a spiritual message of love, of peace, the power of love, the power of peace, the power of prayer, the power of forgiveness, the power of the truth.

"That's the only way we're going to solve our problems," Chansley said.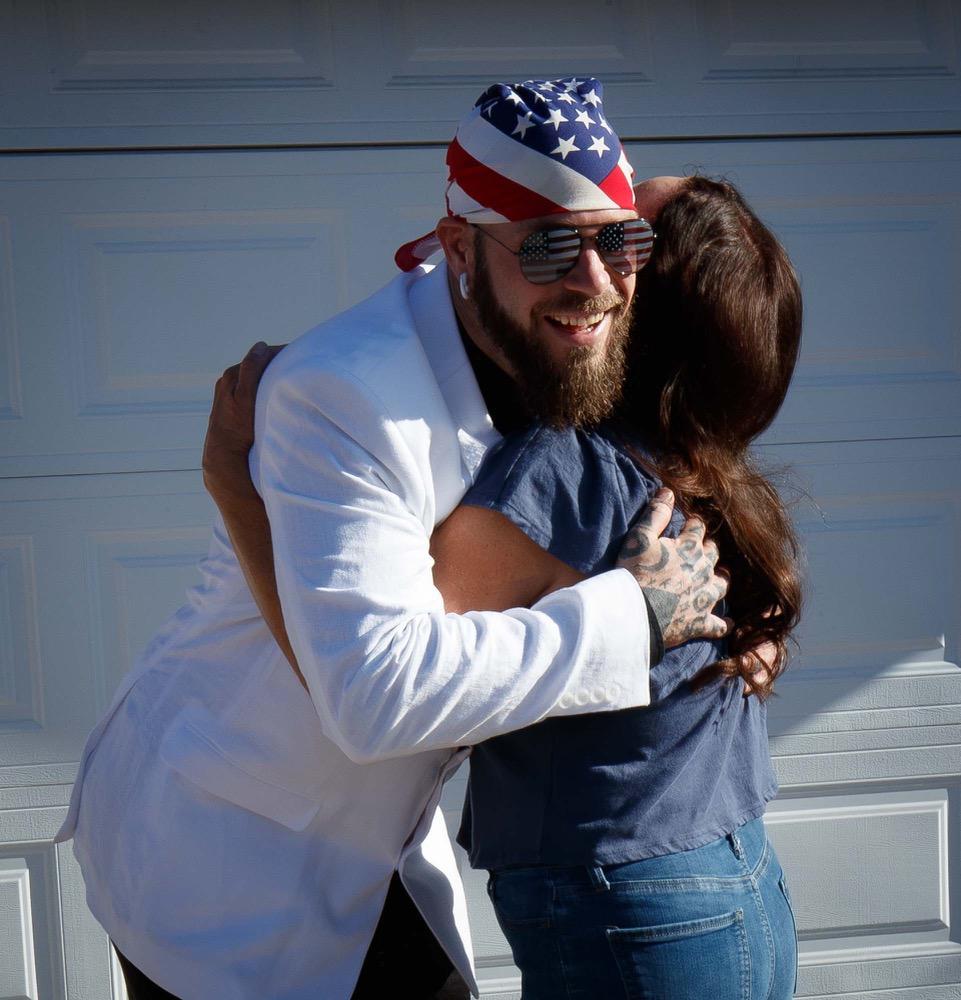 Seeking to Overturn Conviction
Chansley is currently waiting for the court to decide whether to vacate his conviction for obstruction after his attorney alleged that the government violated due process when it allegedly failed to provide surveillance videos from Chansley's attorney.

The government may have "misled" Chansley, attorney Bill Shipley wrote in an April court filing (

pdf

), when it didn't provide the footage to Chansley's attorney before Chansley's sentencing in November 2021.

"Suppression … is not the nefarious burying of evidence," Shipley told The Epoch Times in an

interview

in March. "It just means it wasn't brought to light by the government. The government knew what was there and did not illuminate the fact that it was there."

"Suppression simply means it went undiscovered by the defendant beyond a point at which it could be made use of," said Shipley, who was a federal prosecutor for 21 years.

"Because this material was favorable to Mr. Chansley for purposes of sentencing, and it was suppressed by the Government, Mr. Chansley's due process rights were clearly violated by the failure to produce the CCTV camera video from inside the Capitol," Shipley's motion stated.

He cited

Brady v. Maryland

, a 1963 case in which the Supreme Court held that prosecutors must make available to the defense counsel exculpatory evidence.

"If the government produced thousands of hours of video and said, 'There's a minute of evidence that's favorable to Jacob Chansley—good luck,' that production is not an effective Brady disclosure."

"The question is: Were Jacob Chansley's rights to due process and effective assistance of counsel violated? Were the procedural requirements complied with such that the process and outcome of his case was a fair proceeding?" Shipley asked.

"They're clearly the kinds of videos that, had Judge [Royce Lamberth] seen them at sentencing, he might have concluded that Mr. Chansey is not the personification of evil in the way the government has made him out to be," Shipley said of the surveillance footage.

Shipley has requested that the court "vacate, correct, or set aside" Chansley's conviction and sentence, and re-open the discovery phase of the case to find out whether the government knowingly withheld the surveillance videos.

The Epoch Times contacted the Department of Justice for comment.

Zachary Stieber contributed to this report.