Five members of what the government describes as a "militia-style" group were arrested in relation to Jan. 6, 2021. Two other members fear being arrested next.
On Aug. 24, the United States Department of Defense (DOD) Attorney's Office issued a
press release
announcing the arrest of five Florida men "on charges stemming from their actions during the breach of the U.S. Capitol on Jan. 6, 2021." Posts of the arrests
immediately surfaced
on
social media
, followed by
news reports
.
The Arrests
According to the press release, Benjamin Cole, 38, of Leesburg, John Edward Crowley, 50, of Windermere, Brian Preller, 33, of Mount Dora, and Jonathan Rockholt, 38, of Palm Coast, Florida, were "charged with the felony offense of interfering with a law enforcement officer during a civil disorder." A fifth defendant, 20-year-old Tyler Bensch of Casselberry, was charged with the others "with the misdemeanor offenses of entering and remaining in a restricted building or grounds and disorderly and disruptive conduct in a restricted building or grounds."
The criminal 
complaint,
 dated the same day, only identifies Preller, by name. The names of the others are redacted.
According to the DOD, all five men "self-identified" as "members of the 'B Squad,' a subgroup of a militia-style, Florida based organization known as the 'Guardians of Freedom,' which adheres to the ideology of the 'Three Percenters.'"
In an exclusive interview with The Epoch Times, two Guardians of Freedom (GOF) members expose what the government and liberal media are not saying. They also believe they had a traitor among them and they fear they are next in what they suspect is only the beginning of another Jan. 6 arrest sweep.
What the Government and Media Aren't Saying
What frustrates and frightens Leandra and Mark Clarke is what the government and the media are not telling people about GOF and the events leading up to the arrests.

As Leandra Clark explained, GOF was formed about nine years ago by a group of people who didn't like where society was going. The objective was to bring like-minded people together to learn basic survival and self-defense skills, which people could use in situations where they found themselves in danger or without shelter and food. They would gather at campgrounds and teach self-defense and how to grow and gather food.

During the lockdowns brought on by the outbreak of the COVID-19, GOF, like many other organizations and groups, went dormant.

"We just stopped doing things," Leandra recalled. "We couldn't get campgrounds. Everything was shut down. It was during that time Jeremy Liggett, who was one of the original members but not one of the founders, picked up the group and acquired a business license under the name Guardian's of Freedom International (GOFI) LLC."

An

old listing

shows Jeremy Liggett held the title of CEO for a Jan. 25, 2021 date of incorporation.  The current listing (

pdf

) on the Florida State Division of Corporations website shows Leandra Clark is now named as Chief Executive Officer. Mark Clarke is vice president.
The New GOF
Leandra spoke with some of the original GOF founders about a month after Jan. 6, to express concerns about Liggett.
"All of the original founders basically stepped back from the group because they didn't like where Liggett had taken it," she explained. "He wanted everyone to do tactical training. That wasn't their goal. We wanted to teach people survival skills and to help out in the community. So I made the executive decision in my own head that I was going to take the company away from him because it wasn't his to begin with."
When GOF first started, the logo referenced the three percenters. After Liggett's coup, the founders wanted to refresh their identity.
"Once they decided to get rid of the three percenters part, we had a few variations of the logo because they didn't want to be known as just 'three percent' anymore," Leandra explained. "The reason for going with the phoenix was all about rising from the ashes."
After Leandra took over, half of GOF's members went with Liggett. The other half stayed with her. According to their
new website
, their objectives are to defend their families, help their neighbors, support their communities, and protect the Constitution.
"We denounce the violence that happened on January 6," Mark stated. "We are not anti-government. We are not a militia. We're more like a glorified Scout Troop. We want people to feel comfortable in their neighborhoods. We teach people how to grow and cook their own without a grocery store and electricity. We are also helping our members find jobs. A lot of people are hurting in this economy."
The Jan. 6 Connection
The unfortunate connection of the new GOF to Liggett is Jan. 6.

At 8:30 a.m. on Dec. 21, 2021, an email was sent to GOF members from Tarra Hernandez. Hernandez, the Clarkes explained, was "Liggett's assistant."

The email announced to "ALL PATRIOTS" that they were "OFFICIALLY ON STANDBY FOR JANUARY 6th, 2021."

The message also admonished that the email was for  "FOR YOUR EYES ONLY - DO NOT SHARE THIS EMAIL CONTENT ON SOCIAL MEDIA TO OUTWARD SOURCES AS WE HAVE PERSONAL INFORMATION OF OUR LODGING, PLANS, etc."
"We are having all Patriots with Three Percent—Guardians of Freedom be on standby as we are preparing our mission to Washington D.C. on January 6th, 2021 to provide security, protection and support of the Conservatives and Trump supporters as they protest the fraudulent election," the email explained.
Their "packing list" was to include "warm weather gear, body armor, helmet,
balaclava
, communications (cellphone, radio, GPS communicator), battery booster packs, USB connectors for devices, medical kit (trauma kit), first aid kit (IFAK), prepare your tactical gear and legal defensive weapons permitted in D.C such as walking sticks, 3-inch blades (non-auto) pepper spray and bear spray."
'Advise your availability during this time,' the email concluded. 'This is mandatory to respond to.'
'B SQUAD' and 'B Leader'
According to the
Aug. 25 headline
from a local report: "Former Congressional Candidate Jeremy Liggett was arrested by Feds." He was not.
Liggett's name is not even among the five listed in the DOD's press release. Liggett's name is also never mentioned in the complaint. There are only references to "another individual who acts as one of the leaders of B SQUAD—subsequently referred to herein as B Leader."
The complaint also states that "B Leader" is the one who "coordinated the group's travel from Florida to Washington, D.C.," and "reserved a block of rooms at a hotel that is near the U.S. Capitol" where he, the five men who were arrested, and "approximately forty other members of B SQUAD" stayed "on January 5, 2021."
According to the Clarkes, that was Liggett.
On page 7 of the complaint, there are three screenshots of "B Leader" from his Jan. 3 tutorial. He is wearing tactical gear. His eyes are obscured with a black triangle to hide his identity. He is "displaying some of the 'defensive tools' he suggested others bring to Washington, D.C., including an expandable metal baton, a walking cane, and a folding knife."
The Clarkes insist this is Liggett.
The complaint also shows multiple photos and screenshots from video footage showing members of B SQUAD "on restricted Capitol grounds" and four "B SQUAD members" entering The Tunnel on the Lower West Terrace. Despite Liggett's role in organizing the group, coordinating the travel, booking the hotel rooms, and posting training videos suggesting what weapons to bring, his name is never mentioned.
Leandra and Mark insist "B Leader" was Liggett.
The Setup
Following the "STANDBY" notice, the Clarkes say another email went out with more instructions.

"All of the people who went were required to provide their name, birthday, and social security number so a background check could be done," Mark recalled. Mark had answered the call. Leandra did not.

"Mind you, that list of names with social security numbers went to the Secret Service and Secret Service allowed all of the Guardians who were there on January 6 to go in there and help them with crowd control," Mark added. "Someone very high up had to sign off for all of us to be allowed in there. We were at the ellipse where Trump spoke. We left the hotel roughly at 3 a.m. We met with Secret Service. We stayed outside several areas waiting to be ushered into the area. We were all given yellow vests."
"It was our understanding that it was the Secret Service asking us for help," Mark explained. "At that time, the only information we were given was provided by Mr. Liggett as to things we were asked to do with security on different events. But Jeremy Liggett was the one directing everyone where to go and what to do."
As Mark explained, GOF was there helping Secret Service maintain crowd control. They had provided assistance before with Crowd control during a D.C. gathering of Women for Trump.
"That's the point where that whole 'B Squad' thing came in," he said, explaining that the "A Team" was Secret Service. While proud to be providing assistance, calling themselves "B Squad" was still somewhat of an inside joke. Liggett took it a bit more seriously.
"When the event ended around 2:30 we tried to round everyone back up but about half the group was no longer there," Mark recalled, saying Liggett was among those who did not meet back up with the group.
"We were informed they had escorted the
Black Robe Regiment
back to their hotel," Mark said. "Because cell phone service was cut or wasn't working, we wouldn't get in touch with anybody. So we went to have lunch and went back to the hotel. That's when we found out that the rest of the group, including Liggett, had gone to the Capitol. The ones who went with him were the ones who were arrested and charged."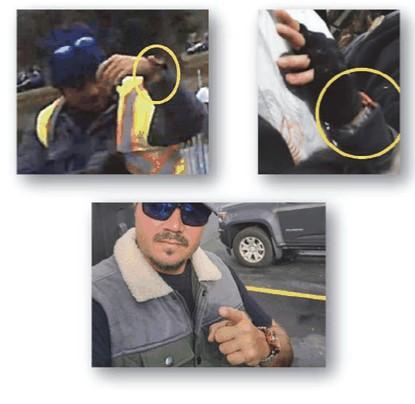 "We were told by the people who went to the Capitol that they somehow got separated and Jeremy Liggett was no longer with them," Mark said. "They have no idea where he went."
Mark and the others in the GOF group never went to the Capitol.
'It all Looks Fishy to Me'
"At this point, the government has filed charges against several people, apparently not including Jeremy Liggett, who claimed to be the leader of the B Squad and the government is now claiming B Squad was there to do something on January 6 if the election didn't go our way," Mark asserted. "That was never anything that was discussed or talked about. There was never any plan."

"The only person who had the information [the feds] are asking about is the only person we know of that spoke to the FBI, and that's Jeremy Liggett," Leandra insisted.

"He gave them everything from day one about Guardians of Freedom," Leandra asserted. "Now that this has broken out, the FBI is calling this person and that person and some have been arrested. But the one who convinced some of our people to separate from the group on January 6 to go to the Capitol is not being charged but all of these other people are."

"No charges have been brought against him and he was the leader of the 'B Squad' that convinced everyone to go to the Capitol," Mark added. "But he's not getting charged with anything? He's the only one who could have given them that information because none of the original founders had been talked to until yesterday. None of them."

"This says he's the one fully talking to the feds and providing them information," Mark insisted. "He's either getting a deal or a deal was struck beforehand. It all looks fishy to me."
'We're Afraid We're Next'
"We are afraid we're next," Mark The Epoch Times. "The FBI and federal law enforcement from offices in Miami, D.C., and Orlando are asking for our names and all about us. At this point, it's just a matter of when are they going to come bang on my door?"
"And they don't like doing that at normal hours," Leandra added. "They like to do it at five or six in the morning."
"The original founders have nothing to do with the group now," Leandra said. "But they started getting knocks on their doors yesterday [Aug. 26]. So it's just a matter of time before they come here."
"I am at the point now where I am not going to have all of these media people—who don't know me or about my integrity, or about my husband, who don't know any of the people in Guardians for Freedom and what we are actually about—connecting us to Jeremy Liggett," she added.
"Our fear is we're being slandered by somebody else's actions," Mark said, adding that The Epoch Times is the only news outlet they trust to tell the truth about their story.
"Liggett was ousted from the group because of his extremism," Leandra said, "and I am sick and tired of someone else trying to write my narrative. I want to write my own narrative. To those people who are being negative about us and our narrative, they need to be told they can't do that. I'm not going to let you!"