The first thing "H.N." did when he got up on a July Sunday morning was say hi to his dog, Biscuit, and then start reading "Treasure Island," which after just the first chapter may overtake "Robinson Crusoe" as his all-time favorite book—but that needs to wait until he finishes the book. Later, he played Monopoly with a friend, practiced baseball (which he plays for his school team), and told us about his favorite board game, Kids Against Maturity.
His room looks like a typical young boy's, with board games, Nerf guns, baseball equipment, and toy vehicles. In the living room is a miniature train set, which he said he worked on for months when he was younger.
H.N., now 8, is going into third grade this fall at Brook Knoll Elementary School in northern California, and so far math and reading are his favorite subjects.
What makes H.N. different from most other kids—other than that he is very mature for his age—is that he is the plaintiff in a case that was filed with the California Superior Court, Santa Cruz County, when he was 7 years old.
Because of the lawsuit, he is not disclosing his name and just goes by H.N. for privacy purposes. He is suing the Scotts Valley Unified School District, the district superintendent, the school principal, and two teachers for negligence, false imprisonment, violating his civil rights, and other charges.
The story was first broken by Drew Penner in the
Press Banner
on April 21, 2023. The Epoch Times spoke with the boy, his family, and their attorney in July.
Refusing to Wear a Mask
It all started in September 2021 when at times he refused to wear a mask in school and did not consent to getting tested for COVID-19 weekly.

"I did not want to [take the COVID test] and I have the right to speak my mind", said H.N.  "I did not like this big gigantic thing up my nose."

From September 2021 to June 2022, H.N. and his father informed the school principal multiple times that they did not consent to "experimental medical products like masking or COVID injections."

H.N. stated that he does not like to wear a mask because the virus travels through the mask anyway, he cannot breathe well in the mask, he cannot see the facial expressions of his teachers and classmates when they wear masks, and there is a chance of bacteria getting trapped in the mask.

"I couldn't breath.  I had to chew holes in my mask," said H.N.  Before he figured out that he can chew holes in his mask H.N. often asked for permission to go outside to drink some water so that he can remove his mask and "breathe again".

In addition, he said that proper ventilation is superior to masks according to multiple studies.

But that was not enough, and he continued to be disciplined for not complying with school regulations.

The

complaint

mentions nine separate incidents in which H.N. refused to wear a mask and subsequently was isolated in a classroom by himself with a substitute teacher, taken to the principal's office, or taken to classroom 34, which was used for storage at the time.
Another incident included in the complaint took place on Jan. 11, 2022, when H.N. was allegedly harassed for not wanting to use hand sanitizer. H.N. says that after he told the teachers that hand washing with soap is more effective, he was sent to Nurse Selena Treuge, who allowed him to wash his hands as a one-time exception.
The next day, Jan. 12, the same incident was repeated. This time H.N. showed his teacher, Ms. Gelter, and his nurse a
CDC report
indicating that hand washing is more effective than hand sanitizer. He was again allowed to wash his hands as an exception.
The trigger point for H.N. that led to his refusal to wear a mask for good was seeing a picture Gov. Gavin Newsom and the San Francisco and Los Angeles mayors at the SoFi stadium in Inglewood, Calif., not wearing masks during the NFC title game between the Rams and the San Francisco 49ers on or around Jan. 31, 2022.
"That was the moment H.N. eventually decided to follow their lead and stop wearing his mask at school in protest starting on Feb. 22, 2022," reads the complaint.
Other incidents mentioned in the complaint include constant harassment and humiliation, being placed in isolation, asked to run laps on the track, and being bullied by a yard duty person, to which H.N.'s response allegedly was "My freedom does not end where your fear starts."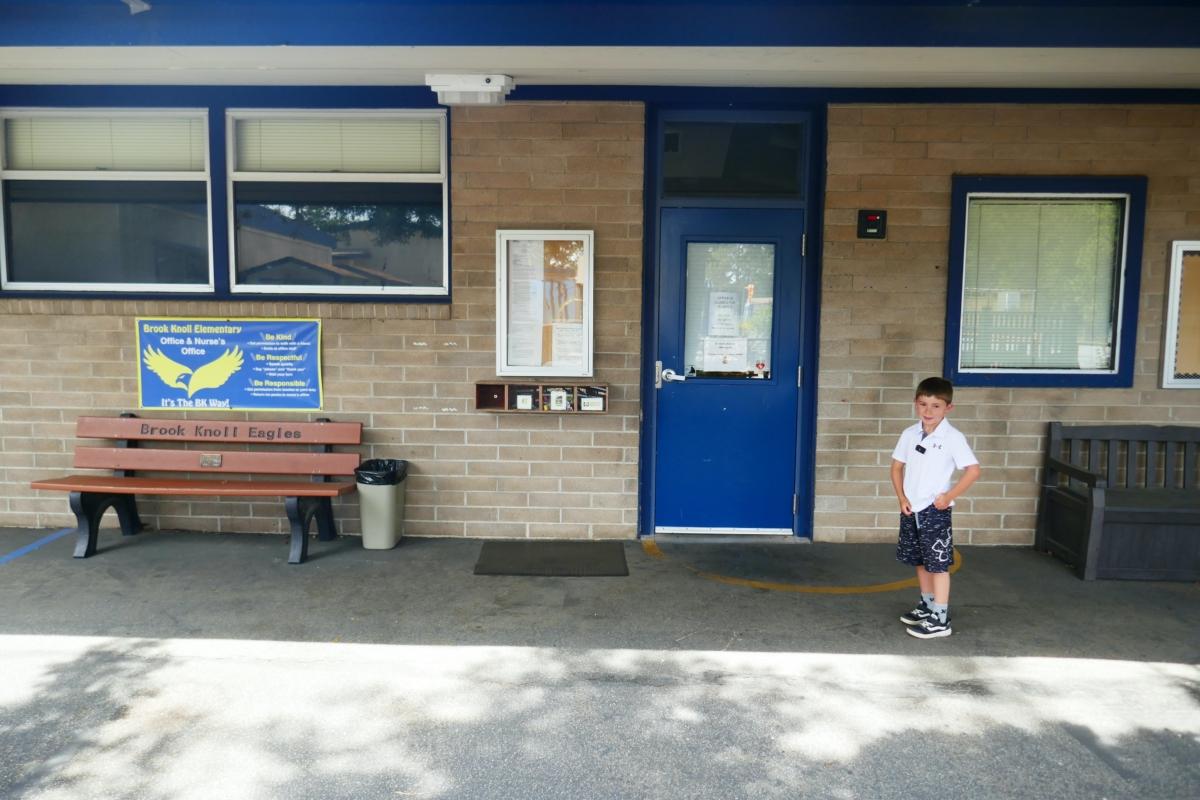 When H.N. was selected to be student of the week on Jan. 31, 2022, he would have been able to highlight his family in class, choose special activities, and sit in a special chair. But due to his unwillingness to wear a mask, he ended up sitting by himself for the whole day—including lunch and recess—with a substitute teacher in classroom 34, the room used for storing school supplies. During recess, he was told to run laps by himself.
On Feb. 25, 2022, H.N. wrote a cartoon about his experience in school. The
drawing
seems to represent his teacher hitting him over the head with a mallet, according to exhibit 4 as part of the complaint.
The Lawsuit
H.N.'s father, Mr. Nordgreen, decided to hire a lawyer when things in school "got too weird" and his pleading with the school principal to not implement the
exposure protocol
on Jan. 20 did not lead anywhere. In addition, the constant harassment his son had to deal with every day for not wearing a mask or not wanting to be tested was too much to take.
The original complaint was filed on Aug. 24, 2022. On Feb. 1, 2023, Judge Timothy Volkman sided with the school district on striking portions of the suit, though he did not rule out negligence and recovery of attorney's fees.
The case continues to make its way through the court system. The plaintiff filed an amended complaint on Feb. 7, 2023 per Judge Volkman's ruling with additional information on the case.
The case may be headed to a trial unless a settlement takes place.
H.N. said that throughout this process he did not lose or make friends.
"My friends are here to stay," he said.
As for why he is doing this, H.N. said, "I am not only standing up for myself but for the other kids who are too scared or can't stand up for themselves."
When asked how he had educated H.N. for the boy to take such a strong stand for himself, Mr. Nordgreen replied that a lot is part of the boy's personality. As Mr. Nordgreen's parents divorced when he was 4, he wanted to make sure H.N. would have a dad there for him.
He checks his son's homework every day before it is turned in and talks to him about life.
"H.N. is inquisitive. I explain things to him about freedom, Constitution, etc.," Mr. Nordgreen said.
Mr. Nordgreen had a three-word answer as to why he is going through with this lawsuit: "It is unconstitutional."
According to an
email
made available through the discovery process of the suit and obtained by The Epoch Times, the school district went as far as considering getting Child Protective Services involved to address the issue of H.N. not wearing a mask or getting tested.
The Mask Mandate in Schools
The use of masks in school, according to plaintiff counsel Tracy Henderson, was always a mere recommendation.
"There was never a legal 'mandate' for K-12," she told The Epoch Times.
The California Department of Public Health (CDPH) K-12 guidance was a recommendation by the state that schools could legally disregard, Ms. Henderson said. The guidance did not go through the due process steps required by the Administrative Procedures Act (APA) to make it have the force and effect of law.
"A great case on the issue is the Health Defense Fund v. Biden case where the federal court got masks off airplanes because the CDC guidance did not go through the APA," said Ms. Henderson.
Due process steps include substantial evidence to show why masks are good and work, as well as giving the public a right to make a comment. Even in times of emergency, Ms. Henderson argued, substantial evidence needs to be provided related to studies that have been done upon which the agency relies.
"The enactment of an urgency statute shall not, in and of itself, constitute a need for immediate action," states 
Cal Gov Code § 11346.1
.
"The California Attorney General tried to say that the emergency services act takes precedence over APA and that the governor waived those requirements. However, the APA contemplates due process steps in times of emergency as well, so those arguments are not legally tenable," said Ms. Henderson.
In a
letter
dated Aug. 23, 2021, the head of the CDPH, Tomas Aragon, led all school districts to believe that this was a mandate when in fact it was not, according to Ms. Henderson. The letter threatened them with criminal charges.
"If you don't force mask children, and force test and force quarantine, your teacher credentials are at risk. You're going to get sued, and your defense attorneys are not going to be there because your insurance is going to cancel and you could be charged with crimes under the government code. All of that was a legal lie," Ms. Henderson said.
According to Ms. Henderson, it took a year and a half before the CDPH started backpedaling on the mandate "because we lawyers started suing them, making them say this to judges in court."
The school mask mandate was rescinded on March 12, 2022. The guidance changed from requirement to recommendation.
"Legally, it was always a recommendation," said Ms. Henderson.
"The problem with this case and why we're suing and why their conduct is actionable, is because they took it two steps too far. You don't stick kids in a storage closet. You don't stick them in the freezing cold. You don't stick him in the scorching heat. Right? You don't stand them up in front of the class and say 'This child's unvaccinated, everybody; how does that make you feel? You're going to kill Grandma,'" said Ms. Henderson. "It is really, really important for educators to understand that they never had to follow these rules. They could have made their own decisions."
Defendant's attorney, Mark Davis wrote in a
letter
to The Epoch Times that the refusal of H.N. to be vaccinated, tested and to wear a mask made for a difficult situation for the school district and for the employees at Brook Knoll Elementary.  In addition, he mentioned that the school district believes that the actions taken were reasonable and that not ignoring the safety guidelines was the correct action.
"Whether the District or District employee could have done anything differently to avoid a lawsuit, the safety guidelines could have been ignored, but that likely would have increased the overall risk to students (and staff) and would not have been reasonable under the circumstances" concludes the letter.
CDPH replied to an inquiry from The Epoch Times about Dr. Aragon's 2021 directive to school leaders on requirements for indoor masking at K-12 schools, with a 
link
 to a web page discussing the requirements. The requirement was rescinded on March 12, 2022.
Center of Disease Control (CDC)'s
Science Brief on the Community use of Masks to Control the Spread of SARS-CoV-2 
 lists several human masking studies including potential adverse health effects.  "At least ten studies have confirmed the benefit of universal masking in community level analyses" reads the document.  The data includes studies that range from villages in Bangladesh to USS Theodore Roosevelt, Beijing, Thailand and Arizona.
Potential adverse side effects include skin reactions, itching, dry skin, and during intense exercise more serious reactions such as difficulty breathing, perceived exertion and claustrophobia.  The CDC document concludes that "experimental and epidemiologic data support community masking to reduce the spread of SARS-CoV-2, including alpha and delta variants, among adults and children."
In addition, the CDC document mentions that no adverse cardiovascular or pulmonary effects were reported during a study of 60 elementary school children.  In other studies, 2-7% of 10-17 year olds who wore masks for 6-7 hours a day reported minor side-effects such as skin irritation, headaches or difficulty breathing.
It states that there is "no clear evidence that masking impairs emotional or language development in children" though it acknowledges that the available data is limited and further research is needed to assess the effectiveness of the masks.
According to Ms. Henderson, the goal of this lawsuit is to not let this happen again to any kid, as well as to have the school district, educators, and administrators go through civil rights education and U.S. Constitution training.
"That's what we want. I just got the chills," she added.