Two-term incumbent Rep. Susie Lee (D-Nev.) wants to talk about protecting abortion rights while her Republican challenger April Becker wants to keep the focus on inflation and gas prices.
But with campaigns gearing up for the final 100-day run to November's elections, both Nevada Congressional District 3 (CD 3) candidates are fending off ethical allegations regarding financial disclosures and profit motives.
A Las Vegas real estate attorney, Becker lost a 2020 state Senate election by 1 percentage point but easily cruised past construction group owner John Kovac and attorney, engineer, and U.S. Army Iraq War veteran Noah Malgieri in May's CD 3 primary.
Becker is taking on Lee, who was not tested in her primary. Lee won her district twice since 2018, but it has been altered by post-2020 Census redistricting and shifting demographics to be more favorable for Republicans.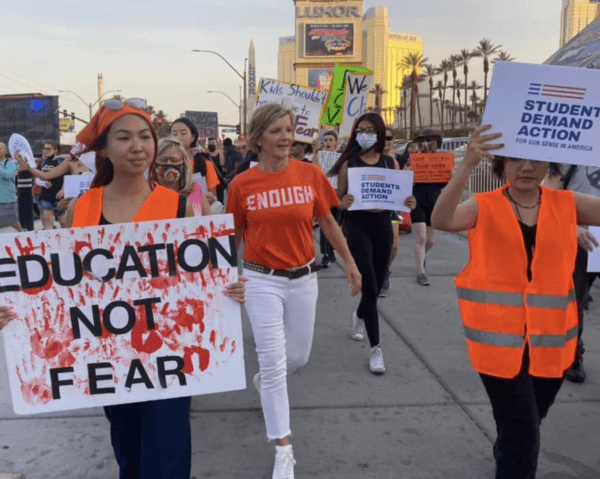 In fact, CD 3 is one of three southern Nevada congressional districts now occupied by Democrats that Republicans believe they have a shot at winning in November.
The state's other congressional district, CD 2, spans much of northern Nevada and is a Republican stronghold.
Regarded as Nevada's "most swingy" district with Republicans winning six of the past 10 elections but none since 2014, CD 3 was rated "likely" or "leaning" Democratic in 2020.
It is now rated as a toss-up by the Cook Political Report and by Larry Sabato's Crystal Ball, among others.
On July 16, district resident Laurie Lytel filed complaints with the U.S. Department of Justice (DOJ) and the Federal Election Commission (FEC) alleging Becker failed to disclose "dozens of real estate interests" and details about a 2021 loan to her husband in her June 30 FEC campaign filing.
The complaint says Becker's FEC filings do not match financial disclosures with the Nevada Secretary of State's Office when she ran unsuccessfully for the Nevada Senate in 2020.
On her Nevada financial disclosure, Becker said her household held ownership interest in 70 different properties between January 2019 and March 2020.
But on her 2021 and 2022 FEC campaign disclosures, she listed only eight properties owned under limited liability corporations, including Becker Enterprises, the Las Vegas Sun reported.
"Becker's failure to disclose accurate and complete information regarding her finances is a breach of public trust and a violation of the law," wrote Lytel in the complaint.
Lytel claims Becker on her 2021 FEC statement failed to disclose a $1 million April 2019 loan for her husband's business, which was not listed on her filings until 2022.
"Becker's failure to disclose this loan … meant that for over 260 days, she kept the public in the dark about her family's financial liabilities and hid information that the public has a right to know," Lytel's complaint says.
A Las Vegas psychotherapist and registered Democrat active as a campaign volunteer, Lytel also alleges Becker's campaign failed to report vendors for more than 20 payments and to detail reimbursements made to Becker for travel or other expenses.
The DOJ and FEC acknowledge receiving the complaints but have not commented further.
Becker campaign consultant Jeremy Hughes showed the Las Vegas Sun an amended July 26 filing that updates the loan into 2021 and, in a statement, dismissed claims Becker was trying to keep "the public in the dark" over her finances.
Hughes said if there are issues with Becker's filings they will remedied to "ensure there are no outstanding questions," noting the campaign has a professional staff—legal counsel, treasurer, compliance clerks—who ensure that financial disclosure statements are done in accordance with the law.
Lee also has been a target of criticism over ethical lapses since 2020 when she successfully pushed a bill that allowed casinos to access to the federal Paycheck Protection Program (PPP).
Full House Resorts, a gaming company she is a shareholder in and is run by Lee's former husband, Daniel, received $5.6 million in PPP, which was forgiven under the program by the U.S. Small Business Administration (SBA).
Publicly-traded Full House Resorts qualified for PPP loan forgiveness despite its value on the New York Stock Exchange tripling from pre-pandemic levels. The company operates five resorts in Nevada, Colorado, Mississippi, and Indiana.
In May 2021, Lee announced she and Daniel were getting divorced. Her financial disclosure since August 2021 jointly held investments in Full House, but also an individual stake of between $1 million and $5 million.
Lee is also taking heat for owning stock in Evoqua Water Technologies, an investment that could prove to be a boon under a recently-passed House bill that she helped craft to provide more funding for water recycling projects as part of the federal infrastructure package.
Evoqua Water Technologies is a project contractor and consultant and could benefit significantly from federal spending for water recycling improvements.
Lee praised the bill in a July 29 post on Twitter, claiming the water-starved state needs to get such projects on tap.
"Nevada's water crisis deserves action. The House just delivered," Lee said in a Twitter statement.
"I voted to pass a historic #DroughtResiliency package that will invest in western water solutions, so we can keep more water in Lake Mead for Nevadans."
In a statement, Becker criticized Lee's investment.
"Members of Congress must be banned from trading stocks," Becker said. "[Lee] should immediately divest her holdings and apologize for this unethical behavior."
The Lee campaign in response called Lee "a tireless advocate for water infrastructure legislation to address the drought crisis" and said Becker is raising ethical issues rather than discuss her stand on abortion.
Lee has made securing access to abortion a priority in her campaign since the U.S. Supreme Court in in June repealed its 1973 Roe v. Wade ruling and kicked abortion regulation back to the states.
Within a week of the ruling, Lee launched a $500,000 ad campaign announcing she is "pro-choice" and Becker is "anti-choice," presenting voters with a "stark choice" in November.
On July 6, Lee posted on her campaign website and social media a list of "hard questions on abortion" to ask Republicans.
They include questions about whether Republicans believe it would be okay for a pregnant person to seek an abortion in each of the three different situations—a mother battling cancer in need of chemotherapy, a raped young girl, and a woman facing a birth that would risk her own life.
Becker "will vote for a nationwide abortion ban," Lee said.
Becker, however, in campaign statements says she "does not support a nationwide abortion ban" and has not made abortion a key feature of her campaign.
In a statement to the Nevada Independent, Becker's campaign said the candidate "believe[s] in a woman's ability to seek an abortion in all of these instances" listed by Lee in her questions for Republicans.
Becker has repeatedly brushed aside abortion questions by stating she is "pro-Life" and that abortion should be a state issue. She says Lee "believes in a federal law with no restrictions and would allow abortion until the moment of birth."
Unless state lawmakers adopt new laws, right now Becker said, the law of the land in Nevada is the 1990 ballot measure approved by voters that guarantees protections for abortion up to 24 weeks of pregnancy.
Becker has not been officially endorsed by Nevada Right to Life, despite a Lee television ad claiming that she has been. Nevada Right to Life endorsed Becker when she ran for the state Senate in 2020.
While Lee accuses Becker of ducking questions on abortion, the challenger maintains its the incumbent who is focusing on abortion to deflect attention away from the issues that most concern voters—the economy, specifically inflation and gas prices.
Becker has focused her campaign on inflation, blaming Lee and Democratic policies for high prices and tying the incumbent to President Joe Biden.
Becker released an ad in April showing her pumping gas and is still running with it on southern Nevada airwaves.
Lee maintains Democrats are adopting legislation that addresses food and gas costs, including a bill capping out-of-pocket costs of insulin at $35 a month, and sending $28 million to the U.S. Food and Drug Administration to boost formula supply during the shortage.
That's like closing the floodgates after the deluge, Becker said. "Democrats fighting inflation?" She asked in a June tweet. "Give me a break. Remember when they told us it was all transitory, then it was actually good, then they wouldn't apologize for it, then Putin caused it, now she's fighting it."
Which issue—abortion or the economy—sustains traction over the next 100 days could be the difference in what is likely to be an Election Night nail-biter.
According to a June 20-23 survey of 400 likely CD 3 voters commissioned by the Becker campaign and National Republican Congressional Committee (NRCC), the Tarrance Group found Becker had a 46 percent to 44 percent edge over Lee.
How the June 24 ruling in Roe moves that needle, if at all, Becker's campaign is sticking with its dollars and cents focus, and is likely to continue doing do through the fall.
The Tarrance poll found only 37 percent of respondents approved of Biden's performance, and four out of 10 said economic issues, including inflation and jobs, were their top concerns.
In its June 30 FEC filing, its most recent, Lee's campaign reported it had raised nearly $4.233 million, spent $1.7 million, and had more than $2.558 million.
She is receiving significant resources from the Democratic National Congressional Committee (DNCC) with 61.3 percent of her contributions coming from out-of-state sources, reports OpenSecrets.org.
Becker's campaign in its June 30 FEF filing reported in had raised more than $1.417 million, spent $1 million, and had $363,391 in cash on hand.
According to OpenSecrets.org, about 38 percent of her campaign contributions were from donors outside Nevada.