ATLANTA—The opening notes of an instantly recognizable action-movie theme resonate through a darkened theater, slowly building to a crescendo.
Transfixed, 8-year-old Royce Diaz perches on the edge of his seat.
He and his older brother and sister came to see superheroes, but not the kind who outsmart villains, punch through walls, or fly.
The trio traveled six hours by car with their parents to see heroes who make magic of another kind.
The fingers of one blast between piano keys faster than a speeding bullet. The other wields a cello bow with the precision of a master swordfighter.
The Piano Guys, as they're known, include a duo of self-described "dorky dads." But as a recent live concert performance began, clips from a superhero movie flashed across a screen over the stage.
The audience, along with Royce Diaz, sat spellbound in the packed hall, as The Piano Guys played
their version
of the theme of "The Avengers." With superhero images flashing on the screen above, the magic they created with musical instruments on stage made some at the packed performance feel as if flying just might be possible.
A Gimmick to Sell Pianos
Since forming as a group in 2010, The Piano Guys have helped popularize a musical genre known as modern classical crossover. Their music fuses updated arrangements of centuries-old classical pieces with pop songs, hymns, and original compositions. And most are instrumentals.

Who's into that kind of music? A healthy percentage of the planet's population, apparently. Their videos on YouTube have racked up more than two billion views.

Their YouTube channel features more than 160 videos, many in hard-to-believe locations—a piano and cello performing 

on the Great Wall

, for example, or in an ancient

Scottish castle

.

Their goal is to film themselves playing at all Seven Wonders of the World.

Yet, despite their worldwide fame, the popular duo came together as nothing more than a gimmick.

It all started when the owner of a struggling piano store in Saint George, Utah, believed a viral internet video could generate interest in his inventory.

That would spark excitement in playing pianos. His pianos! Paul Anderson fantasized.

The question: How could he make a video so interesting it would go viral?

Then one day, pianist Jon Schmidt wandered into the store asking whether he could practice there ahead of a nearby gig.

Anderson shared his video idea with his visitor. Intrigued by the scheme, Schmidt roped in his friend Steven Sharp Nelson, a master of a wide range of instruments. The two already shared the stage sometimes, making music and comedy, mostly with Nelson playing cello.

Nelson, who exudes boundless energy, was all in.

For studio and engineering help on the video experiment, they corralled Nelson's songwriting buddy and neighbor Al van der Beek.

A quartet (of sorts) was born.
Mission Accomplished
Anderson wanted viral, and he got it.

Since taking their first shot at selling pianos together, The Piano Guys—their moniker borrowed from the name of the store—have carted pianos and cellos around the world. They've filmed themselves playing at some of the planet's most mystical backdrops.

Their videos make classical cool again, attracting audiences ranging from the very young to the very old with mashups such as 

"I Want You Bach."

That hit combines the Jackson 5's "I Want You Back" with five themes by Johann Sebastian Bach. The addictively funky beat spans three centuries.

The Piano Guys have released 14 albums and played in venues around the globe.

And they laughingly admit the irony: None of that helped sell even one piano at the shop.

They now sell Yamaha pianos online. And with the monetization of their YouTube channel, their gimmick generates a life-changing revenue stream they never expected.

Yet the bringing together of their harmonious team, they believe, can be credited only to God.

"I can't find another explanation for it," Nelson said during a pre-concert interview with The Epoch Times.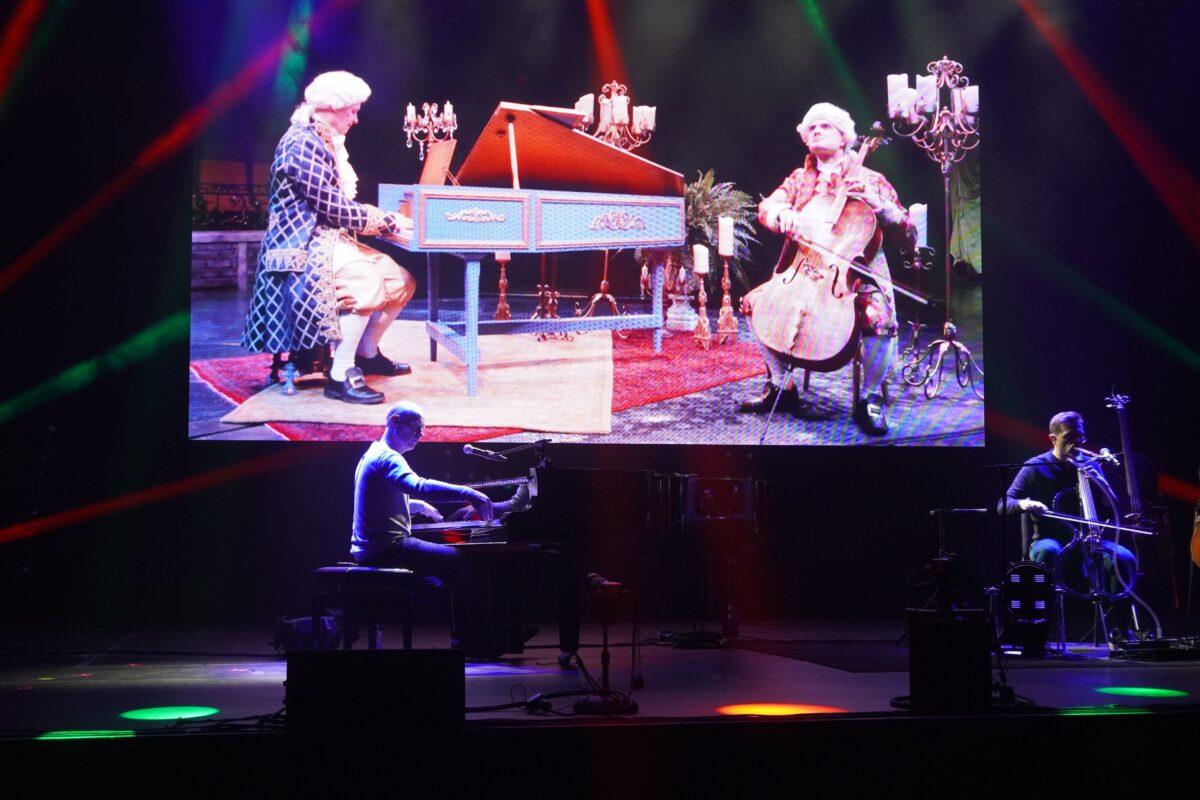 Divinely Inspired
Because they believe their musical talents are divinely inspired, they take their work very seriously, Nelson and Schmidt said.

"Our mission will always be to produce music videos that inspire, uplift, and make the world a better place," they write on their website, which highlights their shared Mormon faith and membership in The Church of Jesus Christ of Latter-Day Saints.

"If we can make a positive impact in even one person's life, it has all been worth it to us."

They see their concerts as opportunities to make people laugh, make them cry, and bring healing, even for themselves, Nelson said, exchanging glances with his co-creator, Schmidt.

The world is "in such heavy times right now, where we just feel pressure—comparative pressure, we feel political pressure, we feel this financial pressure—and all these pressures are just weighing us down and even keeping us captive, I think," Nelson said.

"So we would hope that if people bring their heaviness to our shows, they can leave lighter. And hopefully, that's what they're getting when listening and when watching our videos."

When people leave comments on their videos, social media accounts, and ticket sales sites, The Piano Guys make a point to read them.

"We really feel like it's sort of a ministry," Schmidt said. "And it's amazing how many people say: 'This gave me comfort. This pulled me through a time that was heavy for me.' And that is very gratifying."

So before presenting their music, they bow their heads together. It's key to their success, Nelson said.

"We pray before we play. We pray before we practice. We pray before we write. And this is something anybody can do.

"And it's so critically important to recognize that everybody has been given talents in order to enable them to do their work. But I think prayer actually really helps you connect with that."

They try to live by the mantra that "God can make a lot more out of our lives than we can," Schmidt said.

That's the glue, they said, that holds The Piano Guys together.

Fans often ask whether they're really as close as they seem when trading barbs in jest on stage.

The banter is real, they said, and every line in the show arose from a spontaneous moment.

When they're not together on the road, they text each other pictures of their kids' latest accomplishments, spiritual encouragement, parenting advice, and more.

"We have the same desires, goals, and ambitions, which is to be loyal husbands and loving fathers, first and foremost, and then to try to follow the teachings of Jesus Christ," Nelson said, as Schmidt nodded in agreement. "That's it."
Hooked on Classics
The three Diaz children of Gainesville, Florida, were inspired to take up playing the cello after discovering music by The Piano Guys.

About five years ago, a friend showed them a Piano Guys music

video of "Cello Wars,"

a Star Wars parody that's been viewed more than 49 million times. In the video, two cape-wearing cello players duel in space, their bows glowing like light sabers.

During the musical battle, the two make music so toe-tapping that even Darth Vader and Chewbacca come together to break-dance on a space-bound platform.
Soon after the Diaz children's introduction to the Piano Guys' music, their father, Guillermo Diaz, came home humming what quickly became another family favorite,
"The Cello Song."
That video, with more than 48 million views, shows Nelson simultaneously playing eight parts of a centuries-old composition by Bach. Filming of all the parts was accomplished over one marathon 24-hour session, Nelson said.
Seeing that Bach mash-up, the Diaz kids were hooked.
At the time, Grace was 9 and Roark was 7. They'd been playing piano for about two years and were familiar already with works by the prolific composer, who died in 1750. But this Bach composition brought the music alive for them.
Inspired, they asked to give cello a try, while continuing their piano education. Since then, Royce has joined in with lessons on both instruments, too.
Now, the three team up for practice between homeschool lessons, often tackling difficult arrangements by The Piano Guys together. Trophies and medals from state music competitions gleam from atop music room furniture.
But they don't play for awards, the children insist. And their mother marvels at how she never has to nag them to practice.
"They just like it," Erika Diaz told The Epoch Times.
All three are active in wrestling and basketball. And Grace hopes to be selected to play cello in the county youth orchestra next year.
"Playing their instrument isn't a chore. It's sort of a relaxing thing for them," their mother said.
That's music to the ears of The Piano Guys.
Inspiring Children to 'Do Hard Things'
In their pre-concert interview with The Epoch Times, Schmidt and Nelson lamented that much of society seems focused on making things simpler, faster, and easier to accomplish.

Nelson and Schmidt said they hope what they do helps people consider that maybe the difficult things are more meaningful.

"The world insists that everything should be easy and convenient," Nelson said. "You'll hear me talk to the kids tonight about how music can teach us how to do hard things."

Always striving to make things easier and more convenient does damage to society and people, Nelson said.

"I think it chases out true purpose in our lives.

"And so we're trying to encourage kids to get purpose back in their lives by doing hard things. And music is a great way to teach that."
It's worked in the homes of The Piano Guys.
'They're all musicians," Nelson said of his children. "That's required in our household.
"When I was growing up, my dad gave me two choices: 'You can play an instrument and eat, or not.' So we kind of did the same thing with our kids," he joked.
"I try to practice what I preach, which is: To teach kids hard work these days is near impossible. But music really, really helps teach kids how to how to come up against something that is really hard and overcome it and feel that reward, that intrinsic reward that comes from accomplishment."
Schmidt was inspired to play piano as a teen by Billy Joel. Nelson was inspired as a child by world-famous cellist Yo-Yo Ma.
"I saw him and I said, 'That's what I want. I want what he has. I want to feel those feelings,' which was just pure joy," Nelson said.
Now, The Piano Guys hope to spark similar inspiration in audiences so that they'll pick up an instrument and learn to play, Schmidt said.
Though they sell out concert venues around the world, Nelson chuckled and said: "Looking at the two of us—we're extremely ordinary. We're not rock stars. We're the farthest thing from it. We're middle-aged dads."
That's part of why they just try to be themselves on stage, they said.
"I think people look at us, and I think they have hope for themselves. They say, 'Well, if they could do it, I could do it.' I hope that's what people feel," Nelson said.
Maybe it won't be playing an instrument, he said, but he hopes audience members will be inspired to pursue something with passion.
"Because that's really where true gratification and joy come from."
In pursuing something with great passion, and in creating, "we connect to the divine" and find a "desire to be a good to the world."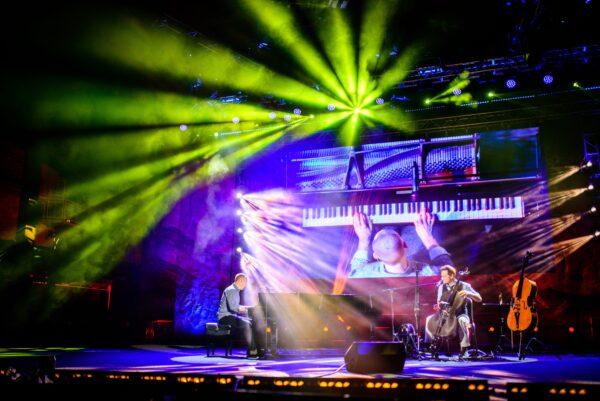 What to Expect at a Show
The Piano Guys make music mastery look easy.

During shows, Nelson alternately straddles a range of cellos, all selected from his prized collection of more than three dozen. He introduces each by name.

For some songs, his bow glides across the strings.

In others, he thumps, thwacks, plucks, or taps the instrument to make just the right sound. His creativity, he tells the audience, is thanks to his superpower, ADHD.

Schmidt exudes a more stoic presence—most of the time. He commandeers the piano, diligently tapping up and down the keyboard.

But he's also apt to get up and dance, or lie backward on the piano bench, reaching behind his head with crossed arms, to play a jazzy rendition of "Twinkle, Twinkle, Little Star"—a party trick that was developed because of a challenge by a friend.

Audience members often clap along, laugh loudly, and occasionally dab at tears.

"I'm hoping that's what our concerts, our music, and our videos can do—help put people in a position where they're feeling the Spirit," Nelson said before a show in Atlanta.

"Whether they call it that or not is not important to me. Whether they worship the exact same God that I do is not as important to me.

"What's important to me is that they feel the Spirit, and their mind and their body and their soul are in a position where they can be receptive to the most wonderful emotions in life, which are hope, joy, healing, and all those things that we need.

"The Spirit does the heavy lifting in our work. We are simply these humble purveyors and conveyors. Our job is to open that heart a little bit, maybe an inch."

Then, Nelson said, God can whisper to any audience member who needs to hear it: "You're going to be OK. Things will work out. You keep going. And yes, you just got that diagnosis, but there's good that's going to come from this."

"That's what I hope that people feel when they're in our concerts—the Spirit gets in their heart, and God talks to them directly," he said. "God knows them so much better than I do. He's going to be able to communicate what they need to hear in that moment."
Schmidt said he considers it a miracle that the two of them can just be themselves on stage and not worry about pulling off the kind of polish that's so common at flashy concerts these days.
Though on a break from touring over the summer, they'll begin performing again in September, with shows scheduled in Pittsburgh, Cincinnati, Minneapolis, Milwaukee, Phoenix, and Las Vegas.
"It's a gift we've been given, and we'll ride it as long as we can," Nelson said.
They just plan to keep walking the path they're on, they said, hoping to inspire others to create and to connect to the divine.
"One of the greatest lessons Jon's ever taught me is you just put your feet on the path that gets placed beneath your feet, and you keep walking it, and there's no telling where it'll take you," Nelson said.
"And eventually, you'll be at a beautiful place. And you'll think, 'How did I get here?'"