Acting Department of Homeland Security (DHS) Secretary Chad Wolf said on Election Day that he'd seen no evidence of foreign interference involving the altering of vote tallies.
"We have no indications that a foreign actor has succeeded in compromising or manipulating any votes in this election," Wolf told reporters in a news conference.
The secretary advised Americans to exercise patience as the results come in.
"It is important to recognize this process may require time," Wolf said.
Another DHS official, Cybersecurity and Infrastructure Security Agency Director Christopher Krebs, said that
voting machine problems
in several counties across the country likely aren't cyberattacks.
"When you see tech challenges or failures, it is very, very, very, rarely a cyber issue, based on everything we've seen, that's what's going on out there," he said on Nov. 3.
Krebs also urged people to remain patient.
"We're not out of the woods yet," Krebs said. "Today, in some sense, is half-time. There may be other events or activities or efforts to interfere and undermine confidence in the election. So I'd ask all Americans to be patient, to treat all sensational and unverified claims with skepticism, and remember, technology sometimes fails and breaks."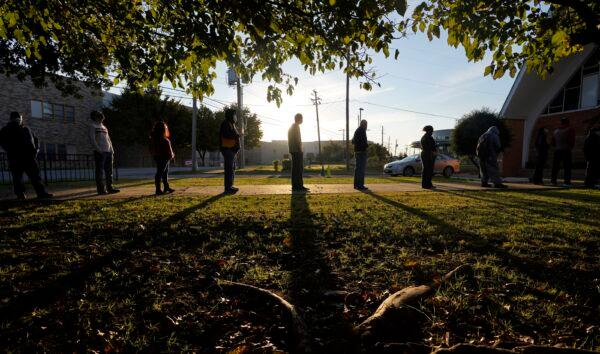 It came after officials in Spalding County, Georgia, reported that voting machines were down for a period of time before their systems returned. There also were voting-related issues reported in Franklin County, Ohio.
Federal officials had warned that China, Iran, and Russia might attempt to influence the election. Following the 2016 election, intelligence agencies determined that Russian-backed actors tried to interfere.
In October, Director of National Intelligence John Ratcliffe and FBI Director Christopher Wray said that Iran had attempted to target voters via fraudulent messages in emails.
Threatening emails were sent to voters in Alaska and Florida, from people claiming to be members of the right-wing Proud Boys organization, officials said. The emails alleged they were "in possession of all your information," officials said.
The Chinese Communist Party (CCP) and Iran are believed to favor Democratic presidential candidate Joe Biden, National Counterintelligence and Security Center Director William Evanina said.
Evanina warned at the time that was "ongoing and potential activity by China, Russia, and Iran" ahead of Election Day voting.
"We assess that China prefers that President Trump—whom Beijing sees as unpredictable—does not win reelection," he said.
"China has been expanding its influence efforts ahead of November 2020 to shape the policy environment in the United States, pressure political figures it views as opposed to China's interests, and deflect and counter criticism of China," he said. "Although China will continue to weigh the risks and benefits of aggressive action, its public rhetoric over the past few months has grown increasingly critical of the current Administration's COVID-19 response, closure of China's Houston Consulate, and actions on other issues."
Evanina added that intelligence officials believe Russia favors Trump.
"We assess that Russia is using a range of measures to primarily denigrate former Vice President Biden and what it sees as an anti-Russia 'establishment,'" Evanina wrote at the time.