The Department of Homeland Security (DHS) on Friday announced that Border Patrol Chief Raul Ortiz will be succeeded by Jason Owens, the current head of the Del Rio Sector.
Owens, who is a seasoned Border Patrol veteran with over 25 years of experience, will assume the position upon Ortiz's retirement on June 30.
DHS also revealed the retirement of acting Deputy Commissioner Benjamine "Carry" Huffman, who will be replaced by Pete Flores, the incoming executive assistant commissioner for the Office of Field Operations.
In a statement, DHS Secretary Alejandro Mayorkas expressed gratitude for the invaluable service rendered by Huffman and Ortiz, underscoring their unwavering dedication to public service and their substantial contributions to ensuring the safety and security of the American people.
"Acting Deputy Commissioner Huffman and Chief Ortiz embody the ideals of public service. They have dedicated their careers to the safety and security of the American people and the betterment of the great CBP for which they have sacrificed so much," Mayorkas said in a statement.
"Their legacy of service is enduring and will forever be a part of the fabric of the entire Department of Homeland Security. Their legacy includes the many men and women whom they have inspired to serve and lead with honor and integrity. I congratulate them on their retirement and am profoundly grateful to them for everything they have done."
Mayorkas commended Owens as a talented and selfless leader who is fully committed to the Border Patrol's vital law enforcement mission.
"Chief Owens is a talented, selfless, and inspiring leader who is dedicated to the Border Patrol's law enforcement mission, the men and women who fulfill it, and the country that we all serve," he said. "I have worked with Chief Owens; I am inspired by his commitment to the mission, and am grateful to him for his continued service in this new leadership role."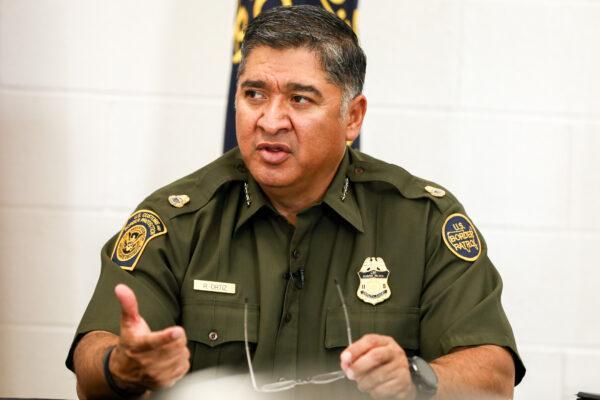 Ortiz's Departure
Ortiz's departure comes shortly after the end of the Title 42 emergency health restrictions that began in March 2020 and allowed Border Patrol agents to turn illegal immigrants back to Mexico immediately if they were deemed to pose a health threat.

Despite concerns that the lifting of Title 42 would result in a surge of border crossings, the Biden administration has reported a decline in such crossings.

Ortiz had publicly disagreed with the Biden administration's decision to halt border wall construction and had supported agents who were falsely accused of mistreating illegal immigrants in the Del Rio Sector. During a House Homeland Security Committee hearing in March, Ortiz expressed concerns about overwhelmed sectors and acknowledged that the agency does not exercise complete "operational control" of the border. This contradicted earlier statements made by the DHS secretary.

In an email sent to employees last month, Ortiz announced his departure, expressing confidence in the capable and professional workforce of the Border Patrol. Mayorkas, in a statement at the time, hailed Ortiz as a "great leader" who "embodies the core values of vigilance, service to country, and integrity, as well as the Border Patrol's motto: honor first."

"I knew when I became Secretary that Chief of the Border Patrol would be one of the most critical positions to fill. At the time, Chief Ortiz was planning to retire; convincing him to remain in service and selecting him to lead the Border Patrol was among the most important decisions I have made," Mayorkas said. "Chief Ortiz agreed to postpone his retirement several times since, and the Border Patrol, the Department, and our country have been all the better for it."

According to data, Ortiz's tenure saw the Border Patrol encountering a record-high of 2.2 million illegal immigrants at the southern U.S. border in 2022. He also oversaw the implementation of border crossing deterrents, which involved Mexico accepting migrants from Venezuela, Haiti, Cuba, and Nicaragua who were turned away at the border, while the United States initiated a family reunification parole process to admit up to 100,000 individuals from Honduras, Guatemala, and El Salvador.

The change in leadership comes ahead of the impending departure of acting Immigration and Customs Enforcement Director Tae Johnson. Currently, the Customs and Border Protection agency is under the leadership of acting Commissioner Troy Miller, who briefly stepped aside when former Commissioner Chris Magnus assumed the role before ultimately resigning due to conflicts with senior DHS officials.

Katabella Roberts contributed to this report.