Florida Gov. Ron DeSantis (R) announced April 18 that he will call state lawmakers back for a second special session in May "to bring some sanity and stabilize" the property insurance market.
In the past several years property insurance rates have soared in Florida and some owners have had their policies canceled, or have had difficulty finding insurers willing to issue a policy.
Members of the Florida Legislature have been scheduled to reconvene on April 19 in Tallahassee for a four-day special session DeSantis announced in March to address a different issue.
During this week's meeting, DeSantis instructed lawmakers to come up with an acceptable map creating new boundaries for Congressional districts in the state. He vetoed the map they passed during their regular, two-month legislative session that wrapped up on March 14.
DeSantis objected to lawmakers' first attempt because he said it contained "unconstitutional racial gerrymanders."
After they tackle the issue of Congressional districts, lawmakers will have to return again to the state Capitol to address "reform of the property insurance market" in the state, DeSantis told reporters at a press conference in Jacksonville.
"I'm confident we're gonna be able to get that done," DeSantis said.
"We may also address other issues that came close to getting across the finish line" during the regular session, he added. He didn't specify which issues may be addressed.
As
reported by The Epoch Times
, one matter DeSantis had pushed to see dealt with was new legislation underscoring the protected speech of health care workers, and he expressed great frustration when that died in committee earlier this year.
During the press conference, DeSantis was asked about an April 15 announcement that the Florida Department of Education (FDOE) had rejected 54 textbooks proposed for use in the state's K–12 classrooms.
The books were disqualified for use because they included Common Core methods of teaching and "indoctrinating concepts" such as
Critical Race Theory
(CRT), state officials said.
Under current Florida law, public schools are prohibited from teaching CRT.
In addition to banning CRT training in schools, Florida officially removed Common Core curricula and teaching methods from public classrooms in 2020 and adopted the Benchmarks for Excellent Student Thinking (BEST) standards.
School districts now are familiarizing teachers with the plan, and purchasing new textbooks and other instructional materials.
"We [now] have BEST standards, which is a better way to do a lot of things, but particularly math," DeSantis said.
When Common Core was used, "one of the criticisms was the parents couldn't help their kids with the math homework. So any of the books that don't meet the BEST standards are not gonna be appropriate for us to use."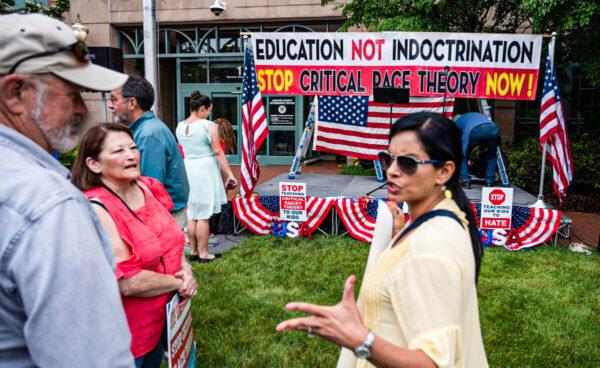 "Math is about getting the right answer," DeSantis said, expressing frustration about "political" ideas being slipped into children's learning materials.
"We want kids to learn to think, so they get the right answer. It's not about how you feel about the problem. There's a right answer, and there's a wrong answer. And we want all our students getting the right answers."
Most of the rejected books were written for younger students, he said.
"We're gonna continue to focus the education on the actual strong academic performance of the students. We don't want things like math to have, you know, some of these other concepts introduced. It's not been proven to be effective. And, and quite frankly, it takes our eye off the ball."
Textbook publishers can appeal the decision, he said. The FDOE has a specific process outlined to address the rejection of school textbooks.
"Some [publishers] may agree to tweak some of the things," he said. "If there's Common Core math, maybe they'll be able to dial that back."
What's in the books is "considered proprietary information," he said. Because of that, details about the rejected books would not be released.
"I would like it to be released," DeSantis said, "but I also respect the process."
Bill Pan contributed to this report.