While Gov. Ron DeSantis is still reviewing the overall budget Florida lawmakers sent to his desk, he says he'll approve a line item to spend $800 million next year on boosting teacher salaries.
"You can take this one to the bank," the Republican governor said during his second news conference on the subject, on March 21. "That will be in the budget that gets signed into law here in the not-too-distant future."
In 2020, the average starting salary for a teacher in Florida was $40,000, making the state 26th in the nation in pay for educators, according to the Office of the Governor. The new minimum amount for teachers' pay will boost Florida to ninth.
Across the country, only 12 percent of school districts have minimum teacher salaries of $40,000 or higher, DeSantis said. In Florida, 90 percent had already reached that minimum level of pay.
During their just-finished legislative session, Florida lawmakers passed a record-breaking $112.1 billion state budget proposal
(pdf)
that includes a pay raise for state workers, rewards for school districts that didn't impose mask mandates, and a one-month gas tax suspension just before the November midterm elections.
A week later, the governor said he was still going through the rest of the budget, deciding which items to approve, before signing it. But the pay raises for teachers were a sure thing, he said.
DeSantis, who makes frequent stops around the state to announce new policies, spoke about the pay raises for teachers on March 21 at a charter school in Wellington, in southern Florida. Then about 90 minutes later, he appeared at an elementary school in the Fleming Island community.
As a result of the funding, $565 million will go this year to increasing the annual pay of new teachers to at least $47,500. The remaining $235 million will go to boosting pay for veteran teachers. That makes for a record $2 billion in teacher pay raises over the past three years, DeSantis said.
"People understand you're not going to necessarily be a billionaire" working as a teacher, he said. "But you need to be able to make ends meet."
Administrators speaking at the press conferences said the salary increases would help Florida attract and retain good teachers during a nationwide teacher shortage.
"From a leadership perspective, when I'm looking for good talent to hire, I don't want salary to be the deciding factor that a teacher won't join our organization, because they can't afford to do so," said Richard Glinton, principal of Renaissance Charter School at Wellington. "So leveling that field—I can't tell you how important that is."
Teachers at both press conferences spoke about how the planned pay raises make them feel respected and appreciated, and will help them pay bills during a time of rapid inflation.
Fifth-grade teacher and U.S. Army veteran Tiqkia Barrow said teachers do much more than teach, and aren't "just glorified day care assistants and babysitters."
"We should be respected, and we should be paid at the level that represents the values, the morals, and the character of who we are in the United States of America," Barrow said, thanking DeSantis for the increase in pay.
"We are the youth pastors," she said. "We are the mental health clinicians in the classroom."
"It's not about a salary, but it's—Can a teacher pay their light bill? Can a teacher pay their water bill? Can a teacher give that kid that doesn't have food at home an extra snack or an extra bag of chips to put in their backpack? And not at the expense of your own home."
Florida school districts can choose to pay teachers more from other funds. "We would encourage them to do that as they can," DeSantis said.
By Aug. 1, school districts will be required to report to the Florida Department of Education how they spent the money set aside for teacher salary increases.
DeSantis has made improving education one of his top priorities, touting how Florida students had access to five-day-per-week, in-person instruction through most of the pandemic, when other states restricted students to online learning only.
Last year, he doled out $1,000 bonuses for all teachers and principals, and has spoken often about the challenges they were forced to embrace, as the whole country struggled with how to respond to the threat of COVID-19.
Over the past year, DeSantis also has poured state funds into workforce education programs, and has urged students to consider trade training, rather than pursuing college degrees that could leave them in debt, and in lower-paying jobs after graduation.
On March 15, he signed into law a measure that eliminates the widely unpopular, statewide, end-of-the-year achievement testing for grades 3–10. Under the new system, students will participate in "progress monitoring." As part of that, they'll take at least three tests—fall, winter, and spring—to assess whether remediation is necessary, in time to address problems before the end of the school year. That will allow teachers to spend more time teaching, and allow students to spend less time overall testing, DeSantis and teachers in favor of the change have said.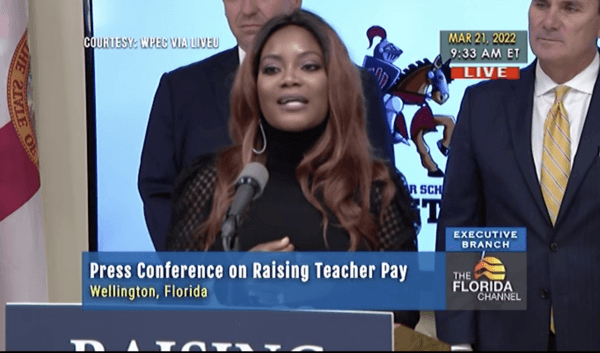 DeSantis is
expected to sign the controversial
Parental Rights in Education bill
(PDF) 
soon. The bill, which opponents have dubbed "Don't Say Gay," would ban instruction relating to gender identity and sexual orientation for children in kindergarten through Grade 3. Teaching deemed age-appropriate is already outlined in the state's official standards starting in fourth grade.
The bill also says that critical decisions that will have an impact on the student's mental or physical well-being must include the parent. And the bill gives parents a way to file complaints against schools if they find they've been left out of those decisions.
Florida recently was announced as third in the nation in K–12 achievement, and the state is in the Top 10 when it comes to teacher salaries, DeSantis said. The state will have a record amount of funding per pupil in this year's budget, he added.
DeSantis said he expects "more significant wins" for education coming out of the new budget.
But when asked by a reporter about school boards considering millage increases to solve specific problems, DeSantis warned, "I would just tell voters just be very careful."
He said local school boards often raise taxes in the name of solving certain problems, and then often don't follow through.
"The money gets frittered away," DeSantis said. "And then they come back and ask for more. So just be careful about that."
At the second press conference of the day, a reporter asked outgoing Commissioner of Education Richard Corcoran what he would say to his replacement, who has yet to be announced.
Corcoran revealed on March 10 that he will be stepping down from his position at the end of April. He was appointed in December 2018, after serving since 2010 as a member of the Florida House of Representatives, including as Speaker of the House. In a prepared statement from the state's Department of Education, he has said he'll be returning to "private life, and looks forward to spending more time with his wife, Anne, and their six children."
"When the governor asked me to take this position," Corcoran told reporters, his impression was, "This sounds fun. It's going to be exciting.
"But I thought we were going to be driving at about 45 miles an hour, [and we're] on the highway, and we're driving at like 100. And so to the new commissioner, whoever it may be, 'Buckle your seat belt!'"
DeSantis, he added, has "got a lot of vision, and a lot of things he wants to do, and he's great to work for. I've said that before. He's been the best person I've ever worked for. He gives you a lot of rope. He gives you a lot of ability to go out there, and work with him, and come up with different things. And if he likes them, he's got your back the entire time."
Patricia Tolson contributed to this report.