Meeting with sheriffs from four states—including several in national leadership positions—Florida Gov. Ron DeSantis announced the formation of a coalition of states to fight the border security battle without federal leadership on the cause.
"We have a great country. We've got a proud history, but this country is falling on its face with respect to ensuring the sovereignty of our country," DeSantis said on June 7. "And you see the damage that's been done at the southern border."
"We've been hearing about this problem for many, many years—many, many decades," he said. "And yet it's probably as bad [right now] as it's ever been. I think that this has been a massive dereliction of duty by the president."
Joined by Florida Attorney General Ashley Moody, DeSantis hosted a round table including sheriffs from Florida and across the West to discuss the border problem.
An estimated 5 million people have crossed the Mexican border illegally since Joe Biden became president in 2021.
Also present at the conference were the heads of Florida's Department of Law Enforcement and Highway Patrol, and Arizona legislators, including the state's House speaker.
Roundtable sheriffs came from Texas, New Mexico, Arizona, Idaho, and Florida, and at least one sheriff from Georgia attended.
DeSantis hosted the talk at Cochise College in Sierra Vista, Arizona. That's south of Tucson and just a few miles north of the Mexican border.
"One of the reasons why we're here today is because we want to forge a formal working relationship so that we can make the most out of all of our resources and efforts," DeSantis said.
"We have the will in states like Florida, you have the will in Cochise County. You may not have the will in Washington, DC. So we've got to work together to try to overcome that."
Florida has developed a training program for fighting illegal immigration and human trafficking, and DeSantis invited other states to use it. 
DeSantis, who is running for the 2024 Republican presidential nomination, laid out the state's accomplishments against illegal immigration and related problems, including human trafficking and fentanyl smuggling.
Florida augmented an underfunded Coast Guard to interdict more immigrants attempting to enter illegally by sea.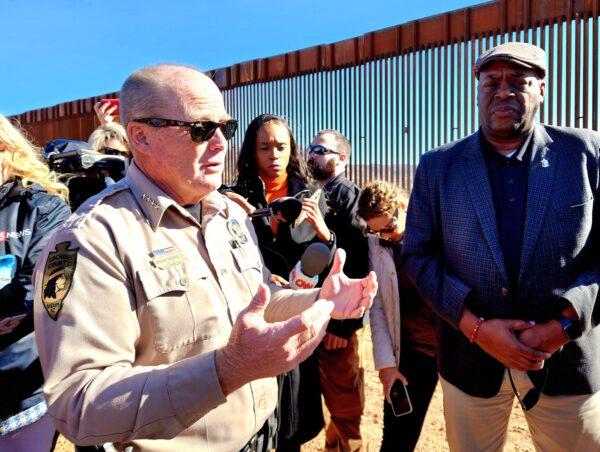 It has raised penalties for fentanyl trafficking; a drug dealer spiking candy with fentanyl faces a life prison sentence if a child dies as a result.
The state has instituted sweeping use of the E-Verify system confirming job seekers' legal status to work in the United States.
Also, Florida has banned local governments from issuing identity cards to illegal immigrants and doesn't recognize similar documents from other states like California. Sanctuary cities within its borders are prohibited and illegal immigrants are deported to cities elsewhere with that designation.
DeSantis deployed 400 members of the Florida National Guard and 39 FDLE agents and staffers to Texas to help at the border.
The governor's office said on June 6 that Florida's law enforcement teams in Texas had dealt with more than 5,800 undocumented migrants and assisted the Texas Department of Public Safety in more than 190 arrests.
They included felony charges for human smuggling, drug paraphernalia, weapons charges, and a suspect wanted for capital murder. They also assisted in apprehending an MS-13 gang member on the U.S. Terror Watch List.
Moody, the attorney general, has won several court victories against the Biden administration in suing to stop its mass-release policies at the border.
She obtained a preliminary injunction in federal court on May 16 blocking the Biden administration from exercising its policy of mass release of immigrants apprehended at the border into the country's interior.
And on June 5, the 11th U.S. Circuit Court of Appeals let the preliminary injunction stand, denying federal attempts to stay it.
The court stated that "DHS's [the U.S. Department of Homeland Security] claims of irreparable injury ring somewhat hollow on this record, considering the department's track record of overstating similar threats in the underlying proceedings," the attorney general's office said.
A federal judge earlier found the Justice Department's request for a stay "borderline frivolous," the attorney general's office said.
Florida's maritime assist to the Coast Guard has resulted in plummeting numbers of boats attempting to enter U.S. waters, DeSantis said.
"They know we've done 12,000 repatriations in the last six to nine months, so they know they're just not going to be able [to enter]. So why would you want to risk doing this trip ... just to get turned back?"
"Something similar would happen here in the United States if we did a similar policy at the border.
"First of all the border just needs to be shut down. We need to be telling people you're not coming illegally. You're not doing a bogus asylum claim. You know, you're not going to be able to cross the border."
If that happens, those seeking to cross illegally "will go down dramatically," he said.
The nation needs to enforce its laws at the border, with immigration judges present there ruling swiftly on asylum claims, DeSantis said.
"I'm a big believer in constructing a border wall," he said.
DeSantis advocates that frequently¸—in part because it contrasts him with the Republican frontrunner former President Donald Trump, who talked up the wall relentlessly in running for office in 2016 but didn't get it done.
DeSantis often notes how the state took over repairing two bridges knocked out by Hurricane Ian last year, isolating two barrier islands. It got one fixed in three days and the other in three weeks, while local authorities had estimated six months.
And he usually follows that with a suggestion that he send the state's engineers to build the wall.
He and the sheriffs lamented the cavalcade of crime caused by the open border—tens of thousands of deaths from fentanyl overdoses, murders, and fatal auto accidents for which illegal immigrants are responsible.
Human trafficking often means women smuggled into the country, then forced into prostitution to pay their transportation fees.
Women shouldn't face being "held as property," said Grady Judd, sheriff of Polk County, Florida, whose department had rescued 24 women, Cuban nationals, from that circumstance.
And he cited a traffic accident where three people died and a girl about to graduate from high school was crippled for life in a collision with an illegal immigrant driver. He had been released into the country at the border, Judd said.
DC Has 'Avoided Issue'
Judd, who said he'd spent his entire adult life in law enforcement and been sheriff for 19 years, called DeSantis "the best governor that the state of Florida has had in the last 50 years," specifically for driving the crime rate to its lowest point in that period.

"When people are safe, and they feel safe, they thrive."

The federal government "has avoided this issue, leaving the states and sheriffs throughout the country and local law enforcement to address it," said Sheriff Mark Dannels of Cochise County, Arizona, site of the roundtable.

"So thank you for your leadership," he told DeSantis and Moody. "Our sheriffs thank you so much and our sheriffs throughout the country."

Kieran Donahue, president of the National Sheriffs Association and sheriff of Canyon County, Idaho, told DeSantis: "I certainly will stand with you. And I want the American people to stand with you."

People "in every state represented are dying because of the inaction or even the actions of this presidency and this administration, and I'm sick to death of it.

"I'm sick to death of having to meet with families, including my own, who have been victims of fentanyl. Families like my own have been victims of car crashes by illegal aliens driving semi-tractor trailers drunk."

"Over the last few years, we've all become border sheriffs," said Corey Helpon, sheriff of Lea County, New Mexico, and president of the Western States Sheriffs Association.

His organization and others like the National Sheriffs Association and other law enforcement agencies in the Southwest "have unified. So to have you on board, I greatly appreciate it."

"We want to work with all the other governors," DeSantis said. "We want to work with all the sheriffs to be able to help make more progress on this issue.

"But I can tell you that the goal for the country nationally should be to bring this issue to a conclusion. It is not that difficult to have a stable border. Other countries do it."