Democrats would "love nothing more" than to take away the right of every American to possess a gun, a Republican House lawmaker has said amid gun control bills passed by the Senate and the House this month.
The Senate's legislation, the Bipartisan Safer Communities Act, passed on a 65–33 vote on June 23.
Earlier, the House passed a separate package of gun control legislation called the "Protecting Our Kids" Act
on June 8
. It has little chance of passing the Senate to clear the 60-vote filibuster threshold.
Rep. Greg Steube (R-Fla.) told
NTD's Capitol Report
 that Democrats, who have been pushing for gun control legislation in the wake of recent mass shootings, "want to blame the tool that's being used to create the destruction and not the person actually doing the destruction."
"It's an attempt to take all of our firearms," Steube said, noting that bans on certain guns have been openly discussed in the House.
"The bill that passed the House would ban certain magazine sizes, like that would stop the atrocities in some way, shape, or form."
"[Democrats] only care about using these mass shootings to be able to talk and have that narrative of well, it's the guns' fault—'We shouldn't have semi-automatic rifles, we shouldn't allow for what they call high-capacity magazines, we shouldn't allow all these things.' And they use these tragedies to try to accomplish a political goal and their political goal is—and they're now talking more openly about it—is to take your guns away," he said.
"They would love nothing more than to take every American's right to possess a firearm away from them," he said, noting that the vast majority of people between 18–21 don't commit gun violence.
He said this group would, under Democrats' gun control push, not be able to protect themselves with a firearm in the event of a crime.
Red Flag Law-Related Provisions Go Against Fourth Amendment Rights
Steube said that the Senate's gun control bill had omitted more radical elements of the House gun control package, including the raising of the age limit from 18 to 21 to buy certain guns, as well as the ban on high-capacity magazines.

However, he said that the red flag law-related provisions in the Senate bill run counter to Americans' Fourth Amendment rights under the U.S. Constitution, which prohibits unreasonable searches and seizures.

"Red flag laws—and I voted against the one that passed in Florida years ago—clearly violate your right under the Fourth Amendment to protection of illegal search and seizure by the government without a warrant, without a judge telling a law enforcement officer they can take your property," he said.

Florida in 2018 passed a school safety law that included a red-flag measure after a mass shooting that year at Marjory Stoneman Douglas High School in Parkland that killed 17 people.
One of the multiple provisions in the Senate's latest proposed gun control bill would provide $750 million to support states that impose "red flag" laws or other violence prevention programs.
In particular, it would expand a grant program called the "Byrne Memorial Justice Assistance Grant program."
The grant funds
would be able to go toward
the "implementation of State crisis intervention court proceedings and related programs or initiatives" such as "extreme risk protection order programs," or the red flag laws.
Red flag laws vary in the specifics from state to state but generally involve a party—police, family members, work colleagues, or others—petitioning a state court to order police to temporarily seize the guns from a person they deem mentally unwell and dangerous. The person targeted would also be barred from buying new guns.
The Senate's proposed measure would make it easier for the 19 states and the District of Columbia that have red flag laws to temporarily confiscate guns from people who are "flagged" by the court.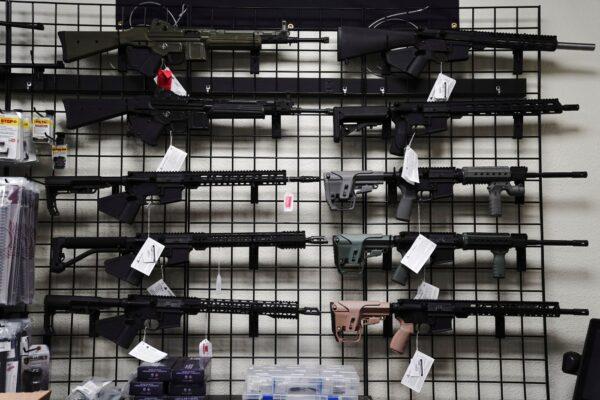 'Dangerous Path'
Steube also commented on a red flag gun control bill called the "Federal Extreme Risk Protection Order Act of 2022"
passed on June 9 by the House
.
"[Democrats in the House] wanted counselors and teachers and family members to be able to have this ability to take your guns away," he said.
"It's a very dangerous path to be going down all in reaction to a shooting that could have been prevented by having somebody that was properly trained to react," he said, referring to the recent mass shooting Uvalde, Texas that resulted in the deaths of 19 students and two teachers.
Police and security officers stood outside the school for nearly an hour while the shooter barricaded himself in a room with teachers and students.
"What they want to have happen is somebody either makes a complaint or has the ability to without a judicial proceeding without your due process to take your guns away. The bill that passed in Florida only allowed law enforcement to do it," Steube said.
"So give you a quick example you have a husband or wife and a domestic dispute, one or the other wants to get back at one or the other and says 'oh, I think he's a threat to himself and others.' A law enforcement officer without a judicial proceeding without a warrant without due process can make a subjective decision to take your property away. And that property is your firearms and your ammunition," he said.
"Then on the back end, in order to get your property back, you have to petition the court, the law enforcement agency that takes your firearms is not going to just give it back to you. You have to petition the court and get an order from a judge to get your property back," he said.
"It is completely in adverse reaction to what our Fourth Amendment rights in the Constitution to give us protection from the government [who] cannot take your property without a warrant. You have protection under the Fourth Amendment from illegal search and seizure by the government. And that's exactly what these red flag laws would allow to occur."