Rep. 
Dean Phillips 
(D-Minn.) on Thursday said that he would not support President Joe Biden running again in 2024, saying that it's time for a "new generation" of Democratic candidates.
When asked by local radio, the congressman for Minnesota's third district said that Biden would be an octogenarian by 2024 and hopes "other Democrats step up."
"To answer your question directly, which I know is quite rare ... no, I don't," Phillips
told WCCO Radio
.
"I think the country would be well served by a new generation of compelling, well prepared, dynamic Democrats to step up. And with that, I hope we see a resurgence of the principled center-right Republican Party reform."
The Democratic congressman's remarks come as Biden's approval ratings drop in the polls amid soaring inflation, record-high gas prices, and continuing supply chain issues.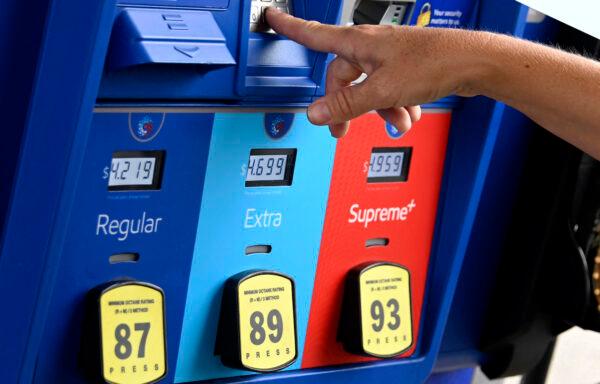 Most Voters Don't Want Biden to Run Again: Polls
A new
Gallup poll
 released Friday found that Biden's job approval rating has fallen below 40 percent, now sitting at a personal low of 38 percent. Between September and June, his rating floated narrowly between 40 percent and 42 percent.
The same poll showed that Biden's job approval rating was 57 percent when he first took office in January 2021.
A
CNN poll
released on Wednesday found that 75 percent of Democrats or Democrat-leaning voters want an alternative candidate to Biden.
This sentiment was also found in an earlier
New York Times-Siena College poll
, released July 12, which found that 64 percent of Democrats or Democrat-leaning voters want a different candidate from the party to run in the next presidential election.
That poll showed that only 33 percent of voters approved of Biden's job, lower than the Gallup poll results.
Other Democrats Coy on Support for Biden
Phillips, a moderate Democrat, paid respect to Biden's service and said he was "not shy to say" that it is "time for a generational change," noting that Biden will be over 80 by 2024.

"You know, we're still a ways off from the next election cycle, but that doesn't change my perspective. I want to make it clear. What I hope is that other Democrats step up. Competition is good. We should never pre-anoint anybody," Phillips said.

Phillips, who is part of the bipartisan Problem Solvers Caucus, said his views on Biden were shared by "most of my colleagues."

Other Democratic representatives have been coy and some flatly refused to indicate if they would support Biden running for a second term.
Sen. Joe Manchin (D-W.Va.), also a moderate, didn't provide a clear answer during a podcast interview released Thursday about whether he'd support Biden running again, saying "we will just have to wait and see."
"I am not predicting anything or how I would support or not support, or get involved or not," he told CNN's "
The Chris Cuomo Project
."
"But I can tell you this: Whoever the elected president is—Democrat, Republican, Independent—every one of us should pray they succeed. I am going to do everything I can to make that person successful."
Freshman Rep. Cori Bush (D-Mo.), a member of the far-left "squad," refused to give an answer when asked on Monday.
"I don't want to answer that question because we have not ... That's not ... Yeah, I don't want to answer that question," she told
KSDK News
.
"I mean, he's the president," she added, "and he has the right to run for a second term, absolutely, but I don't want to, I'd rather you not do that, ask that question."
Another member of the "squad," Rep. Alexandria Ocasio-Cortez (D-N.Y.), also didn't give a clear answer when asked in June,
telling CNN
that if Biden "has a vision, then that's something certainly we're all willing to entertain and examine when the time comes."
"We should endorse when we get to it, but I believe that the president's been doing a very good job so far, and, you know, should he run again, I think that I, you know, I think ... we'll take a look at it," she added, when pushed for a clearer answer.
Ocasio-Cortez noted the upcoming November midterms were more of a priority than the 2024 general elections.
Biden does have the support of Senate Majority Leader Chuck Schumer (D-N.Y.), who said on Tuesday that "if [Biden] runs, I'll support him."
White House Responds
White House press secretary 
Karine Jean-Pierre responded at a press briefing on Friday to both Biden's low ratings in the polls and to Phillips saying that he won't support Biden running for a second term.
"So, the president intends to run in 2024. We are a long ways away from that. I cannot get into specifics of any ... political election polling because I am behind this podium," 
Jean-Pierre said.
Regarding Phillips's remarks, 
Jean-Pierre reiterated that Biden intends to run and said the administration was focused on reducing inflation and lowering costs for families. 
"We are ways away from 2024. We are going to continue to focus on doing the business of the American people by delivering for families, by lowering costs for families, as we have seen," she said.
"We saw the CHIPS Act pass, which is going to lower costs for families, going to fight—you know, strengthen supply chains, strengthen our national security, invest in manufacturing," she added. "Those are the things that we're going to continue to focus on and much more."