The chief financial officer of retailer Costco said that it's likely his firm will increase prices for a membership.
"It's a question of when, not if," Costco CFO Richard Galanti told investors in a call several days ago. The last time Costco increased its membership fee was in June 2017, he noted.
"You know, it's a little longer this time around since June of '17, so we're six years into it," Mr. Galanti said,
according
to a transcript of the call. "But you'll see it happen at some point. We can't really tell you if it's in our plans or not."
Membership prices for the popular retailer generally occur every six years or so, the CFO also noted. However, he said that it's still not time to raise prices.
"You'll see it happen at some point," Mr. Galanti said, without elaborating further. "We'll let you know when we know. We can't really tell you if it's in our plans or not."
Costco's Gold Star membership costs $60 since 2017, coming after a $5 increase that occurred that year. Before that, it cost $55. It's "executive membership" costs $120.
The comments about a price increase come as Costco topped market estimates for quarterly revenue and profit as consumers flocked to its stores for cheaper groceries and other necessities, helping offset feeble demand for big-ticket discretionary items. The membership-only retailer has driven robust sales growth owing to its ultra-low prices for essential goods and a loyal member base, helping boost its market share despite a tough economic climate.
Although demand for discretionary items like sporting goods and houseware has been under pressure, strong sales gains in consumables like fresh foods and candy have helped Costco, while its cheap gas prices attracted more members. The company saw a nearly 8 percent rise in total paid household members at the end of the reported quarter, while its income from membership fees jumped 13.7 percent, to $1.51 billion.
"Traffic continues to do very well ... and our renewal rates continue to be very strong," Mr. Galanti also said in the call.
Gold Bars
It comes as the firm confirmed that customers are quickly buying gold bars online. The firm offers 1-ounce, 24-karat gold bars from South Africa's Rand Refinery and Switzerland's PAMP Suisse via its website, but they are only available for Costco members.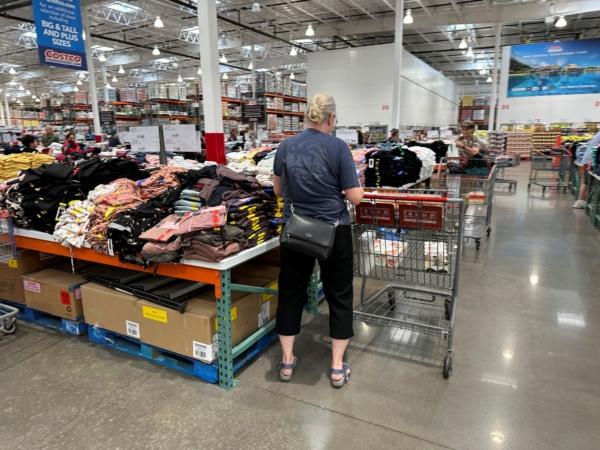 The bars range from $1,949.99 to $1,979.99,
according
to reports. Both items have a 4.9-star rating and cannot be returned or refunded.
"I've gotten a couple of calls that people have seen online that we've been selling one-ounce gold bars, yes, but when we load them on the site, they're typically gone within a few hours and we limit two per member," Mr. Galanti also remarked.
It comes as inflation remains elevated, with August's federal data showing that the Consumer Price Index rose 3.7 percent year-over-year. That is down from the 9.1 percent peak in June 2022, although the current inflation is far higher than the 1.4 percent that was reported in January 2021 when President Joe Biden took office.
JPMorgan Chase CEO Jamie Dimon last week, meanwhile,
warned
that there might be a "worst case" economic scenario in which the Federal Reserve raises interest rates from the current rate of 5.25-to-5.5 percent to 7 percent amid elevated inflation.
Since early 2022, under the leadership of Fed Chairman Jerome Powell, the central bank has quickly raised interest rates from near-zero to the current rates.
"I ask people in business, 'Are you prepared for something like 7 percent?' The worst case is 7 percent with stagflation. If they are going to have lower volumes and higher rates, there will be stress in the system," Mr. Dimon said in a Times of India interview. "We urge our clients to be prepared for that kind of stress."
Reuters contributed to this report.