Commentary
With consumer spending accounting for more than two-thirds of the U.S. economy, the economic outlook of shoppers can be a strong indicator of overall financial trends.
That's why consumer sentiment is often used to predict economic spending more generally, since it leads to increased investment and hiring.
A recent Chapman University study unveiled that high-earning—meaning an annual income of more than $150,000—Californians and Democrats were becoming more optimistic about the future. The demographics were more excited about economic prospects in the fourth quarter of 2020 than they were in the third quarter.
This rebound in consumer sentiment among higher income earners and Democrats could be euphoria about an election win (high-wage earners in California are mostly Democrat) but it might also have to do with their belief that the pandemic could more quickly end.
The trend held true at both a state and county level.
Interestingly, consumer sentiment for those earning $35,000 to $50,000 in Orange County also markedly increased from third quarter 2020 to fourth quarter 2020. The statistics could reflect the county's normally strong ties to tourism and hospitality. Those earning $35,000 to $50,000 per year make about $17.50 to $25 per hour. A rebound in tourism and hospitality could be of particular benefit to those in this income bracket.
Throughout California, consumer sentiment decreased from third quarter 2020 to fourth quarter 2020 for all income categories except for those earning more than $150,000 per year.
In Orange County, consumer sentiment increased only for those earning more than $150,000 per year and for those earning $35,000 to $50,000. It fell for all other income categories.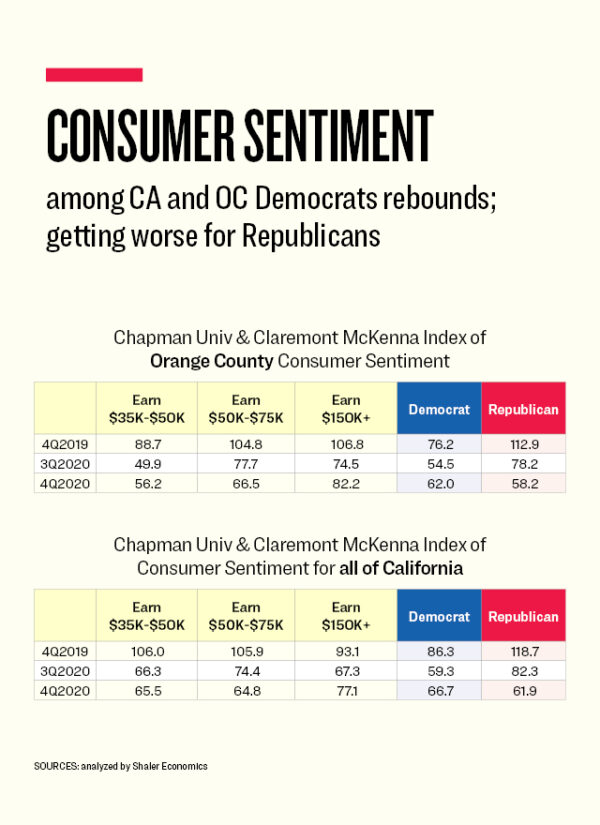 Looking at consumer sentiment year-over-year, no group—regardless of income, cohort, or political affiliation—reported an outlook that was anywhere close to the amount of optimism reported during fourth quarter 2019.
Even within that data, though, we can see that consumer sentiment among Republicans is abysmal compared to the year-ago period. Consumer sentiment among Republicans fell 48 percent in California as a whole (to 61.9 points from 118.7 points), and in Orange County, the outlook dropped to 58.2 points from 112.9 points.
Democrats' consumer sentiment during that same one-year period only fell by 23 percent in California and even less in Orange County, dropping 19 percent from fourth quarter 2019 to fourth quarter of 2020.
Factors not included in the survey, but which might also impact consumer sentiment, could include record-low interest rates, allowing some to refinance their mortgages to access more cash. Record-low interest rates are also allowing many others to move to the suburbs, to less-dense cities, and also allowing for more room inside their homes. This may be occurring at the same time others are struggling with job loss, losing unemployment benefits, having children at home rather than school, or going into arrears on rent payments.
Many factors go into consumer sentiment, consumer behavior, and behavioral economics, but it seems that at least among Democrats and high-wage earners, consumer sentiment is rebounding.
Chapman University and Claremont McKenna College survey 2,000 consumers every quarter to compile their consumer sentiment surveys for Orange County and for California.
Tim Shaler is a professional investor and economist based in Southern California. He is a regular columnist for The Epoch Times, where he exclusively provides some of his original economic analysis.