Former UN Ambassador Nikki Haley has taken the opportunity to attack Florida's Gov. Ron DeSantis at the past two Republican presidential debates.
Among the governor's many campaign pillars, two that have continued to come to the surface are his stance on drilling and hydraulic fracturing (also known as fracking) in the United States and his stance on communist China.
However, Ms. Haley has cried hypocrisy twice on Mr. DeSantis, accusing him of failing to practice what he preaches in his own state.
"DeSantis changed his tune when he became a candidate for governor, calling on the Trump administration to drop plans for drilling in the Atlantic Ocean and the Gulf of Mexico," Ms. Haley's campaign said after the second GOP debate on Oct. 27.
"On his second day in office as governor, DeSantis issued executive orders banning fracking and offshore drilling in Florida. He was praised by the Sierra Club."
Ms. Haley and Mr. DeSantis met again in Miami for the third GOP debate on Nov. 8, and she turned her attention to his policies on China.
While the governor has touted that he has come down hard on the Chinese Communist Party owning land and operating business in the state, the former UN ambassador said that his government was still recruiting Chinese businesses through a now-disbanded organization called "Enterprise Florida," and that his administration deleted its website to cover it up days before the debate.
"His own record shows he's a hypocrite who is currently recruiting Chinese companies and investment to Florida," her campaign alleged.
"He also allowed Chinese-owned companies to expand in Florida as recently as 2022 and 2023.
"Not only is Ron DeSantis lying about his aggressive efforts to recruit Chinese companies to Florida, he orchestrated a government-wide cover-up to scrub the evidence of his China ties from the internet."
She also alleged that Mr. DeSantis continues to lie about his stance on Chinese business, pointing to two Chinese companies that continue to operate and expand in Florida as examples.
Cirrus Aircraft, she said, is owned by the Chinese Aviation Industry Corporation (AVIC), which manufactures fighter jets, helicopters, and drones or the People's Liberation Army.
AVIC was flagged by the federal government as a national security threat in 2020. But in 2022, Cirrus opened a new location at Orlando International Airport, which Ms. Haley's campaign pointed out was less than 13 miles from the Naval Air Warfare Center Navy Base.
The other company was the solar panel manufacturer Jinko Solar.
It was awarded a grant for expansion one month before being raided by the Department of Homeland Security, and while the grant was rescinded, expansion plans continued.
Mr. DeSantis has denied all of these claims.
No Ban on Drilling and Fracking
Mr. DeSantis first took office in January 2019.

He signed

Executive Order 19-12

, subtitled "Achieving More Now for Florida's Environment," on Jan. 10, 2019, in which he directed Florida's Department of Environmental Protection (DEP) to "take necessary actions to adamantly oppose all off-shore oil and gas activities off every coast in Florida and hydraulic fracturing in Florida," in order to "protect Florida's coastlines and natural resources."
The direction was the last line of a larger order focused on preserving and revitalizing Florida's environment, from cleaning up beaches and restoring the Everglades to implementing better water management and fighting algae blooms.
Bills to officially ban drilling and fracking practices and protect areas like the Everglades were brought forward in both the state House of Representatives and State Senate in the 2019 legislative session, but none passed.
Mr. DeSantis doubled down in January 2023, signing
Executive Order 23-06
, which further supported the preservation of Florida's environment, securing a historic "$3.5 billion over the next four years for Everglades restoration and protection of our water resources, including water quality and water supply."
The order makes no mention of any ban or prohibition on oil drilling and fracking.
Mr. DeSantis's
"Freedom to Fuel" plan
, which he announced in Midland, Texas, on Sept. 20, sought to "streamline the environmental review process for energy and infrastructure projects" and "elevate evidence over ideology."
Chinese Business in Florida
The governor responded to Ms. Haley on the debate stage in Miami, saying he had, in fact, signed legislation that eliminated Enterprise Florida.
After that debate, his campaign released a statement, saying: "Governor Ron DeSantis signed HB 5 to eliminate Enterprise Florida (EFI), the state's public-private business development agency.
"In doing so, DeSantis ended more than 30 years of EFI providing incentives to corporations and—prior to DeSantis's crackdown—courting Chinese investments."
Taking effect on July 1, 2023,
HB 5
initiated the transition of responsibilities and contracts from EFI to a new agency called Select Florida, his campaign said.
Those duties included not just dealings with Chinese businesses but also Japanese, South Korean, and Taiwanese. The East Asian headquarters was also moved from Hong Kong to Singapore, it said.
Meanwhile, the legislation ending Chinese land purchases in Florida,
SB 264
—which also specifically prohibited the buying of farmland and land within a certain proximity to a military base by the Chinese Communist Party (CCP)—took effect on July 1, 2023.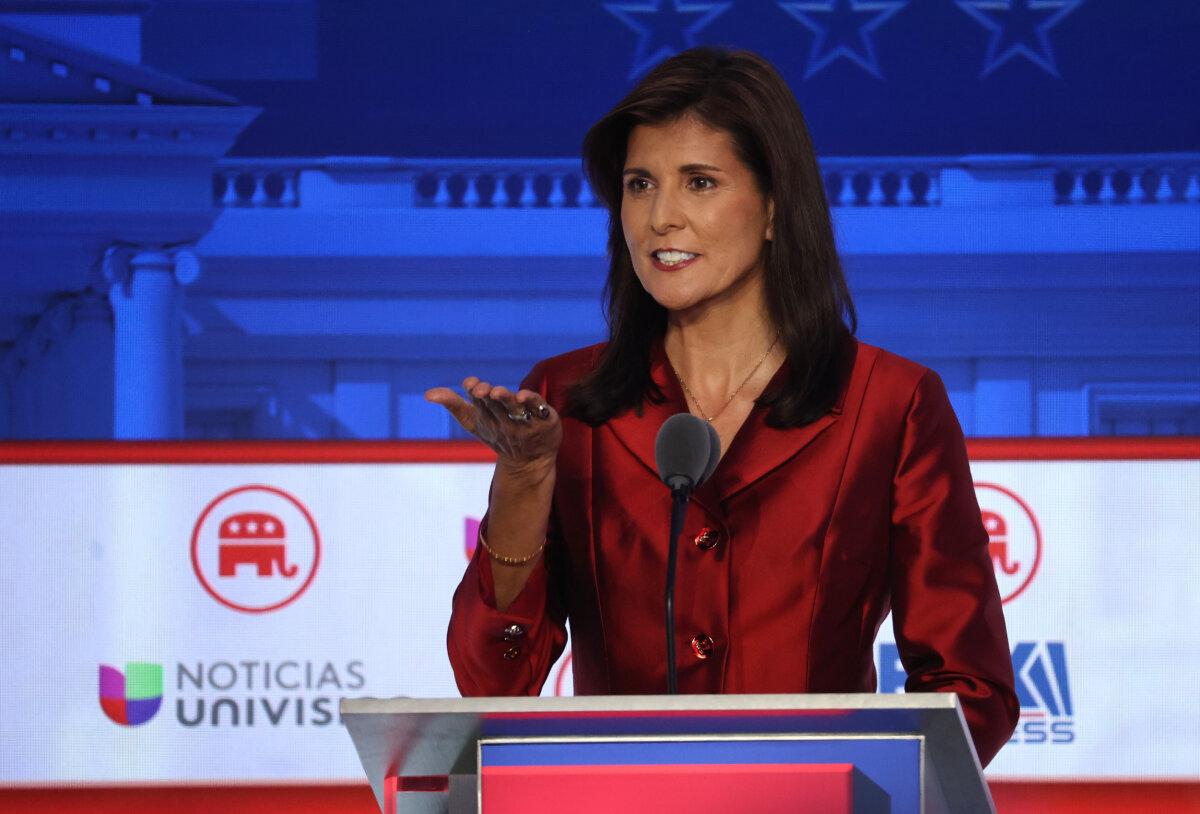 However, the bill also said that a person or company connected to the CCP "that directly or indirectly owns or acquires any interest in real property in this state before July 1, 2023, may continue to own or hold such real property, but may not purchase or otherwise acquire by grant, devise, or descent any additional real property in this state."
The bill also put forth similar restrictions on other countries identified as "foreign countries of concern," specifically Iran, North Korea, Syria, Cuba, and Venezuela.
These nations must now register their property holdings to the government on the recently launched
SecureFlorida portal
by Dec. 31, 2023.
Failure to do so can result in a civil penalty of $1,000 for each day the registration is late, and liens can be put up against property for the penalty money owed.
The Epoch Times reached out to the governor's office requesting clarification on whether or not this bill was a first step in stopping the advancement of the CCP but allowing pre-established Chinese companies to continue operations on the land already purchased.
However, the governor's office did not provide an answer in time for publication.
"DeSantis has a strong record of cracking down on the CCP in the state of Florida," his campaign said in a press release, mentioning the safeguarding he also enacted for the state's education institutions from CCP influence, such as terminating the Confucius institutes on state college campuses.
Mr. DeSantis and Ms. Haley will share the stage yet again at the Family Leader's Thanksgiving Family Forum in Iowa on Nov. 17.